2014! An Awesome Year for Animals
Well, here we are! It's been a fabulous year overall, don't you think? It's also been a year full of really exciting victories for animals – all thanks to you awesome advocates out there who NEVER stop speaking up for animals in need.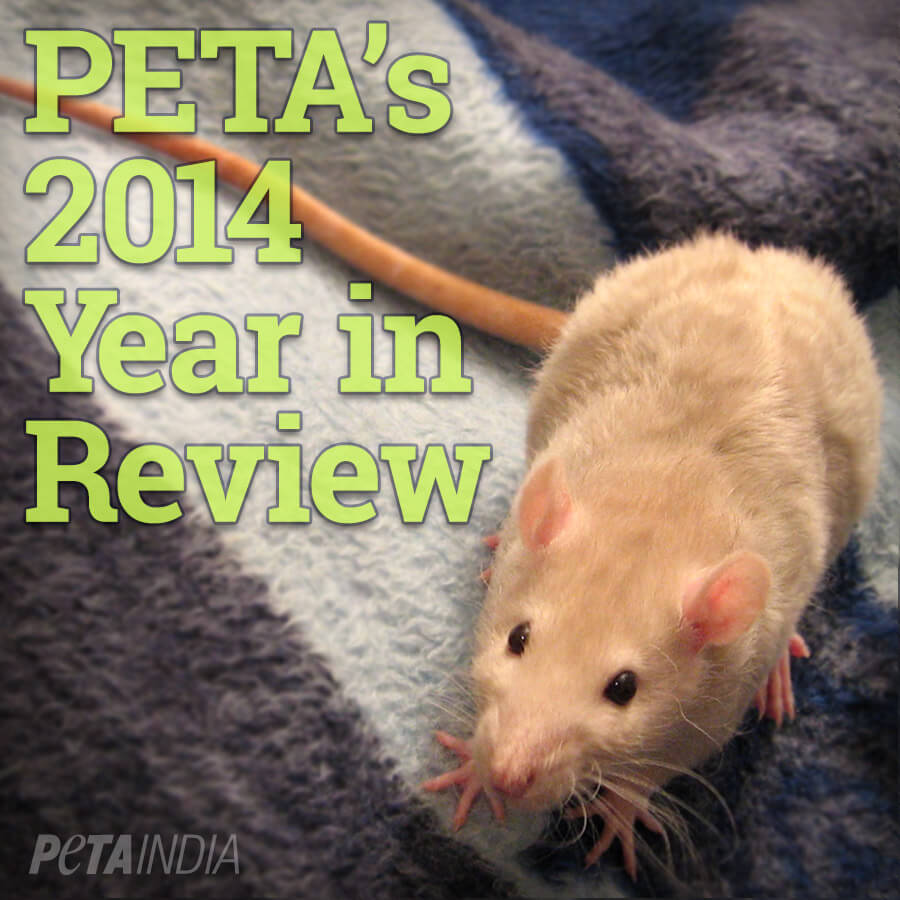 Check out 14 of the most inspiring victories for animals in 2014 that will make you proud to be an animal advocate:
1. Supreme Court Issues Order for Sunder's Rescue
It was a long, hard-fought battle, but PETA won our international campaign to free Sunder, a 14-year-old elephant who spent almost half his life chained and being beaten at a temple in Kolhapur. Sunder was later held captive by the rich and powerful politician who had given him as a "gift" to the temple, flouting both the law and government orders to free him. But PETA went all the way to the Supreme Court and prevailed. Sunder has now been moved to the lush, tropical Bannerghatta Biological Park in Bangalore. There, he is socialising with other elephants for the first time since he was a baby, including the beautiful Lakshmi, who stole his heart instantly.
2. Supreme Court Bans Jallikattu, Bull Races and Bullfights
In response to PETA India's groundbreaking undercover investigative footage, the Supreme Court passed a landmark judgement in favour of PETA India and the Animal Welfare Board of India (AWBI) banning bull races, bullfights and jallikattu – a bull-taming tradition in which terrified bulls are deliberately disoriented, endure having their tails twisted and bitten and are stabbed, punched, jumped on and dragged to the ground.
3. Supreme Court Says Cockfights, Dogfights Must End
In a landmark judgement, the Supreme Court declared that jallikattu is illegal and also noted that the government must ensure staged fights against and between animals, such as cockfights and dogfights, do not take place. The court also called on Parliament to strengthen animal-protection laws and grant animals constitutional rights that will "protect their dignity and honour".
4. Nearly 5,000 Bulls Spared Suffering
The Tractor Project – which is run by working-animal relief organisation Animal Rahat – saved nearly 5,000 bullocks this year from toiling under the yoke for sugar factories. The project aims to help workers afford mini-tractors that they can use in place of bullocks for the heavy labour of hauling sugarcane. The tractors are much more efficient than animals, and the bullocks, who are often denied sufficient water, food, rest and veterinary care, are spared the struggle of pulling carts piled high with sugarcane under the blazing sun.
5. Medical Council to Universities: Use Non-Animal Teaching Methods
Earlier this year, following efforts by PETA, Union Cabinet Minister for Women and Child Development Maneka Gandhi and former Minister of State for Human Resources Development Dr Shashi Tharoor, the Medical Council of India amended its education regulations to call for the use of modern non-animal teaching methods for undergraduate students.
6. UGC Bans ALL Animal Dissection
The University Grants Commission (UGC) – an apex regulatory body for higher education – banned dissection and experimentation (for training purposes) in undergraduate and postgraduate zoology and life sciences courses. This decision alone is estimated to save the lives of an estimated 19 million animals every year.
7. Pharmacy Council Bans Animal Experimentation in Pharmacy Courses
Following years of meetings and discussions with PETA India as well as efforts by People for Animals and work by Union Minister Maneka Gandhi, the Pharmacy Council of India amended the Education Regulations, 1991, and the Pharm.D. Regulations, 2008, to read, "wherever animal experimentations are prescribed in the curriculum, the required knowledge and skill should be imparted by using computer assisted modules". The move will replace the use of animals such as mice, rats and guinea pigs, who are routinely used to train pharmacy students. Painful experiments involving burning animals' feet, electrocuting them, inducing convulsions in them and killing them have been common in Indian pharmacy courses.
8. India Bans Import of Animal-Tested Cosmetics
Hot on the heels of this year's cosmetics testing ban, we helped convince the Ministry of Health & Family Welfare to ban the import of animal-tested cosmetics, too.
9. Bureau of Indian Standards Committee Removes Animal Tests for Household Products
Following input from PETA India and support from MP Maneka Gandhi and other Members of Parliament, the Soaps and Other Surface Active Agents (CHD 25) Committee of the Bureau of Indian Standards, which determines which tests are required under Indian Standards 11601 (Methods of Safety Evaluation of Synthetic Detergents – Tests for Skin Irritation and Sensitization Potential of Synthetic Detergents) and 13424 (Safety Evaluation of Bathing Bars and Toilet Soaps – Methods of Test), decided to remove animal tests from the requirements, thereby ending the testing of household products, such as cleaners and detergents, and their ingredients on animals to meet standard requirements in India.
10. No Elephants Allowed at Festival, Says AWBI
After learning about the findings of a detailed inspection report compiled by PETA's director of veterinary affairs and other veterinary experts, which revealed rampant apparent violations of the law and cruelty to elephants, the Animal Welfare Board of India decided not to permit the use of elephants for the annual Elephant Festival, and the event was called off this year.
11. Good News for PETA's Circus Campaign
In response to PETA's 2013 investigation of circuses across India that revealed rampant abuse, the Central Zoo Authority (CZA) de-recognised six circuses – Jamuna, Moonlight, Rambo, Gemini, Jumbo and Rajkamal – in 2014 as captive-animal facilities and urged the Animal Welfare Board of India to cancel the performance permission for the SAM Circus. The CZA's action means that the affected circuses can no longer train, exhibit or use any wild animals protected under the Indian Wildlife (Protection) Act, 1972, including elephants. The CZA notice also means that state forest departments that have issued the ownership certificates for these circuses' elephants must cancel them, confiscate the elephants and move them to a sanctuary immediately.
12. The CBSE Wants Leather Shoes out of Schools
After PETA and Union Minister Maneka Gandhi contacted the Central Board of Secondary Education, the agency issued an advisory to its 18,000 affiliated schools urging them to ban students from wearing leather shoes. Delhi and Bihar also advised its schools similarly after being contacted by PETA.
13. Animals Banned at Chinchali Fair
Following a meeting with officials of Animal Rahat, the Department of Animal Husbandry & Veterinary Services and Belgaum District Collector N Jayaram, both in Karnataka, issued a statement prohibiting bullocks and ponies from being used during the Chinchali Fair. During the meeting, Animal Rahat pointed out that the outbreak of foot-and-mouth disease in the area would place the animals at a heightened risk for contracting the disease, which can lead to painful blisters in the mouth and on the feet or even death.
14. Victorias Restricted in Mumbai
The Mumbai traffic police have passed strict scheduling limitations for Victoria rides in some parts of the city and banned them altogether in other parts. The progress comes after years of appeals to authorities by PETA India, People for Animals and the Animals and Birds Charitable Trust. It also follows the actions of PETA India supporters, including numerous celebrities who have all written to authorities, tweeted or starred in ad campaigns calling for a ban on the inhumane Victorias.
Whether it's by going vegan, buying only cruelty-free products or pledging to be leather-free, you can make a difference for animals every single day by making animal-friendly choices. By joining PETA India's Activist Network, you can be a part of victories such as the ones listed above and know that YOU gave animals a voice in 2015.
Sign up today!