Caught on Video: Elephant Sunder Beaten
An undercover investigation conducted by PETA this week has resulted in shocking footage of a mahout (handler) violently beating Sunder, a 14-year-old elephant at the centre of a PETA petition in the High Court of Bombay, with a thick wooden pole. The video reveals a malnourished-looking Sunder, chained by two legs, writhing in pain and struggling to stand as the mahout strikes him repeatedly with the pole. Sunder visibly recoils in fear from the weapon-wielding mahout, who continues to threaten him with violence after he has stood.
Sunder was chained and abused for six years at the Jyotiba Temple in Kolhapur, and following orders by the Maharashtra Forest Department and Project Elephant, which operates under the central Ministry of Environment and Forests, to retire Sunder to a sanctuary, Member of Legislative Assembly (MLA) Vinay Kore, who had given the elephant as a "gift" to the temple, sent him to be chained in an old, dark poultry shed in Warananagar instead.
https://www.youtube.com/watch?v=1BOWXPyQiMw
The former Principal Chief Conservator of Forests and current Head of Forest Force, SWH Naqvi, has also failed to implement the state and central government orders. Just this week, Kore was reported to have claimed to the media that Sunder is fine and healthy, while Vijay Shelke, Deputy Conservator of Territorial Forests – Kolhapur division, said that "every month a veterinary doctor visits the place to check the elephant" and that "we also guide the mahout and local caretakers". These claims are in spite of the fact that Sunder's legs show scarring from abuse, he has a low weight, and he is being forced to stand on concrete all day with no opportunity for exercise, which is essential for elephants' health.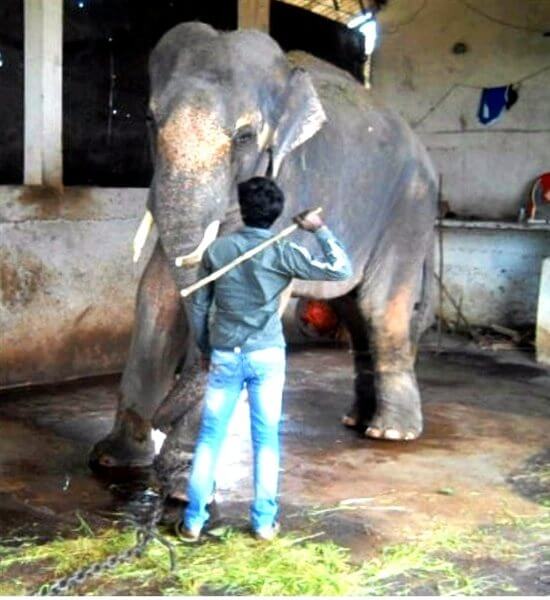 "He is fearful of the mahout", says international elephant expert Dr Mel Richardson, who examined PETA India's video of Sunder. "From what I can see his legs and feet are in bad shape. He is in a dangerous situation and needs relief – no chains, natural substrate, and space to exercise."
You can help Sunder. Take action to urge authorities to free Sunder to a sanctuary today.