PETA Goes to Court for Sunder
PETA India has filed a petition with the High Court of Bombay asking the Maharashtra Forest Department (MFD) to implement its previous order – as well as the recommendation from Project Elephant under the Ministry of Environment and Forests – and retire 14-year-old elephant Sunder, who spent six years chained at the Jyotiba Temple in Kolhapur, to a sanctuary.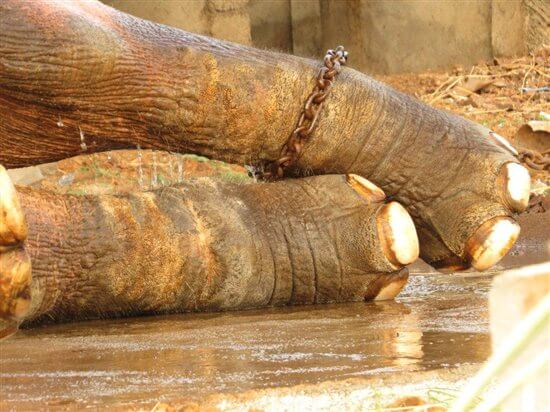 Following pressure from PETA, more than 26,000 people who have signed PETA India's online petition and celebrities such as Pamela Anderson and Paul McCartney, who have written to authorities, the MFD ordered that Sunder be sent to a sanctuary. Instead, he was locked in an old, dark poultry shed and chained at the behest of Vinay Kore, a local member of the Legislative Assembly.
Sunder's body shows visible signs of severe abuse. Photos from August 2013 show how Sunder is forced to stand on concrete all day and denied exercise, which is essential to his mental and physical well-being. In fact, his current living conditions are so poor that they could predispose him to foot and joint diseases, which could eventually kill him. He's also small for an elephant of his age and underweight as a result of years of inadequate nutrition.
Please take action to help free Sunder NOW!