PETA Tells Hc Sunder Is Being Tortured
Yesterday, during a hearing at the High Court of Bombay, PETA presented evidence proving that 14-year-old elephant Sunder is being tortured and is not in musth (a period of heightened sexual urge, which can make captive bull elephants aggressive from frustration) as had been claimed by Member of the Legislative Assembly Vinay Kore and the Kolhapur division of the forest department as an excuse for failing to implement the High Court's order to move him to a sanctuary and to avoid a contempt-of-court charge. The next hearing in the case is scheduled for 12 February.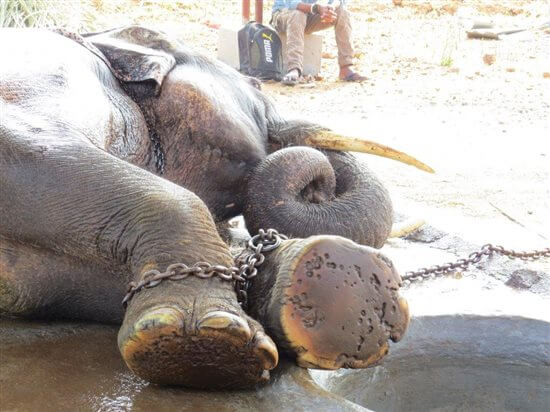 Kore and the forest department had been claiming since December 2013 that Sunder is aggressive because he is in musth and that it is therefore having a difficult time moving him to a sanctuary. PETA's lawyer called attention to a report from two independent elephant experts from Kerala who examined Sunder on 20 December 2013 and were authorised by the Animal Welfare Board of India, a statutory body operating under the Ministry of Environment and Forests, to do so – that states that Sunder is neither in musth nor showing physical or behavioural signs of pre-musth and is "generally apathetic", not aggressive, in nature. PETA's lawyer also pointed to a video televised by ABP Majha and IBN Lokmat News on 23 January that shows that Kore and other people stood right in front of Sunder. If Sunder would have been in musth, no one would have dared stand so close to him because it would have been dangerous.
PETA noted that the temple management holds the ownership certificate for Sunder, not Kore, and that the management recently wrote to the forest department stating that it could no longer take responsibility for the elephant. PETA points out that there is therefore no reason for the forest department to fail to implement the court's order to move Sunder to a sanctuary. PETA's rejoinder, which has been filed with the court, also states that Sunder has been under the unlawful custody of Kore since October 2012. It further states that its offer to move Sunder to a sanctuary for the forest department has been ignored. 
PETA's petition asks that the Maharashtra Forest Department to implement its own order – as well as the recommendation from Project Elephant under the Ministry of Environment and Forests – and retire Sunder to a sanctuary. PETA has identified a sanctuary where he can live free of chains and in the company of other rescued elephants. 
Among those who have taken to Twitter to support the #FreeSunder campaign are Amitabh Bachchan, Madhuri Dixit, Arjun Rampal, R Madhavan, Raveena Tandon-Thadani, Sunny Leone, Ayushmann Khurrana, Dino Morea, Jacqueline Fernandez and Celina Jaitly. 
You can help #FreeSunder. Take action today.