Madhuri Dixit, Dr Nene Want to #FreeSunder
On behalf of PETA India, legendary actor Madhuri Dixit-Nene and her husband, Dr Shriram Nene, have sent an urgent letter to Vinay Kore, Member of the Legislative Assembly, urging him to help ensure that 14-year-old elephant Sunder is sent to a sanctuary. The letter was sent in advance of the next High Court hearing, scheduled for 21 January, for a case in which PETA is seeking Sunder's release. Kore donated Sunder to the Jyotiba Temple in 2007, and the elephant has been kept chained and inside dark sheds for most of that time. PETA has obtained video footage showing that Sunder's mahout violently beat him with a pole near a poultry shed where he has been held chained at the behest of Kore. In December 2013, the High Court of Bombay ordered Sunder's transfer to a sanctuary, but he has yet to be released.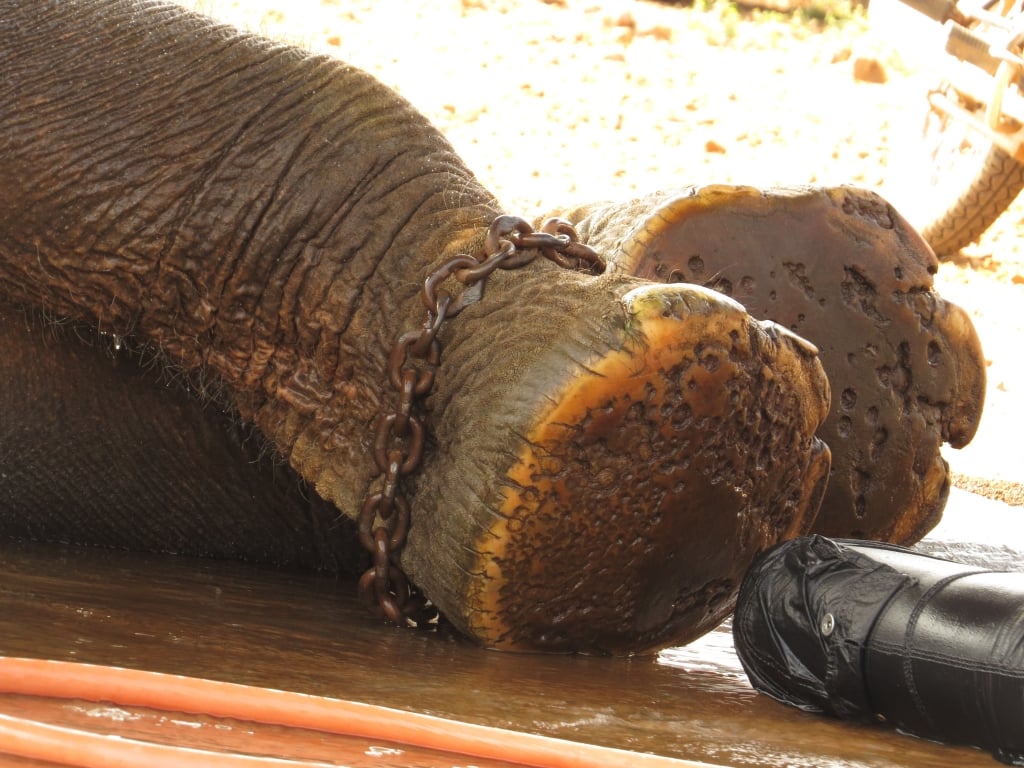 "[Sunder] has scars on his legs and cowers in fear and pain because he is being beaten by his mahout", write Dixit-Nene andDr Nene. "He should live free from suffering, in the company of other elephants, and have the opportunity to roam vast distances." The couple adds, "PETA stands ready to take the responsibility for safely transporting and relocating him".
The Maharashtra state government informed the High Court of Bombay that its efforts to relocate Sunder to a sanctuary failed because he is in musth (a period of sexual urge in male elephants), which is, according to officials, making him aggressive. However, a report from Dr TS Rajeev with the Centre for Elephant Studies at the College of Veterinary and Animal Sciences in Mannuthy, and Dr Sasindra Dev, Forest Veterinary Officer, Konni – two independent elephant experts from Kerala who examined Sunder and were authorised by the Animal Welfare Board of India, a statutory body operating under the Ministry of Environment and Forests, to do so – states that Sunder is neither in musth nor showing physical or behavioural signs of pre-musth and is "generally apathetic", not aggressive, in nature. The experts' report also reveals that he is suffering both physically and mentally.
This isn't the first time that Dixit-Nene – who has won numerous awards and whose latest release, Dedh Ishqiya, has all the markings of yet another box-office hit – has teamed up with PETA to help animals, including elephants. In 2001, she fired off a letter to the Assam Minister of Forests calling on the government to stop killing dozens of elephants because of encroachment. She and Dr Nene also worked with PETA to rescue seven sick stray puppies from the monsoon downpour. Madhuri Dixit had also taken to Twitter in support of PETA's #FreeSunder campaign. She was joined by Amitabh Bachchan, Arjun Rampal, R Madhavan, Raveena Tandon and numerous other celebrities.
Help Sunder gain freedom by urging authorities to transfer him to a sanctuary immediately.