The CBSE Wants Leather Shoes out of Schools
After PETA, People for Animals, MP Maneka Gandhi and others contacted the Ministry of Human Resource Development and representatives of PETA India met with the Central Board of Secondary Education (CBSE), the CBSE sent an advisory to all its 18,000 affiliated schools across India strongly urging them to implement a policy that bans students and staff members from wearing leather shoes in favour of animal- and Earth-friendly canvas shoes.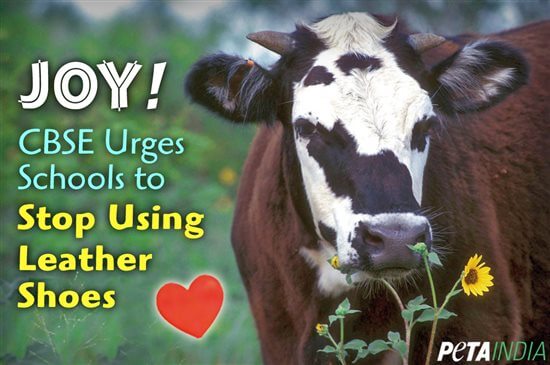 In the advisory, the CBSE refers to the policy as an "ethical" and "compassionate" way to protect the environment and animals from harm.
At slaughterhouses, many animals are killed in full view of each other with dull knives and then skinned and dismembered while they are still conscious. Buying leather directly contributes to factory farms and slaughterhouses because skin is the most economically important by-product of the meat industry.
Leather is also no friend of the environment, as it shares responsibility for all the environmental destruction caused by the meat industry as well as the pollution caused by the toxins used in tanning.
The CBSE's action is a major leap forward in the campaign to have leather shoes banned from school uniforms. Already, Himachal Pradesh and the Punjab have moved to ban leather shoes in schools, and the government of Goa has informed PETA that most of its schools already use canvas shoes. The Animal Welfare Board of India, a statutory body operating under the Ministry of Environment and Forests, has also asked all states to shift to environmentally friendly options for school uniforms.
Way to go, CBSE! You can also pledge never to wear leather here.