Good News for PETA's Circus Campaign
After show-cause notices were issued to various circuses around the country earlier this year by the Animal Welfare Board of India (AWBI) and the Central Zoo Authority (CZA), the CZA has now de-recognised six circuses as captive-animal facilities and urged the AWBI to cancel the performance permission for one.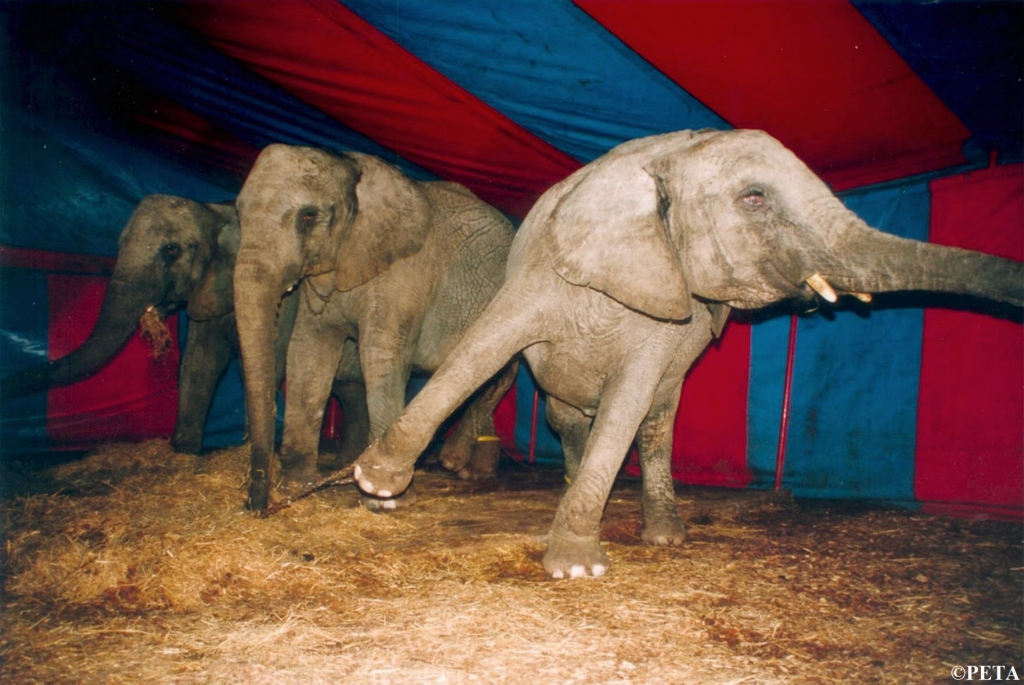 In addition, in a letter addressed to the AWBI, the Animal Welfare Division of the Ministry of Environment & Forests (MoEF) has stated that "(i) AWBI should take necessary steps to deregister the animals used in the circuses in a phased manner wherever cruelty is involved. (ii) AWBI should also make arrangement for rehabilitation of the deregistered animals. (iii) AWBI should not register any new animal hereafter".
The six circuses that received the notices directly from the CZA are the Jamuna, Moonlight, Rambo, Gemini, Jumbo and Rajkamal circuses. The CZA also directed the AWBI to cancel the permission for the SAM Circus to perform if it had been granted, as the circus had not even bothered to apply for CZA recognition.
The CZA's action means that the affected circuses can no longer train, exhibit or use any wild animals protected under the Indian Wildlife Protection Act, 1972, including elephants.
The CZA notice also means that state forest departments that have issued the ownership certificates for these circuses' elephants must cancel them, confiscate the elephants and move them immediately to a sanctuary. Earlier this week, animal rescue group Wildlife SOS announced its willingness to take in elephants rescued from circuses.
These actions are in response to a nine-month-long investigation of 16 circuses by PETA India that revealed cruelty to animals, such as the use of torture devices, nearly constant chaining or caging and neglect.
Upon receipt of PETA's report, the CZA formed a team of evaluators, including veterinarians and wildlife department and AWBI representatives who recently visited circuses and confirmed PETA's findings.
PETA India's investigation of circuses was conducted from November 2012 to July 2013, and the findings included rampant use of torture devices; animals who had died from inadequate care or who had simply "gone missing"; drunken circus staff who were handling animals; nearly constant chaining and caging and other severe confinement of elephants, dogs, cats, birds and other animals; animals who showed signs of severe psychological distress, including constant swaying, circling and even self-mutilation; and the use of elephants and other animals who were nearly blind or had severe eye problems, among other types of cruelty.
PETA India is now calling on the MoEF to ban the use of animals in circuses outright, as Bolivia, Bosnia and Herzegovina, Cyprus and Greece have already done.
You can help animals used in circuses: