Compassionate Kids Honoured for Animal Rights Films
Good news for animals! The next generation's filmmakers will be making films to demonstrate their plight. At the recent Iceplex Ad Film Awards (IAFA) 2009 – a fun film making programme for students ages 11-19 – two out of the five winners for the event's contest made compelling films about animal protection issues.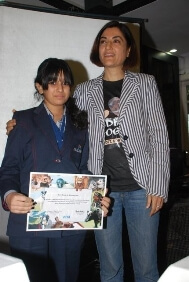 PETA's Ambika Shukla honouring a compassionate student
One of the winners addressed the issue of homeless animals, while the other painted a soulful imagery of how caged birds long to fly free in her film.
PETA honoured these young guns with certificates signed by noted filmmaker Pritish Nandy and PETA India Founder and Director Ingrid Newkirk, presented by PETA India's Marketing Head Ambika Shukla.
The contest winners, Aman Das and Aditi Krishnamurthy, were overwhelmed to receive this honour from PETA.
Want to join Aman and Aditi in speaking up for animal rights? Join petaDishoom's Street Team to get active for animals in your area.