India Bans Import of Animal-Tested Cosmetics
After intensive efforts by PETA India, Union Minister Maneka Gandhi and others, the Indian Ministry of Health & Family Welfare has made an announcement that will save millions of animals from being blinded, poisoned and killed in cruel and useless tests for products sold to India's billion-plus population. In a move that will bring cheers from around the world, the Ministry has now officially banned animal-tested cosmetics from being imported into India via a notification in The Gazette of India. The decision will be implemented in November.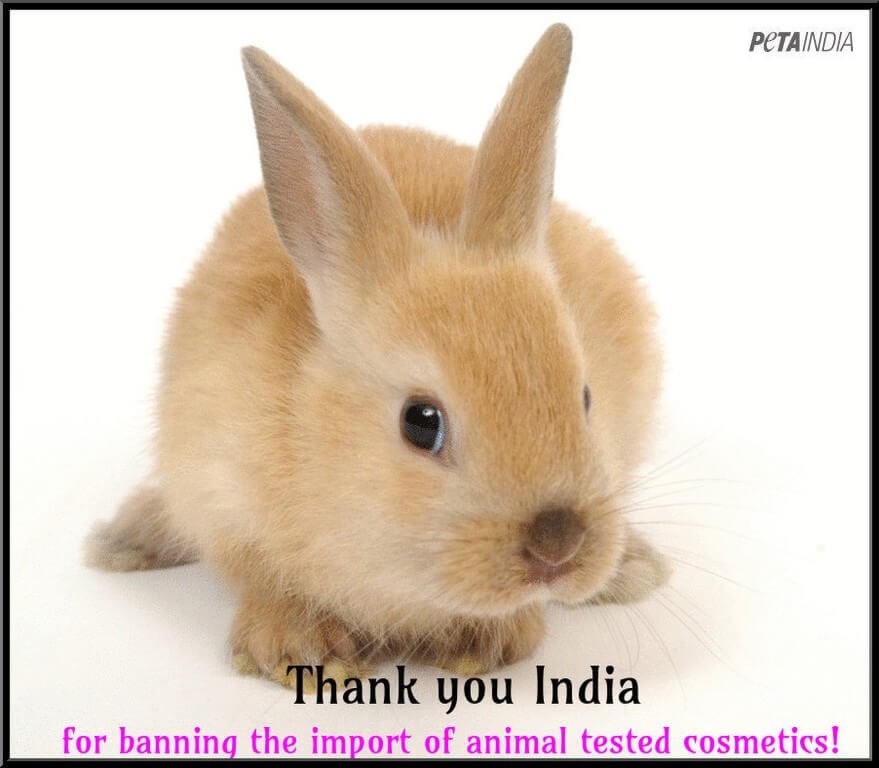 The new rule states, "135-B. Import of cosmetics tested on animals prohibited.—No cosmetic that has been tested on animals after the commencement of the Drugs and Cosmetics (Fifth Amendment) Rules, 2014 shall be imported into the country". The move brings India up to speed with Israel and the European Union nations, which have already banned the sale and marketing of animal-tested cosmetics. Earlier this year, the testing of cosmetics on animals was banned in India following efforts by PETA and others.
"This is a message to the whole world that India will not tolerate blinding bunnies for shampoo, mascara and other 'beauty' products – and this ruling now gives an upper hand to businesses that use superior, human-relevant, non-animal testing methods", says PETA Science Policy Adviser Dr Chaitanya Koduri. "We applaud the Ministry of Health & Family Welfare for looking out for animals' interests and for championing modern science."
Pamela Anderson, Esha Gupta, Sonakshi Sinha, Evelyn Sharma, Anoushka Shankar, Poorna Jagannathan, Priya Anand, Neha Dhupia, Raveena Tandon-Thadani, Jacqueline Fernandez, Dia Mirza, R Madhavan, Rahul Khanna, Sunny Leone, Pooja Bhatt, Lara Dutta, Trisha Krishnan, Dino Morea, Esha Deol-Takhtani, Tamannaah Bhatia, Ritwik Bhattacharya, Pia Trivedi and other stars as well as Dr Shashi Tharoor and numerous other MPs previously petitioned the Ministry to end the import of cosmetics tested on animals after learning about the issue from PETA India.