Stars Want End to Product Tests on Animals
PETA India's petition to ban the testing of household products on animals – as well as the sale of cosmetics and household products tested on animals outside India – is starting to read like a who's who of Bollywood and the fashion world. That's because Raveena Tandon-Thadani, Jacqueline Fernandez, Dia Mirza, R Madhavan, Rahul Khanna, Sunny Leone, Pooja Bhatt, Lara Dutta, Trisha Krishnan, Dino Morea, Esha Deol-Takhtani, Sarah-Jane Dias, Shweta Salve, Soniya Mehra, Suchitra Pillai, squash player Ritwik Bhattacharya and top models Acquin Pais, Alesia Raut, Anushka Manchanda, Binal Trivedi, Candice Pinto, Carol Gracias, Diandra Soares, Juhi Pande, Nethra Raghuraman, Pia Trivedi and Shonali Nagrani have signed the petition, which has been sent to the Ministries of Health & Family Welfare and Consumer Affairs, and are determined to make cruel and unreliable tests on animals a thing of the past.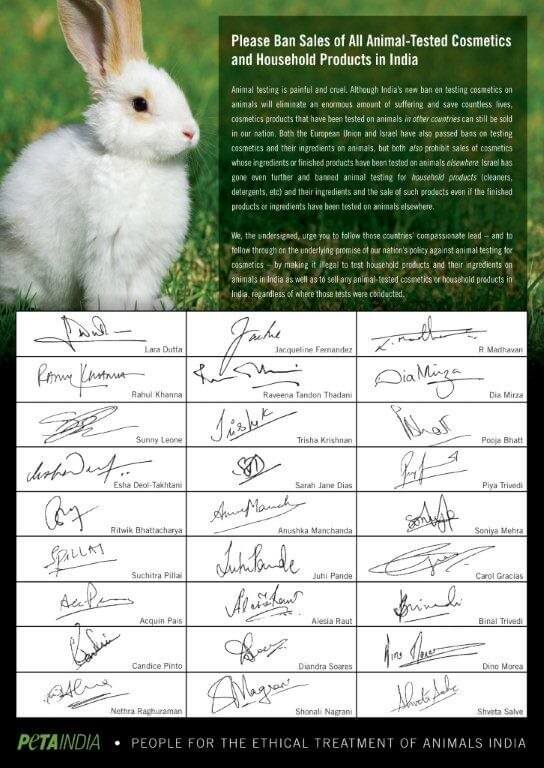 The deadline for comments on draft standards IS 11601 and IS 13424 to the Soaps and Other Surface Active Agents Committee of the Chemical Department of the Bureau of Indian Standards, on which PETA India Science Policy Adviser Dr Chaitanya Koduri has an official seat, was 8 January. The committee has proposed to amend the test requirements for household products (such as cleaners and detergents) by replacing the last animal test remaining, a test on guinea pigs for determining skin-sensitisation potential of chemicals, with a non-animal test method called "the human repeated insult patch test". It was also proposed that the manufacturers of novel ingredients should submit safety data using non-animal methods of testing. A decision is expected on the matter after 8th January.
Following an extensive PETA campaign and efforts by MP Maneka Gandhi, India recently removed tests on animals from the Bureau of Indian Standard for cosmetics and the Drugs Technical Advisory Board in its 65th meeting held on 25 November 2013, recommended the addition of a suitable provision under The Drugs and Cosmetics Rules, 1945, to prohibit the import of cosmetics that have been tested on animals abroad. However, currently cosmetics and household products tested on animals are still allowed to be sold in India.
You can help by buying only cruelty-free cosmetics and household products.