PROGRESS! Victorias Restricted in Colaba and Elsewhere
The Mumbai traffic police have passed strict scheduling limitations for Victoria rides and banned them altogether in some other parts of the city, but horses there still need your help.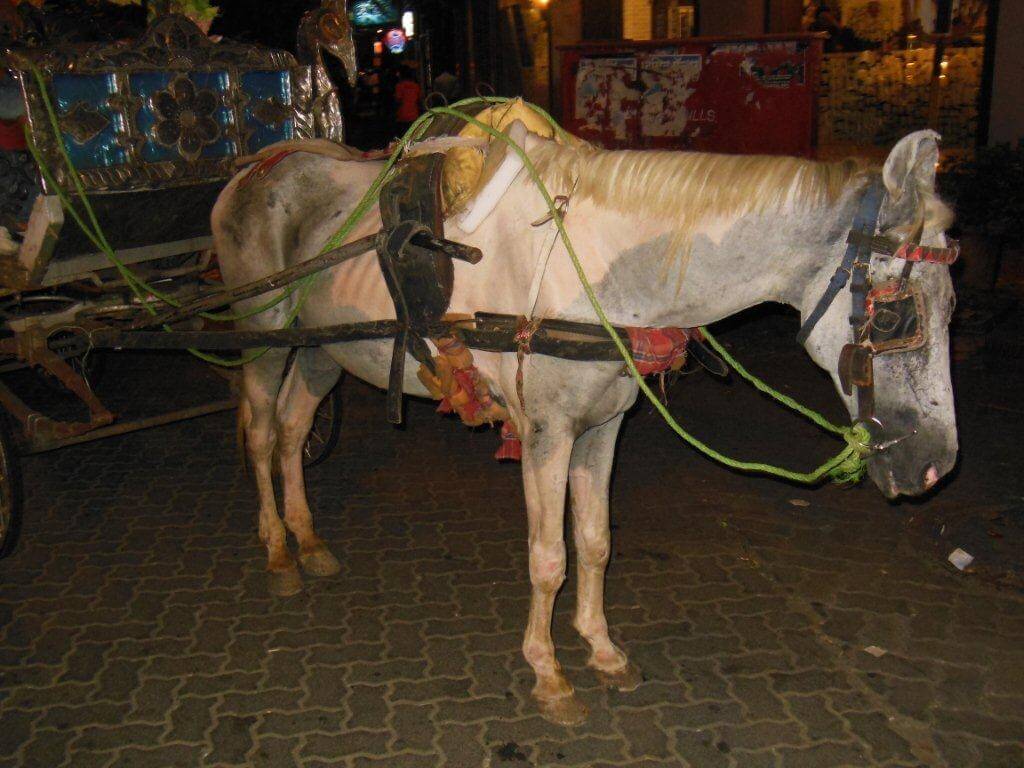 The progress comes after years of appeals to authorities by PETA India, People for Animals and the Animals and Birds Charitable Trust. It also follows the actions of PETA India supporters, including Anushka Sharma, Arjun Rampal, Arunoday Singh, Dino Morea, Hema Malini, Jacqueline Fernandez, Jesse Randhawa and Sandip Soparrkar, John Abraham, Mahesh Bhatt, Nargis Bagheri, Pooja Bhatt, Sunny Leone  and Zeenat Aman, who have all written to authorities, tweeted or starred in ad campaigns calling for a ban on the inhumane Victorias.
Mumbai's horses have been forced to haul passengers in blistering heat and pouring rain and are denied adequate shelter, rest, food and water. They are typically housed in filthy, unlicensed and decrepit stables – when they are provided with any shelter at all. Even if they are injured or ill, they are still forced to work. Most never see a veterinarian during their entire lives. Horses have collapsed in the middle of traffic. Accidents involving horse-drawn carriages have caused numerous injuries, some of which have been fatal, including the death of a 3-year-old child who was thrown from a carriage in 2010 after a passing car startled a horse.
In spite of the new traffic police ban and timing restrictions, horses are being made to ply illegally in restricted locations and during restricted hours. If you spot horses who are being made to haul carriages in violation of this Mumbai police directive,  file a first information report with the police and share a copy with PETA. Police are required to take your complaint.
Although the location and timing restrictions mean progress for these animals, only a full ban on the use of Victorias can ensure that cruelty to horses will stop.
What You Can Do
Sign our action alert calling for a total ban on the inhumane Mumbai Victorias and share it with friends on Facebook and Twitter. Also, of course, never take a ride!