Traffic Police Agree: Ban the Carriages
PETA's campaign to get cruel horse-drawn carriages off the streets just got a powerful new ally: the police. The traffic police of Mumbai informed the High Court of Bombay that they propose to stop the renewal of the carriage owners' licences, which would effectively ban horse-drawn carriages from the city. In their affidavit, the police state that they know from experience that the carriages are dangerous to passengers and to other people on the roads and are also cruel to horses:
They are prone to accidents, as the horses are unable to maneuver themselves in traffic efficiently, or even stop and start at the pace of traffic, often leading to accidents with other road vehicles. Horses get scared due to honking and movement of vehicles and tend to go berserk and to control them carriage drivers use means like spiked bits and whipping to keep them in check. This is fraught with risks both to other people traveling on the roads, passengers in the carriages and cruelty to the horse.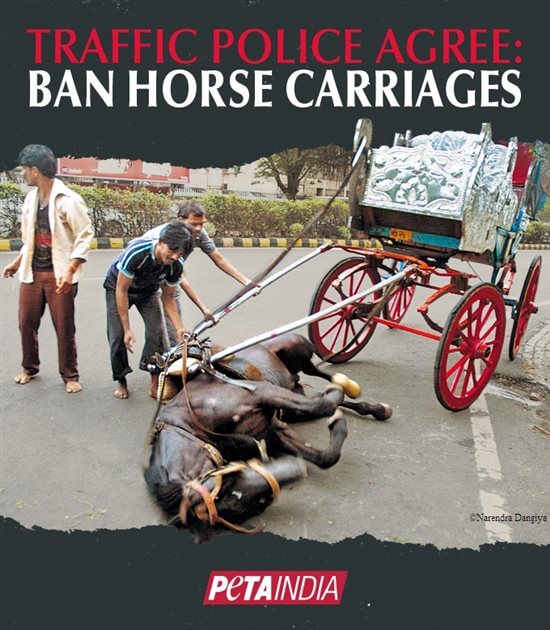 And spiked bits, whippings and accidents aren't the only horrors that these horses endure. A PETA investigation found that they suffer from sore and swollen joints, nutritional deficiency, fatigue and depression as well.
PETA has sent a letter to Mumbai Mayor Sunil Prabhu asking him to back the police by shutting down all unlicensed stables in Mumbai right away and support their request to end the use of horse-drawn carriages.
What You Can
Add your voice to the chorus of people who are speaking up for horses by asking Prabhu and other city officials to help ban horse-drawn carriages immediately.