Actor Parvathy Nair Stars in New PETA Campaign Ahead Of World Spay Day
Ahead of World Spay Day (27 February), actor and model Parvathy Nair gives rescued pup Maximus a big hug in a brand-new pro-adoption campaign for PETA India that proclaims, "Compassion Is Beautiful. Adopt From a Shelter or the Street." The ad campaign was shot by Harshith Dambekodi, and Nair's hair and make-up were done by Nandish.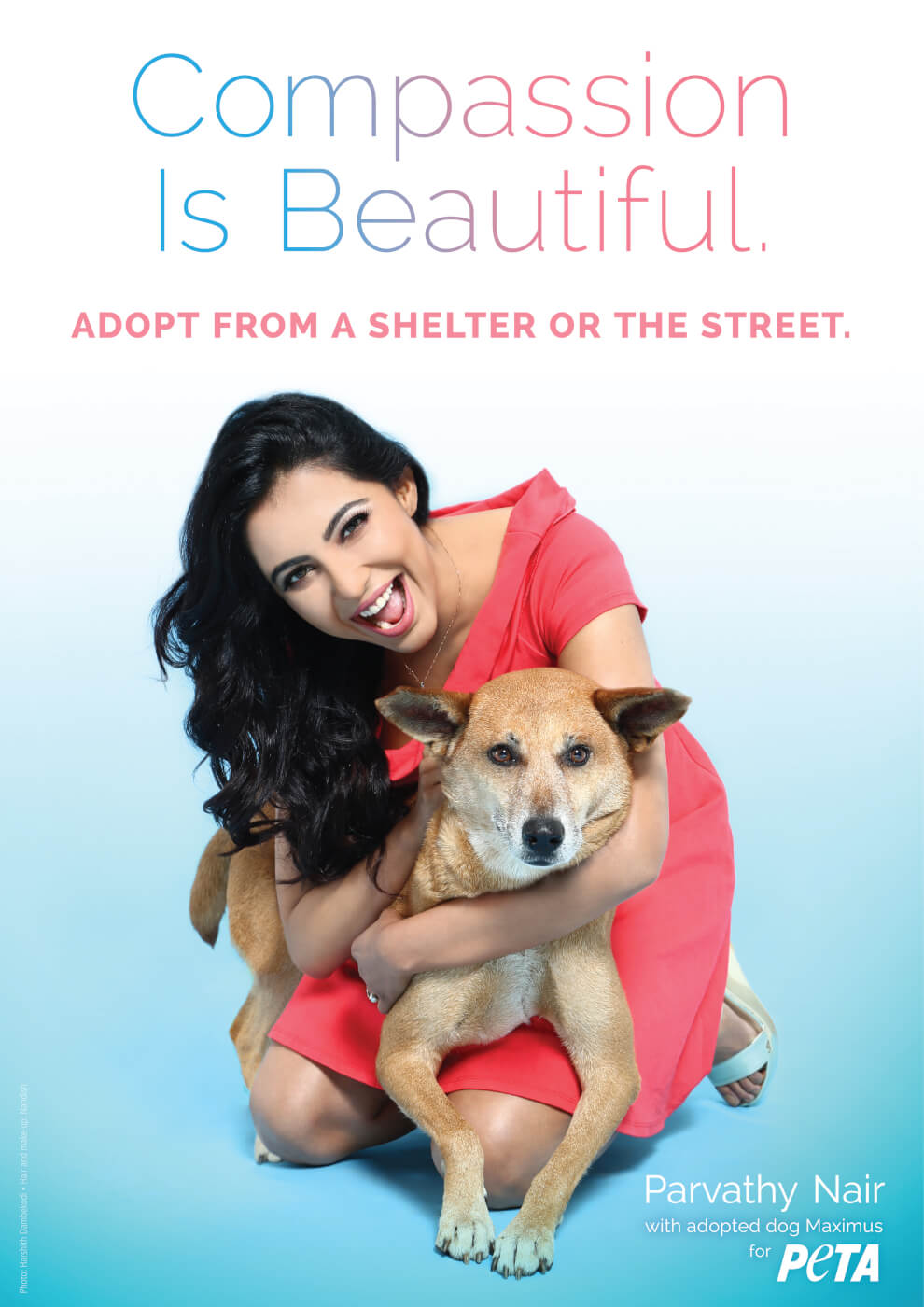 In an exclusive video interview, Nair says, "[I]n a country like India, we have too many stray dogs [and] cats …. I'd request all of you to try and adopt animals from the streets." She goes on to explain that "animals do need sterilization, because that's the only way they can be healthier ….we will have more healthy dogs and cats … if we make an effort to sterilize as many as we can".
PETA India notes that across India, thousands of homeless cats and dogs go hungry, are killed by vehicles, sustain broken bones, suffer from infected wounds, and are abused by cruel people. Countless more languish in animal shelters simply because there aren't enough good homes for them all – and buying cats and dogs from breeders or pet stores only exacerbates the homeless-animal overpopulation crisis.
PETA India advocates for the adoption of dogs and cats from shelters or the street and urges people to have their animal companions sterilised – a routine, affordable surgery that can prevent thousands of animals from being born only to suffer. Just one unaltered female dog and her offspring can produce 67,000 puppies in six years. In seven years, one female cat and her offspring can produce 370,000 kittens.
Nair is part of a long list of celebrities–including Alia Bhatt , Amy Jackson, Shahid Kapoor, Sidharth Malhotra, Sonakshi Sinha, and Raveena Tandon – who have teamed up with PETA India to promote kindness to animals.
Nair's latest on-screen appearance was in the Tamil-language film Nimir, which was released in January of this year.
You Can Help
End the dog homelessness crisis by taking a pledge to always adopt and never buy dogs: