Alia Bhatt Is an Angel for Dogs and Cats
Amidst the box-office success of her recent film Highway, Bollywood star Alia Bhatt is showing her many fans that we can all be angels for animals simply by opening our hearts and homes to a cat or dog in need.
[peta-share-overlay]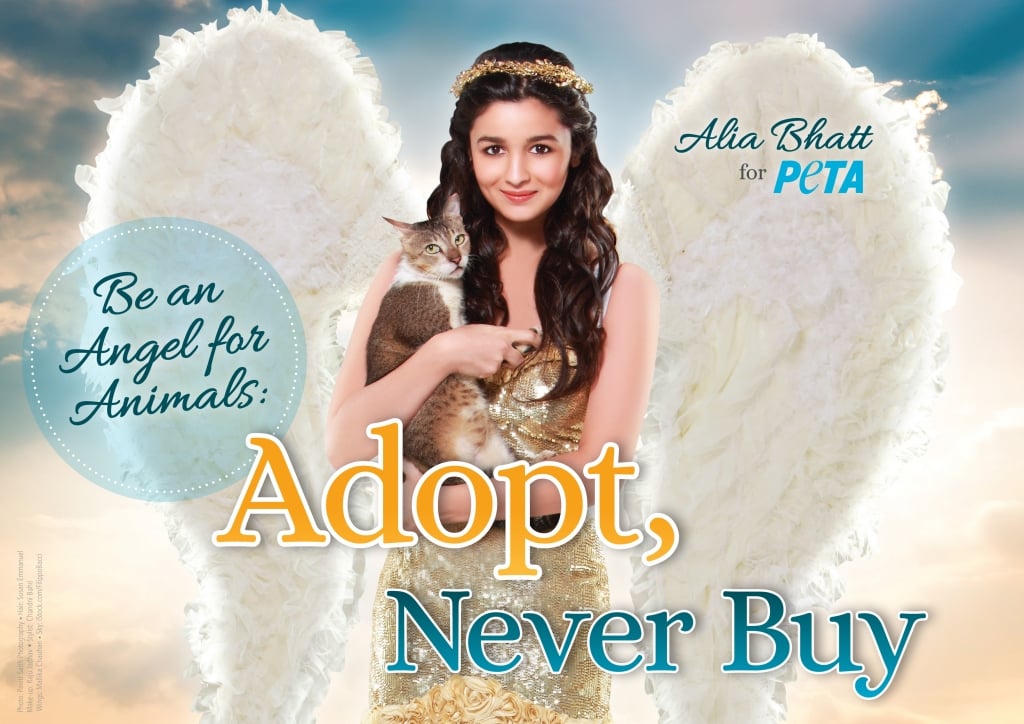 [/peta-share-overlay]
It didn't take much to turn the Student of the Year star and Lions Gold 2013 Favorite Female Debut award winner into the purrfect angel: Alia earned her wings by adopting – not buying – her feline friend. Her gorgeous new ad was shot by Pavitr Saith Photography, with hair and make-up by Susan Emmanuel and Raju Jadhav. Tyson, the cat being held by Alia, was rescued by the group Welfare of Stray Dogs.
All animals deserve a safe and loving home. But as Alia knows, breeders and pet shops worsen the dog and cat overpopulation crisis, every new puppy or kitten means one fewer home for animals on the streets or in shelters. Dogs and cats living on the streets can fall prey to cruel people and are at risk of starving, being hit by cars or suffering from untreated diseases or injuries. By adopting her feline friend, Alia made room for other animals to find their angels, too.
Alia explains that animals on the streets are "not safe". She says, "I am an animal lover myself, and my message to my fans would just be that if you love me, then please love animals even more".
Sterilising (spaying/neutering) cats and dogs is also vital since it helps curb overpopulation of animals without homes and helps animals live happier, longer lives. Spaying eliminates female animals' risk of diseases and cancers of the ovaries and uterus, while neutering eliminates male animals' risk of testicular cancer.
You can be an angel like Alia by signing PETA's pledge  always to adopt – and never buy  – animals and by vowing to get your animal companions sterilised.