Hema Malini: Proud to Be a Vegetarian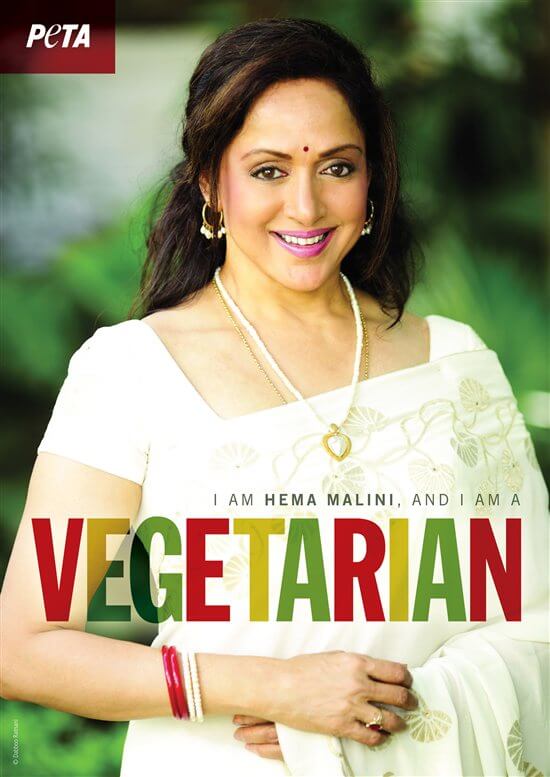 Known lovingly as "Dream Girl", iconic actor, politician and animal defender Hema Malini wants the whole world to know about her healthy and humane vegetarian diet. That's why the Bollywood legend was eager to lend her bright smile to a brand-new ad for her friends at PETA. The stunning ad was shot by ace photographer Dabboo Ratnani.
Why is Hema so proud to be vegetarian? For one reason, it's the best way to stop animals' suffering. Animals killed for food have the same range of emotions and will to live that we humans do. But chickens, cows and other animals are treated like meat machines and are robbed of everything that is natural and important to them before they are shipped off to a painful and terrifying death.
"Being vegetarian is the best road to good health", says Malini, who has appeared in more than 150 films in a stellar career spanning four decades. "Knowing that my food choices are helping the planet and animals, too, makes me happy."
Going vegetarian is also the best choice we can make for our own health. Vegetarians are, on average, fitter and trimmer than meat-eaters, and eating animal flesh has been conclusively linked to heart disease, diabetes, obesity and cancer – ailments that threaten the lives of countless Indians.
Eating plants instead of animals is much kinder to Mother Earth, too. Raising animals for food is a leading cause of water pollution, land spoilage and the greenhouse-gas emissions responsible for climate change.
In addition to appearing in the new ad, Hema has also lent invaluable support to PETA's campaigns to stop the cruel "sport" of jallikattu, in which bulls are severely abused. She also asked the Mumbai Municipal Commissioner, on PETA's behalf, to ban dangerous horse-drawn carts from the city's busy and stifling-hot streets. It's no wonder Hema is PETA India's reigning Person of the Year!
Ready to follow in Hema's footsteps and change your life for the better? Why not take the pledge to go vegetarian?