Raveena Tandon-Thadani Says,'Adopt, Don't Buy'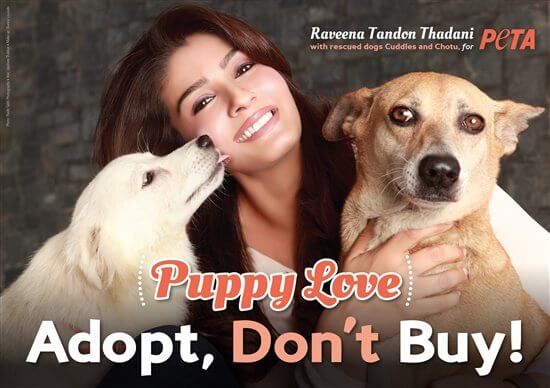 Actor and producer Raveena Tandon-Thadani has been honoured with many awards throughout her career, from a Filmfare Lux New Face Award for her debut role in Patthar Ke Phool to the prestigious National Film Award for Best Actress for her stunning performance in Daman: A Victim of Marital Violence. But we bet that if we asked Raveena's rescued animal companions which award she deserves, they would say, "World's Kindest Human".
Raveena has opened her heart and home to three Indian dogs and a cat from the streets as well as a rescued mutt. Now, she has teamed up with PETA (and two adorable canine co-stars) for an ad encouraging her fans to experience "puppy love" by adopting a dog or lucky kitty from the street or a shelter. The ad was shot by ace photographer Pavitr Saith, hair by Jayshree Thakkar and make-up done by Bianca Louzado. Says Raveena, "I would rather help an animal in distress …. These dogs, these animals deserve a chance and they need our help, they need our love they need our compassion."
Hear more of Raveena's thoughts on puppy love and helping animals in her exclusive interview with PETA:
As she explains, it doesn't make sense to buy a dog or a cat from a pet shop or breeder while there are so many lovable and deserving animals on the streets and in shelters, waiting for someone to take them home and make them part of a family. If they aren't adopted, many dogs and cats on the streets will suffer and die from abuse, starvation, broken bones, infected wounds or collisions with traffic. Those in animal shelters may languish there for life.
All animals deserve a home with someone who will care for and adore them, and the key to ensuring that as many dogs and cats get good homes as possible is to sterilise your companion dogs and cats and support the sterilisation efforts of nongovernmental organisations.
Want to be like Raveena and be a star for animals? Sign PETA's pledge always to adopt your dog and cat companions from the streets or a shelter, never to buy animals from a breeder or pet shop and always to have your dogs and cats sterilised.