Tannishtha Chatterjee Says, 'Adopt, Don't Buy'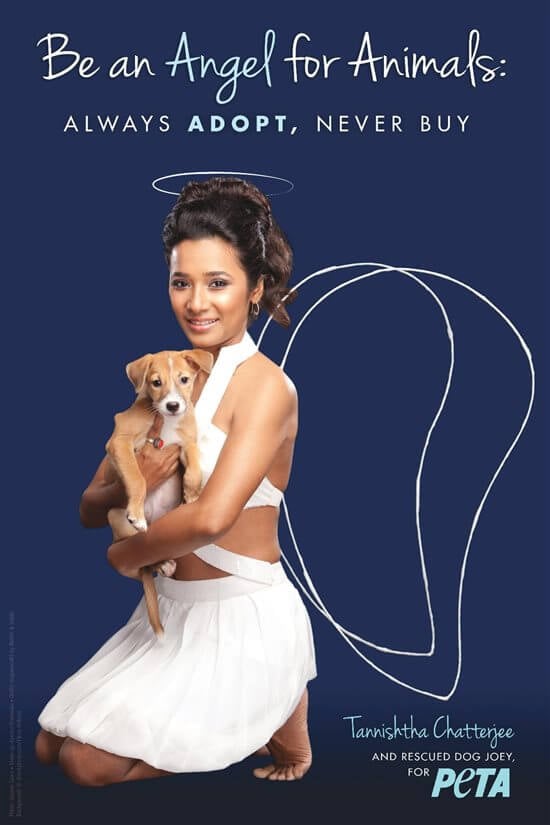 Credit

|

Credit1
The lovely and talented Tannishtha Chatterjee won rave reviews for her performances in the films Brick Lane and Siddharth, and she is currently starring in Gulaab Gang. But she's joined by an irresistible co-star in her latest role – as an "angel" in a PETA ad encouraging people to adopt dogs and cats instead of buying them. The stunning ad was shot by ace photographer Gaurav Sawn, Ayesha Wadiwala was in charge of make-up and hair and mapxencaRS by Riddhi & Siddhi designed and styled Tannishtha's outfit.
Tannishtha's co-star, Joey – a lovable and irresistible little dog who was rescued by the group Welfare of Stray Dogs – shares the limelight.
In a behind-the scenes interview, Tannishtha talked about the obligation that we all have to help animals in need. "There are so many animals on the street who need care", she says. "If we are encouraging breeding, then it's like one less home for an animal [who] already exists and [who] needs care."
Across India, dogs and cats struggle to survive on the streets. Many of them starve to death or are injured, hit by vehicles or abused. Countless others are left to languish in animal shelters because there aren't enough good homes for them. PETA and Tannishtha want people to know that they can bring joy into the life of a homeless dog or cat – and into their own lives – by adopting a lovable and loving homeless animal from a shelter or the street. People can further help combat the homeless animal crisis by having their animal companions sterilised.
If you have the time, resources and room in your heart and your home to care for an animal, please pledge to adopt an animal, rather than buying one, and always have your animal companions sterilised.