Kalki Koechlin Says, 'Adopt, Don't Buy'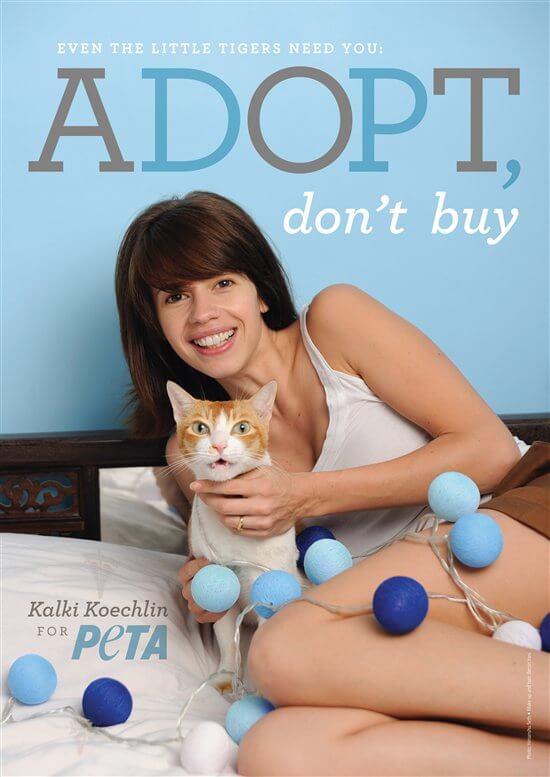 Stunning actor Kalki Koechlin has received high praise and a Filmfare Award nomination for her breakout role in the Hindi film Dev D. Now, coinciding with the release of her latest movie, Shanghai, Kalki stars in an adorable PETA ad with her rescued feline friend, Dosa. The ad, which was shot by ace photographer Himanshu Seth and features makeup by Berzin Irani, encourages Kalki's legions of fans to consider opening their hearts and homes to an animal in need.
Kalki knows firsthand what a joy it is to save a homeless animal's life: She rescued Dosa from the streets when he was just a kitten. Now a healthy, happy boy, Dosa is Kalki's number-one fan and feline "bodyguard", closely monitoring anyone who comes near his beloved guardian.
"Dosa is a supercat – he's cuddly, affectionate and a natural good looker", says Kalki. "With so many homeless animals suffering in the streets or awaiting adoption in overcrowded shelters, breeders only add to the problem by bringing yet more cats and dogs into the world. I don't regret for one minute having adopted Dosa."
Millions of loving and lovable animals such as Dosa are struggling to survive on India's streets. Many of them starve to death or are injured, abused or hit by vehicles. Countless others are left to languish in animal shelters because there aren't enough good homes for them.
Are you ready to give a lucky cat or dog a leading role in your life? Take Kalki's advice and sign PETA's pledge,