Sidharth Malhotra Speaks Up for Sterilisation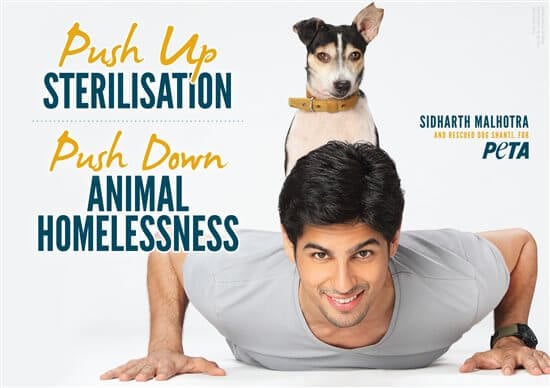 Sidharth Malhotra – who soared to fame following his 2012 debut in Karan Johar's Student of the Year and is now appearing in the film Hasee Toh Phasee along with Parineeti Chopra – stars with a rescued dog named Shanti in a brand-new ad for PETA India urging his fans to practise animal birth control. The ad was shot by ace photographer Pavitr Saith. Malhotra's hair was done by Ali, for Hakim's Aalim, and his make-up was done by Rizwan Shaikh.
Sidharth wants his legions of adoring fans to know that by spaying or neutering (sterilising) their dogs and cats, they'll be saving the lives of countless unwanted puppies and kittens – which is a cause that has always been close to his heart.
"The number of animals – dogs and cats – there are far more than the demand for them, and it's tough to find good homes for them", said Sidharth, who took time out of his busy schedule to sit down for an exclusive PETA interview. "What you give is what you get back. So I think just be good to animals."
Millions of loving and lovable animals are struggling to survive on India's streets. Many of them starve to death, are abused or are hit by vehicles. Countless others are left to languish in animal shelters because there aren't enough good homes. Every time a cat or dog has a litter, it means fewer homes for the animals who are already stuck in shelters or roaming the streets. The solution is simple: always have your cat or dog sterilised.
Help Sidharth get the message about animal birth control out to as many people as possible. To get started, take PETA India's pledge to support sterilisation.