Imran Khan Urges Fans to Adopt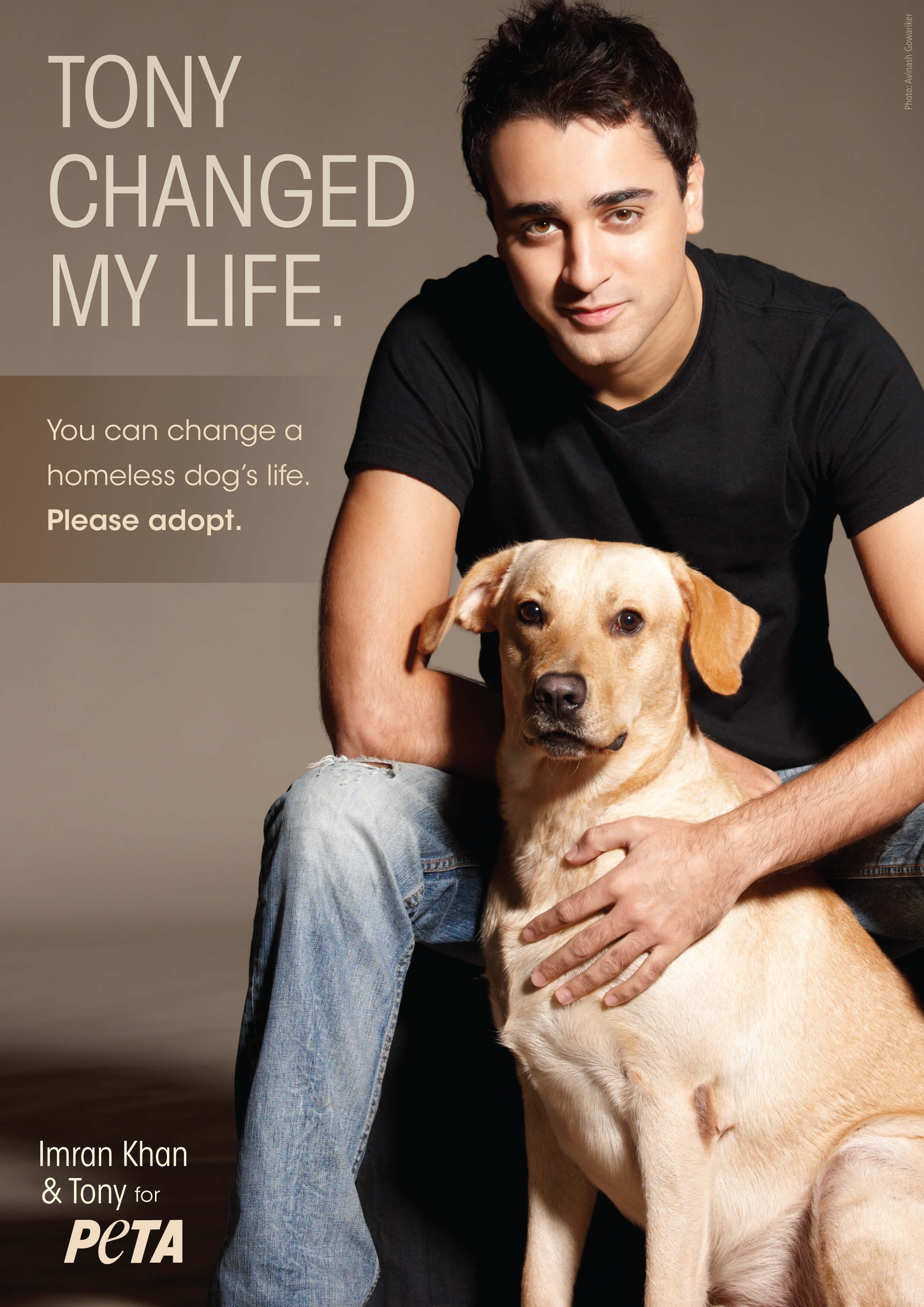 Imran Khan's life changed dramatically after his breakout role in Jaane Tu … Ya Jaane Na launched him into stardom and into the hearts of countless adoring fans across the country. But fame isn't the only thing that has changed Imran's life. Tony changed it, too.
Imran's late canine companion Tony had been dumped on the streets by his previous owner – who hadn't even bothered to take the dog's leash off – and was languishing there when Imran rescued him. Imran soon decided to adopt Tony, who, like Imran's character in Jaane Tu … Ya Jaane Na, was lovably good-natured and very well-mannered. Now, in honour of his beloved dog, he has teamed up with PETA to encourage his legions of fans to save a life by opening their hearts and homes to a dog from the streets or from an animal shelter.
Right now, about 25 million dogs are struggling to survive on India's streets. Many of them are hungry or are suffering from broken bones, infected wounds or painful diseases. Some will be hit by vehicles or abused by cruel people. Many others are languishing in animal shelters. Homeless dogs on the streets and in animal shelters desperately need good homes. Buying an animal from a breeder or a pet shop deprives a dog like Tony of a loving home and a chance at a good life.
Like Imran, we can save a life and make a new best friend by adopting a grateful dog from the streets or a shelter. Please help end the animal-homelessness crisis by signing our pledge below always to adopt dogs – never buy them – and always to spay or neuter animal companions.
Pledge to Adopt and Sterilise Animal Companions
I promise to do my part to end the tragic cycle of animal homelessness by never buying a dog from a breeder or pet shop. Instead, I will save a life by opting to adopt a homeless dog from the streets or an animal shelter and by always having my animal companions spayed or neutered.
यहां साईनअप करके व अपना संपर्क विवरण देकर आप यह स्वीकार करते हैं कि आपने हमारी प्राइवेसी पॉलिसी को पढ़ा है वह आप उस से सहमत हैं।