Try These Vegan Dishes by Sadaa Sayed for a Delicious Eid al-Fitr
Eid al-Fitr is upon us, and what better way to celebrate than with tasty vegan food? Vegan options never include cruelty to animals and are usually much more nutritious than animal-derived foods. While an egg contains 6 grams of protein and a 100-millilitre glass of cows' milk contains 170 milligrams of calcium, 100 grams of soya chunks contain 52 grams of protein and 350 milligrams of calcium.
PETA India is delighted to share these vegan recipes, which have been adapted from recipes by our friend actor Sadaa Sayed, who is also the owner of Earthlings Cafe, a vegan restaurant in Mumbai. In the past, Sadaa collaborated with PETA India to provide 750 children at an orphanage with vegan biryani.
Soya Keema
1/2 cup soya chunks
2 cups hot water
2 Tbsp oil
1 tsp jeera seeds
1 bay leaf
1 Tbsp ginger garlic paste (or 1/2 Tbsp each finely chopped ginger and garlic)
1 cup finely chopped onion
1/2 cup finely chopped tomato
1/2 tsp turmeric powder
Red chilli powder, to taste
1 Tbsp coriander powder
2 tsp jeera powder
Salt, to taste
1/2 cup green peas
1 tsp garam masala powder
A handful of chopped coriander leaves
Soak the soya chunks in the hot water for 30 minutes. Squeeze out all the water until dry and mince in a grinder.
Warm the oil in a pan over medium heat and add the jeera, the bay leaf, and the ginger-garlic paste or the chopped ginger and garlic. Sauté for 1 minute and then add the onion.
Fry the onion until translucent and then add the tomato. Once the tomato has softened, add the turmeric powder, some red chilli powder, the coriander powder, the jeera powder, and some salt. Finally, add the green peas.
Let cook for 1 or 2 minutes. Add a bit of hot water if it sticks to the bottom of the pan. When the oil starts to separate, add the minced soya chunks and mix well.
Cook over a low flame for at least for 20 minutes, until the soya absorbs all the flavour. Remove the bay leaf, add the garam masala and the coriander leaves, and mix well.
Serve hot with pav, roti, or phulka.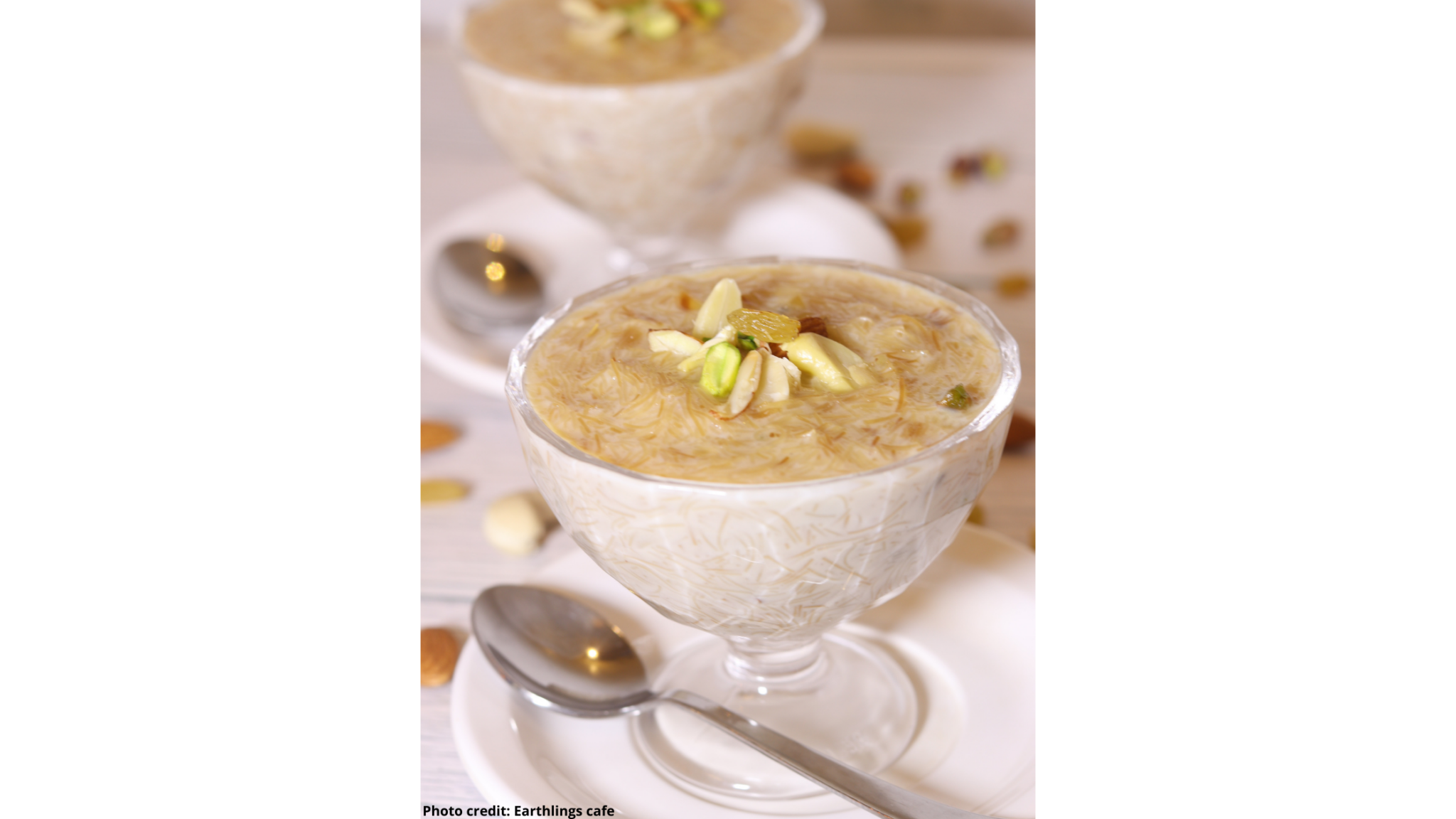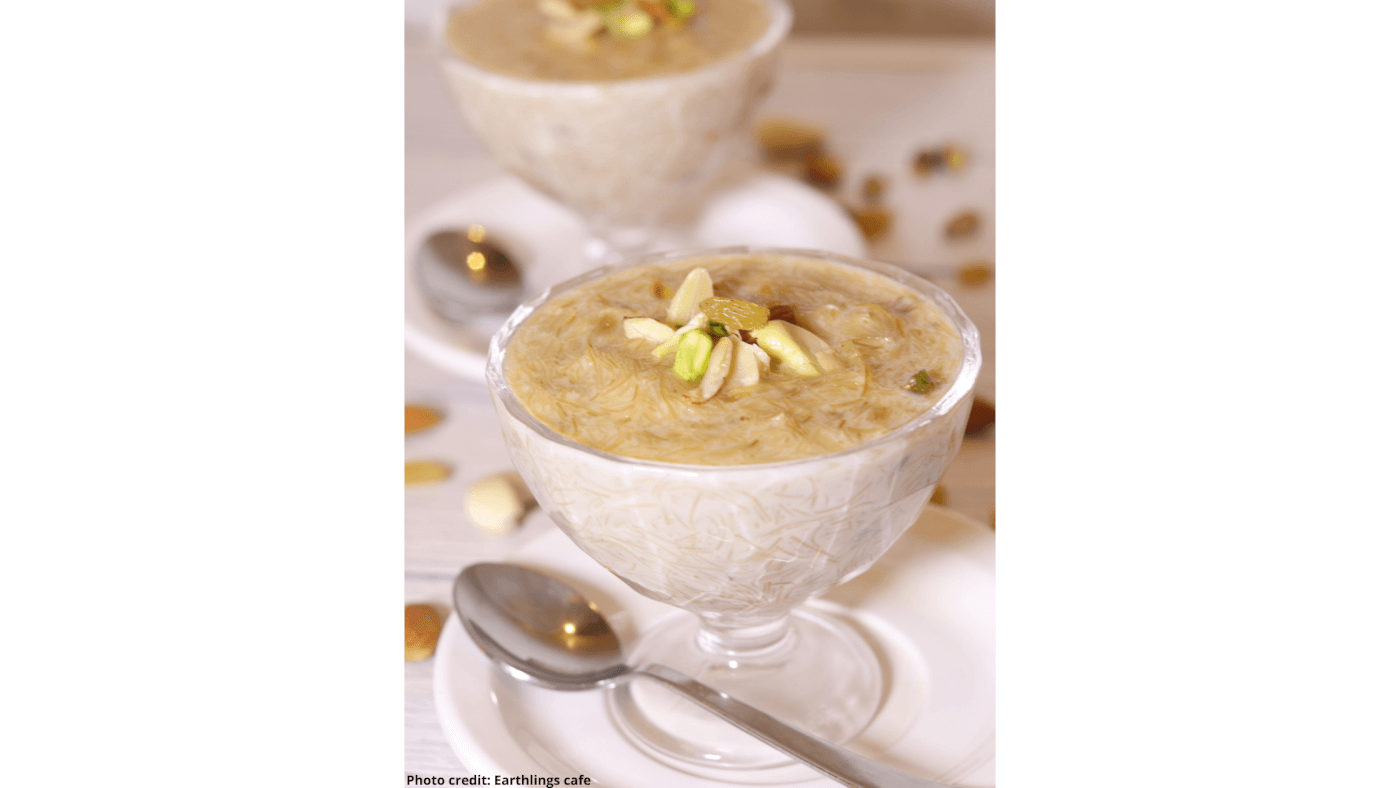 Sheer Khurma
1/2 cup broken seviyan or vermicelli
2 Tbsp neutral oil (such as sunflower)
1 Tbsp chopped cashews
1 Tbsp sliced almonds
1 Tbsp sliced pistachios
1 Tbsp charoli (optional)
1 Tbsp golden raisins
2 cups soy or almond milk
1/2 cup sugar
1/2 tsp cardamom powder
Roast the seviyan or vermicelli in 1 tablespoonful of the oil until golden brown. Set aside.
Add the remaining oil to the same pan and roast the nuts, the charoli, and the raisins for 3 or 4 minutes, continuously stirring over a low flame.
In a deeper pan, warm the soy or almond milk over medium heat. Add the sugar and keep stirring until the milk starts to boil and the sugar is dissolved. Lower the flame and simmer for 5 minutes. Add the roasted noodles and allow them to soften, about 5 minutes – be careful not to overcook. Add the roasted nut mixture and the cardamom powder. Mix well and cook for 2 minutes more.
Garnish with more nuts and serve hot or cold.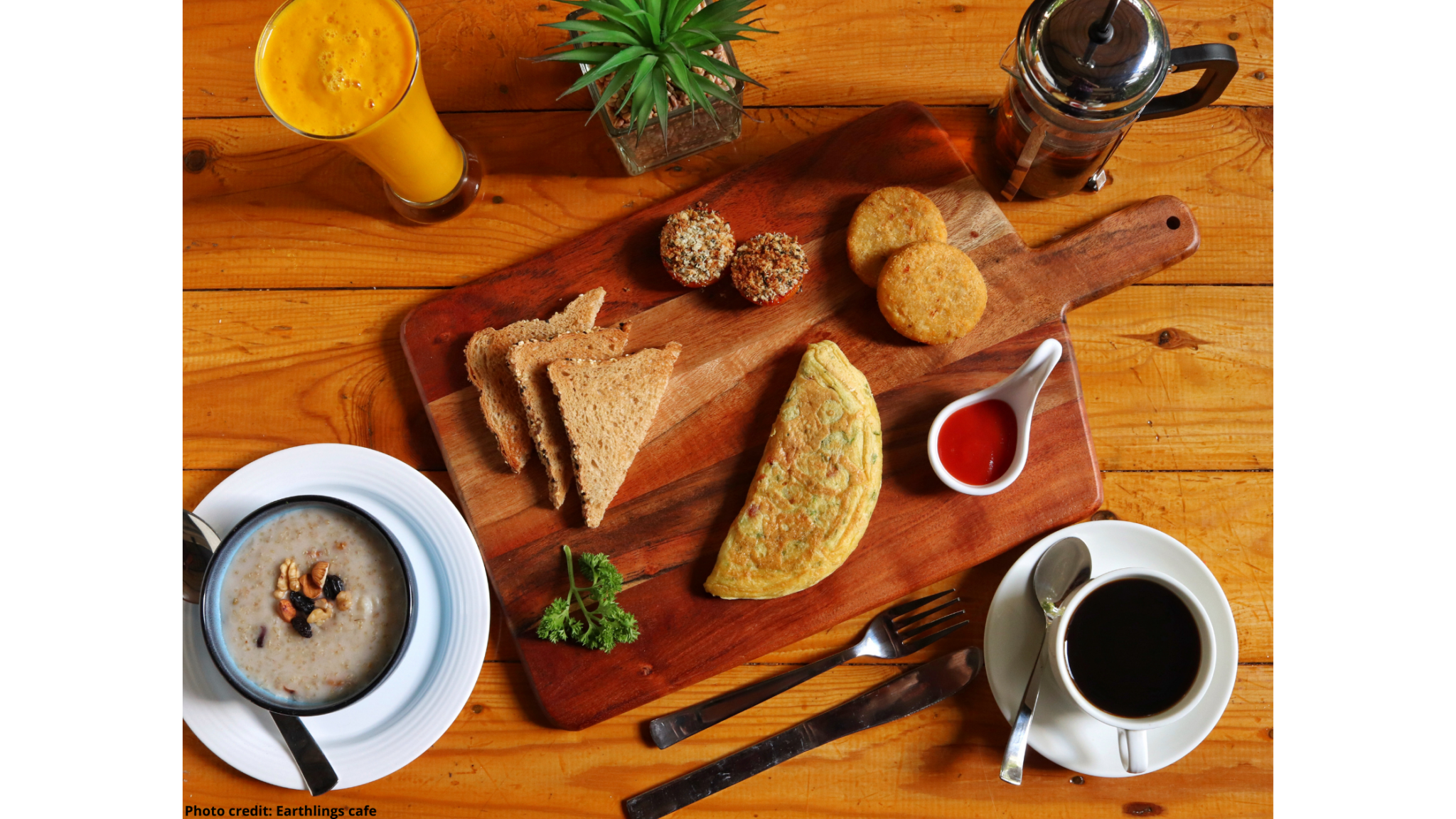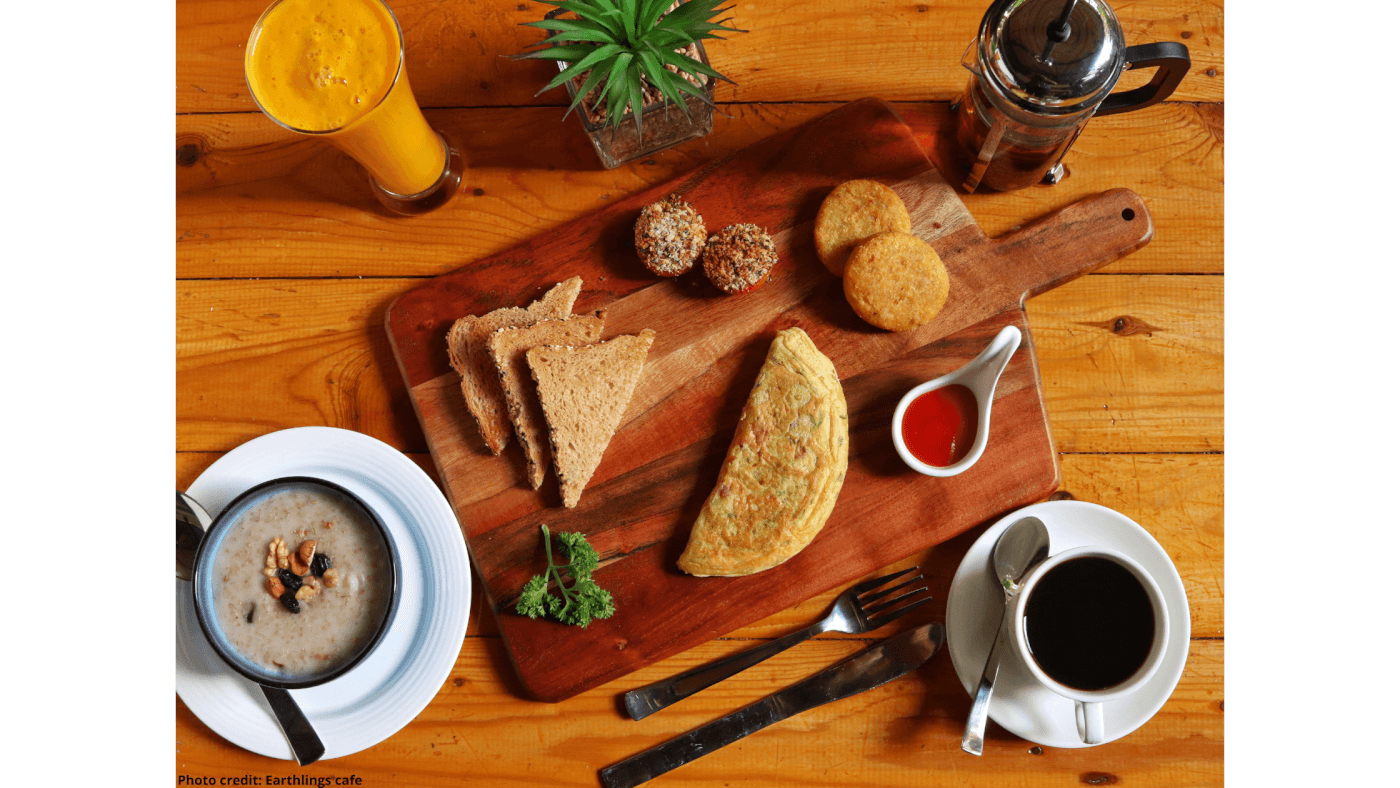 Vegan Omelette
1/2 cup moong dal, soaked for 30 minutes in hot water
2 Tbsp rice flour
1/4 tsp onion powder
1/4 tsp garlic powder
1 Tbsp nutritional yeast
3/4 tsp black salt
Water as needed
1 tsp oil
Strain the excess water out of the moong dal and blend to a smooth paste.
Add the remaining ingredients except for the oil, slowly incorporating water until the batter is neither too thick nor too runny.
Heat the oil in a non-stick pan over medium heat. Pour in a ladleful of batter and cook for 1 minute. Flip and cook the other side.
This will make a basic omelette. You can add vegan cheese and fold the omelette in half to make a cheese omelette. Add finely chopped onion, tomato, and green chilli along with coriander to the batter to make a masala omelette. To make a veggie omelette, add chopped vegetables of your choice (like mushrooms, spinach, and bell pepper) sautéed in oil, salt, and black pepper. Serve hot with toast.
Inspired?
Order a Free Vegan Starter Kit