Vegan Recipes for Eid al-Adha
Many Muslims observe Eid al-Adha by enjoying delicious vegan meals, volunteering for charities, and taking other kind actions. This Eid al-Adha, we hope you'll try one or more of these vegan recipes shared by chefs Sadaf Hussain , Rubaina Ali Khan, Tehseen Mehdi Dudani, and Muskaan Hassan.
Sadaf Hussain
Former MasterChef India contestant and food writer Sadaf Hussain grew up in a Muslim household where home-cooked food was the norm. He says that "food has no religion" and should bring everyone together, regardless of caste, creed, or religious beliefs. Below are his mouth-watering vegan recipes for soya shammi kebab and jackfruit biryani. They may involve many steps, but we're told they're worth the effort. Enjoy!
Soya Shammi Kebab
By former MasterChef India finalist Sadaf Hussain
Ingredients:
1 1/2 cup

soya granules

2

raw bananas

1/2 cup roasted chana dal

1 Tbsp oil 

1 inch piece

of ginger, minced

5 cloves

garlic, chopped

3 green chillies, chopped
1/4 tsp red chilli powder
Fresh coriander leaves and fresh mint chutney, for garnishing
1/4 tsp garam masala

Salt to taste

 
Whole Spices:  
4 Dry Red Chillies

 

1 Tbsp black peppercorns

4 Cloves (Laung)

 

1 inch Cinnamon Stick (Dalchini)

 

5 Cardamom (Elaichi) Pods/Seeds

 

1 teaspoon Fennel seeds (Saunf)

 
Method: 
Roast the whole spices (dry red chillies, black peppercorns, cloves, cinnamon stick, cardamom pods, and fennel seeds) and grind them into a fine powder.
Boil and mash the bananas.
Soak the soya granules in warm water until rehydrated, then drain.
Warm the oil in a non-stick pan over medium heat. Add the ginger, garlic, and green chillies and sauté. Add the soya granules, roasted chana dal, red chilli powder, and garam masala and mix well. Season with salt.
Put the roasted spices and soya mixture into a mixing jar and blend into a smooth paste.
Take the mixture out and divide it into 4 equal portions.
Shape into patties and fry both sides until golden brown in a non-stick grill pan.
Garnish with coriander leaves and serve with mint chutney.
Makes 3-4 servings
Jackfruit Biryani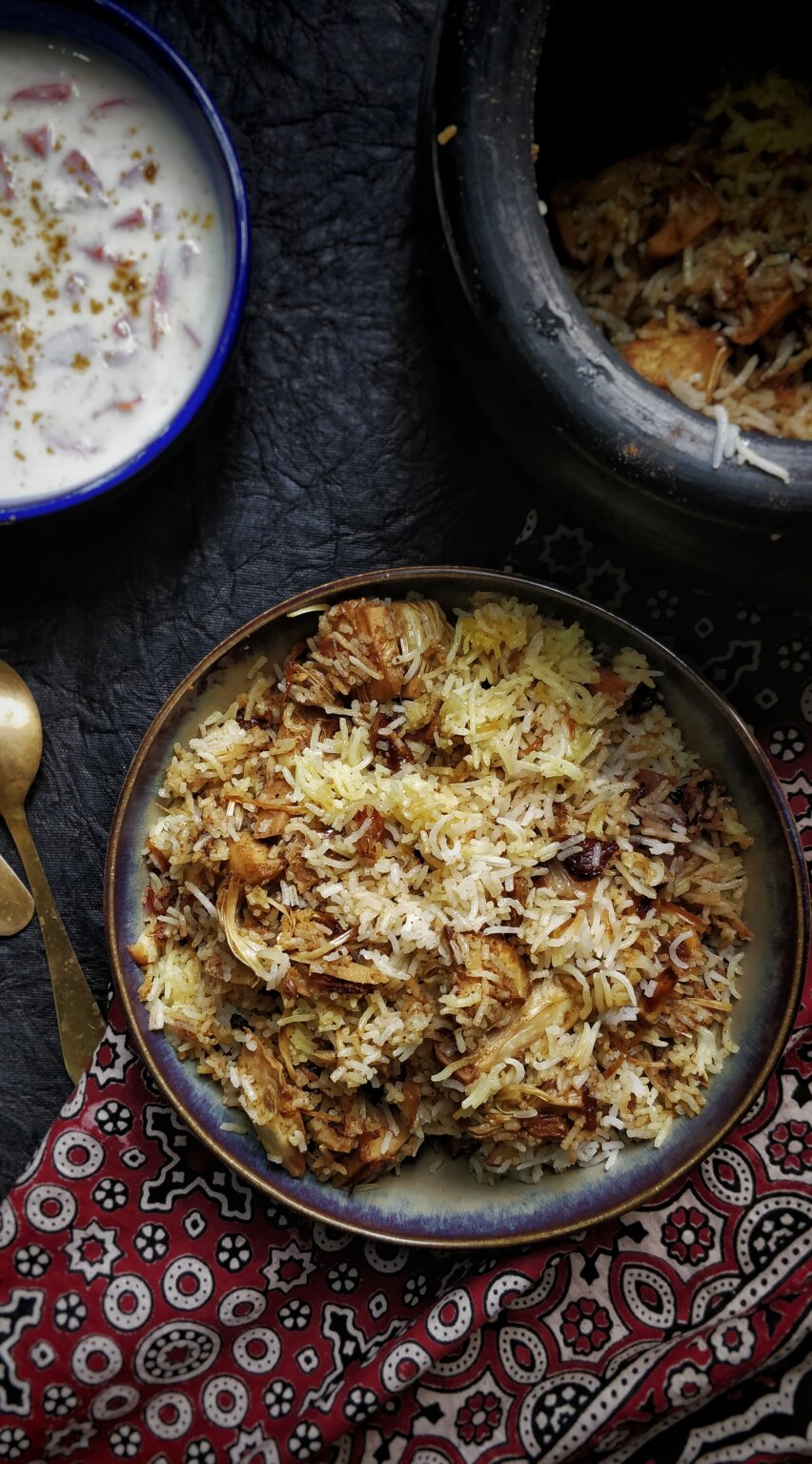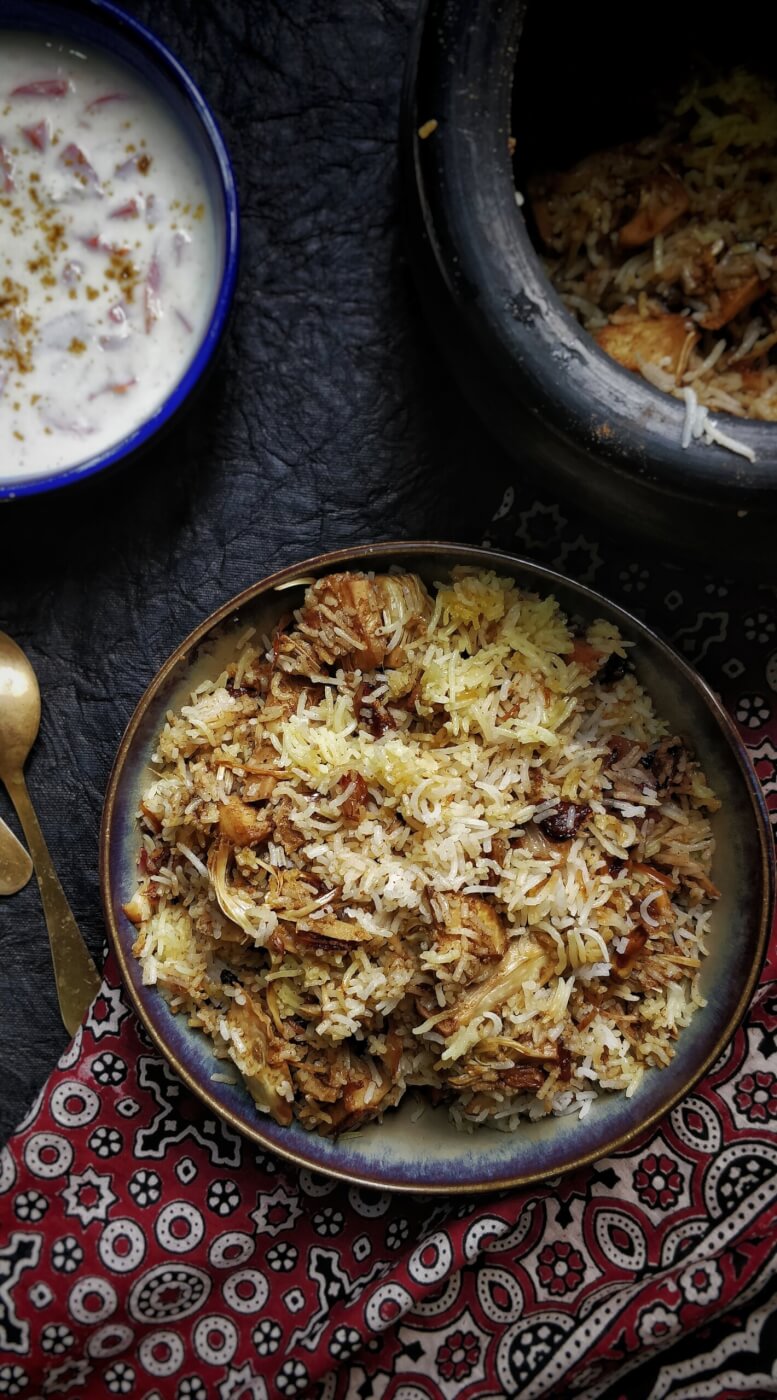 Ingredients:
For the Kathal:
5 cups kathal (jackfruit) chunks
Salt, to taste
2 tsp chilli powder
3/4 tsp turmeric
1 Tbsp coriander powder
1 Tbsp ginger paste
1 Tbsp garlic paste
1 1/2 cups plant-based curd
1/4 cup oil
For the rice:
3 cups basmati rice, soaked and drained
1 litre water
1 tsp salt
4 cardamom pods
2 bay leaves
1 inch cinnamon
6-8 cloves
For the masala:
1 cup oil
1 cup onion paste
1 Tbsp garlic paste
1 Tbsp ginger paste
2 tsp shahi jeera
5 cardamom pods
1 cinnamon stick
Dash of water
3/4 tsp turmeric powder
1 Tbsp chilli powder
1 1/2 Tbsp coriander powder
1/2 tsp cardamom powder
1/2 tsp mace (javitri) powder
Salt, to taste
For assembly:
3 Tbsp melted plant based ghee
1/2 cup fried onions
1 cup mint leaves
1/4 bunch coriander leaves
1 Tbsp garam masala

Roasted nuts of your choice, chopped

Pinch saffron dissolved in 2 Tbsp plant-based milk
1 Tbsp kewra water
2 green chillis
Method
For the kathal:
Fry or boil the jackfruit until well cooked.
Make a marinade using all the 'for kathal' ingredients. Let it sit for 30-60 minutes.
For the rice:
Add the soaked rice to a heavy-bottom pan
Add the water and spices
Parboil.
For the masala:
In a pan, heat the oil over a low flame and cook the onion, ginger, and garlic pastes. Toss in all the spices and let them sizzle, but don't allow them to burn.
Add the marinated jackfruit and cook for 25 to 30 minutes, adding a bit of water if needed.
The mixture should be thick.
To assemble the biryani:
Heat a heavy-bottom pan or earthen pot and pour in the melted plant-based ghee.
Add half the jackfruit masala followed by half the rice.
Top with half the fried onions, half the mint and coriander leaves, half the garam masala, and half the nuts.
Repeat this process to make two layers of everything.
Pour the saffron and plant-based milk over the top layer. Add the kewra water and 3 tablespoonfuls of the plant-based ghee.
Cover and simmer for 10 to 15 minutes then let rest for another 10 to 15 minutes.
Fluff with a fork and serve hot with vegan raita.
Makes 4-5 servings
Rubaina Ali Khan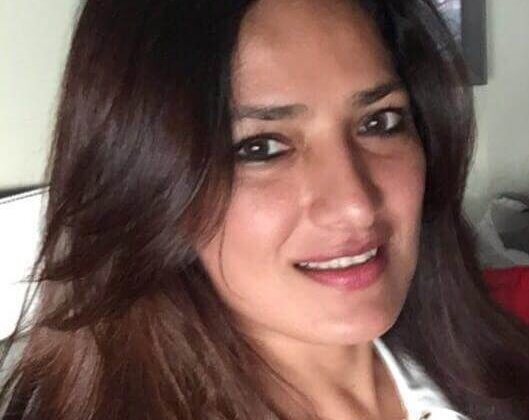 If you've ordered from Vegos, an eco-friendly vegan kitchen run by Rubaina Ali Khan, you know how good vegan meals can be. The recipe for keema pao, below, serves two and takes just 25 minutes to prepare and 50 minutes to cook.
Keema Pao
By Rubaina Ali Khan, founder of  Vego's Plant Based Kitchen
Ingredients:
2 Tbsp vegetable oil
1/2 Tbsp vegan ghee (such as Emkay Lite)
1 pinch cumin seeds (zeera)
1 black cardamom (badi elaichi) pod
2 cloves (laung)
1/2-in cinnamon stick
1 bay leaf (tej patta)
8 cloves garlic, minced
250 g onions (about 2 1/2 medium onions), finely chopped
3 spicy green chillies, finely chopped
1/4 bunch chopped fresh coriander
 2 tsp ginger-garlic paste
250 g puréed tomato (about 2 medium tomatoes)
4 mild green chillies, finely chopped
50 g peas and 1 potato chopped into small cubes, boiled together, strained, and set aside
2 tsp red chilli powder
1 tsp turmeric (haldi) powder
1/2 tsp roasted cumin powder
2 tsp coriander powder
3 tsp keema masala powder
1 tsp garam masala powder
500 g plant-based keema (such as Blue Tribe)
1 1⁄2 tsp salt
1/2 cup water
Juice of 1/2 lime
Fresh coriander leaves, for garnish
 Tbsp vegan butter, for toasting the pao
6 pao, cut in half
1 lime, cut into wedges, for garnish
Method:
Place a kadhai, or wok, over medium heat and pour in the oil and vegan ghee. When it's hot but not smoking, add the cumin, black cardamom, cloves, cinnamon, and bay leaf. Stir-fry until aromatic, about 2 minutes, then add the garlic and onion. Sauté until golden brown. Add the spicy green chillies and chopped fresh coriander.
Add the ginger-garlic paste. Stir well until aromatic, then add the tomato purée. Sauté, stirring occasionally, until the tomato softens and is cooked through, about 7 to 10 minutes. Add the green chillies and the boiled peas and potato.
Toss in the red chilli powder, turmeric powder, roasted cumin powder, coriander powder, keema masala powder, and garam masala powder. Stir well until the surface has an oily sheene. Add the plant-based keema, mix well, and cook for 7 to 10 minutes. Add the salt.
Cook for another 3 minutes, add up the water and bring to a boil, then turn off the heat. Add the lime juice and top with fresh coriander leaves. Cover and let sit for 5 minutes before serving.
Heat the vegan butter in a pan and brown the pao very lightly on both sides.
Serve immediately with hot pao on the side, accompanied by a wedge of lime. Or fill the pao with keema and top with a squeeze of lime juice.
Makes 2 servings
Tehseen Mehdi Dudani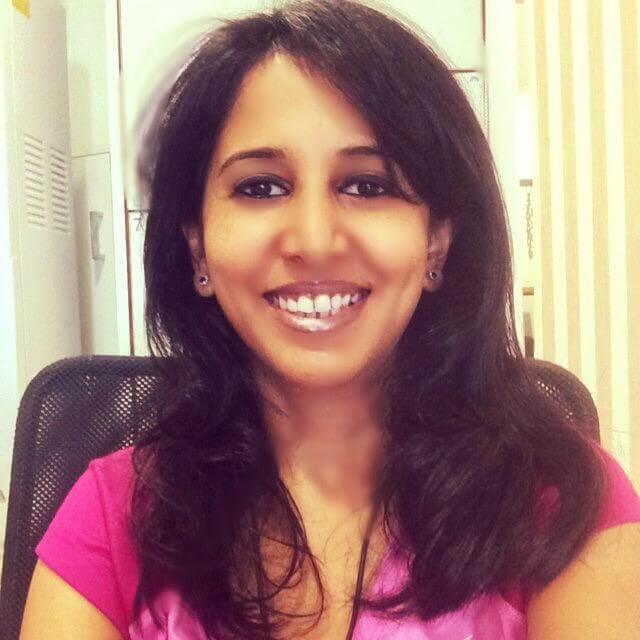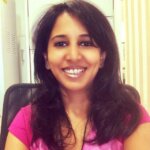 A facilitator at SHARAN India, Tehseen Mehdi Dudani knows that healthy living begins with wholesome vegan food. She even reversed her type 2 diabetes by eating plant-based foods, including firni, a creamy vegan pudding. You can make this tasty dessert yourself by following the recipe below.
Vegan Firni
By Tehseen Mehdi Dudani, facilitator at SHARAN India
Ingredients:
1/4 cup brown rice, soaked for 30 minutes
8–10 deseeded dates or 2–4 tsp jaggery powder (according to taste)
3 cups plant-based milk
1/2 tsp cardamom powder
For the garnish:
3 almonds, blanched and thinly sliced
3 pistachios, blanched and thinly sliced
Edible rose petals (optional)
Method:
Drain the soaked rice then grind into a coarse paste in a mixer grinder.
Blend the dates (if using) in the grinder with a splash of water until a paste forms.
Warm a heavy-bottom pan over low heat. Add the rice paste and cook for half a minute.
Add the plant-based milk, raise the heat to medium, and mix well. Stir constantly so it doesn't stick.
Add the date paste or jaggery powder and mix well.
Bring the mixture to a boil, stirring continuously. Add the cardamom powder and mix well. Cook until the mixture thickens while stirring continuously.
Remove from the heat. Pour into 4 single-portion serving bowls.
Refrigerate for 4 to 5 hours, until a pudding-like consistency is reached.
Garnish with the nuts and some rose petals.
Serve Chilled
Makes 2-3 servings
Muskaan Hassan
A student and home chef for Quintessence, Muskaan Hassan is a master at veganising traditionally meat-based Indian dishes, and her special dish of spiced meatballs, known as kofte ke saalan, is the talk of town! Follow the recipe below and you can be, too.
Kofte ka Saalan
By Muskaan Hassan, student and home chef
Ingredients:
150 g soya chunks
1 bunch coriander leaves
1 bunch mint leaves
2 Tbsp ginger-garlic paste
2 Tbsp Bengal gram powder
5 tsp red chilli powder
1 1/2 tsp garam masala powder
1 tsp turmeric powder
2 tsp salt
Oil for frying, plus 2 Tbsp
2 cups dry sliced coconut
5 medium onions, sliced
1 cup peanut curd
1 litre water
4 green chillies, sliced
Method:
For the kofta: 
To make the koftas, soak the soya chunks in warm water for 20 minutes and squeeze the water out.
Add 1/2 the coriander and mint leaves, 1 teaspoonful of the ginger-garlic paste, 2teaspoonfuls of the Bengal gram powder, 2 teaspoonfuls of the red chilli powder, 1/2 teaspoonful of the garam masala, 1/2 teaspoonful of the turmeric, and 1 teaspoonful of the salt. Grind everything into a fine paste.
Mold the paste into round balls, or koftas.
Warm some oil in n a frying pan over medium heat and fry until golden brown. Set aside.
For the gravy:
To make the gravy, roast the coconut and grind it into a fine paste.
Stir-fry the onion until translucent then allow to cool and grind into a fine paste.
To a vessel, add 2 tablespoonfuls of the oil, the remaining ginger-garlic paste, red chilli powder, and turmeric and the onion paste.
Stir for a minute and add the coconut paste and the remaining teaspoonful of salt.
Add the peanut curd and stir well for 10 minutes. Then
 add the water and bring to a boil.
Add the remaining garam masala, the rest of the coriander and mint leaves, and the green chillies.
Add the fried koftas and close the lid. Simmer for 10 to 15 minutes.
Makes 8 servings
************************
We hope you'll pledge to celebrate a cruelty-free Eid. As one Hadith quotes the Prophet Muhammad as saying, "A good deed done to an animal is as meritorious as a good deed done to a human being, while an act of cruelty to an animal is as bad as an act of cruelty to a human being."
We wish you a happy and humane Eid, and if you haven't already done so, please pledge to go vegan all year round in order to help stop animal suffering, protect the planet, and improve your health.
Pledge To Go Vegan