Benazir's Mom's Vegan Dum Biryani
I choose to celebrate Eid al-Adha by adhering to the traditional Islamic principle of not causing harm to any animals, and my mom helps me celebrate by cooking up the best vegan biryani. I'm happy to share the recipe with PETA supporters who want to have their own vegan Eid al-Adha – or who just appreciate a delicious, cruelty-free dish.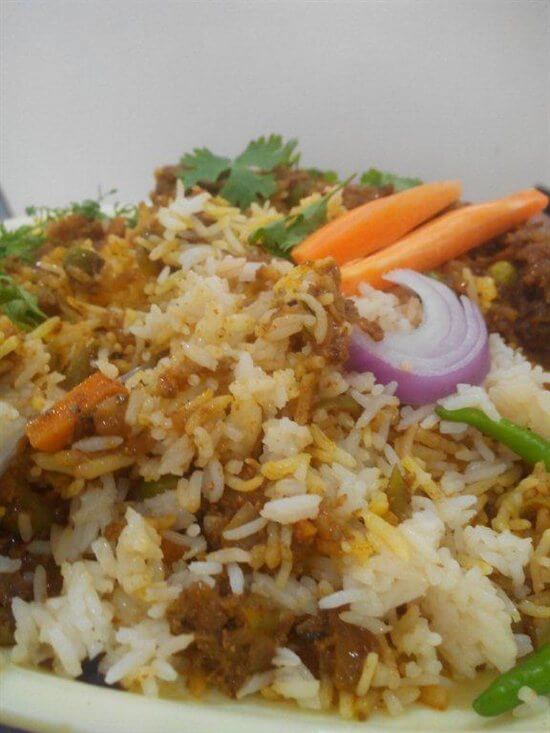 Vegan DUM Biryani
6 Tbsp ginger-garlic paste
2 tsp garam masala
1 1/2 Tbsp coriander powder
1/2 tsp turmeric powder
2 tsp cumin powder
2 tsp salt, plus more for seasoning
1 kg soya meat
200 g oil
6 onions, finely chopped
2 tsp Everest Shahi Biryani Masala
Coriander leaves, to taste
Mint leaves, to taste
2 1/2 litres + 1/3 cup water
10–12 pieces whole black peppercorns
1 tsp cumin seed
1 stem mace (javitri)
2 sticks cinnamon
6–7 whole cloves
12 pieces black cardamom (3 big and 8 small)
1 kg basmati rice, soaked for 20 to 30 minutes
2 tsp kewra water
Pinch orange colouring
100 g wheat
To make the marinade, mix the ginger-garlic paste, garam masala, coriander powder, turmeric powder and salt together in a large bowl. Soak the soya meat in the marinade for 2 to 3 hours.
Place the soya meat in a pressure cooker and cook for 2 whistles (approximately 2 minutes). Lower the temperature and cook for 3 more minutes.
Place the oil in a saucepan and fry the onions on medium heat until they are light brown. Remove the onions from the pan and spread out on a piece of plain white paper. Mash one-third of onions only.
Add the cooked soya meat, the mashed onions and Everest Shahi Biryani Masala to the remaining oil in the pan and fry on medium heat until the oil separates. Sprinkle the coriander and mint leaves on top.
In another saucepan, bring 2 1/2 litres of water to a boil and add the black peppercorns, cumin seed, mace, cinnamon, cloves and black cardamom. Add the soaked rice, season with salt and boil until the rice is nearly cooked. Remove from the heat and drain the excess water.
Add the cooked rice, kewra water and orange colouring to the soya meat. Sprinkle the rest of the fried onions on top.
Mix the wheat and remaining water together to make a soft dough. Place around the edges of the lid of the saucepan and cover so that it is sealed. Cook on very low heat on a tava (saj) for 15 to 20 minutes. Serve hot.
Makes 10 servings