PETA Looks Back on a Successful 2013
This year was a great one for animals! It was hard choosing our top 10 highlights, but the following are some of our favourite victories and accomplishments of 2013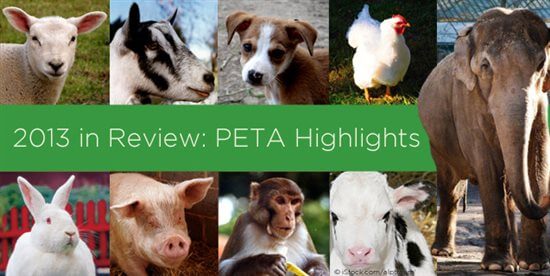 India to End the Use of Elephants in Circuses
After a nine-month PETA investigation of circuses across the country revealed miserable conditions for animals – including widespread physical abuse and nearly constant caging and chaining of animals – the Animal Welfare Board of India (AWBI) confirmed in official meeting minutes that it has "decided to stop registration of elephants for performance under [the] Performing Animals Rules in view of huge cruelties and abuse suffered by them". PETA is now waiting for this decision to be implemented

Cosmetic Tests on Animals Removed by BIS
Following an intense campaign by PETA – and after hard work by MP Maneka Gandhi – Drug Controller General of India Dr GN Singh announced that the testing of cosmetics and their ingredients on animals will no longer be permitted in India. As a result, a decision was made to remove the last remaining animal test from IS 4011:1997 Methods of test for safety evaluation of cosmetics. Currently, cosmetics tested on animals elsewhere can still be sold in India. However, following appeals to the government by PETA and others, India's Drugs Technical Advisory Board recommended the addition of a suitable provision under The Drugs and Cosmetics Rules, 1945, to prohibit the import of cosmetics that have been tested on animals in other countries. PETA is now pushing for this recommendation to be implemented. For now, when consumers go shopping, they should still refer to PETA's list of companies that don't test on animals.
No More Animals to Be Used in the Training of Dentists
After PETA contacted the Dental Council of India and asked it to replace the use of animals to train students with virtual simulations and models, the council's executive committee decided to alter its curriculum and stop using animals to teach both undergraduate and post-graduate dental students.
The CBSE Includes Humane Education in Curricula
Even more children across India are learning about the importance of being kind to animals as part of their school curricula. After hearing from PETA, Vineet Joshi, Chair of the Central Board of Secondary Education (CBSE), issued a notification to CBSE schools to use PETA's Compassionate Citizen humane-education programme as part of their official curricula.
Andhra Pradesh Protects Bulls
After PETA provided the AWBI with a comprehensive report detailing how bulls suffer when they are castrated with a "Burdizzo" – a metal clamp used to crush their blood vessels, nerves and vas deferens – without pain relief, Andhra Pradesh became the first state to require that all bulls be castrated under anaesthesia by a veterinarian.

Festival Stops Exploiting Elephants, Gets New Name
After PETA expressed concern for elephants who are forced to give rides and participate in games of tug-of-war in Jaipur's Elephant Festival and the AWBI confirmed that the organisers lacked permission to use the elephants, the festival's name was changed to Holi Festival and the use of elephants was stopped.
Illegal 'Pet' Show Cancelled
After being contacted by PETA and People for Animals, the AWBI sent out an advisory instructing the police to stop a three-day exotic "pet" show featuring birds and other animals.
Ministry Refuses to Permit Dolphinaria
When PETA, the Federation of Indian Animal Protection Organisations and other animal-welfare groups learned that state governments wanted to build dolphin parks in Tamil Nadu, Noida (city of U.P.), Kerala and Maharashtra, we contacted former Minister of Environment and Forests Jayanthi Natarajan  and reminded her that the AWBI has not issued any performance certificates for cetaceans and has also decided not to do so in the future. Ms Natarajan then announced that the ministry will not allow dolphins to be displayed in aquaria.
Bombay High Court Wants Sunder Freed
As previously reported, during a hearing for a High Court of Bombay petition filed by PETA asking that the Maharashtra Forest Department implement its own order – as well as the recommendation from Project Elephant under the Ministry of Environment and Forests – and retire 14-year-old elephant Sunder to a sanctuary, High Court HH Justice Kanade and HH Justice Sonak ordered Maharashtra's Principal Chief Conservator of Forests (Wildlife), Sarjan Bhagat, to adhere to the ministerial order. Bhagat had been asked to submit a compliance report to the court by 23 December, but during the High Court hearing on the 23rd, it became clear that he had had failed to adhere to this order and the deadline. The #FreeSunder campaign continues!
Ban on Household-Product Tests Closer
The Soaps and Other Surface Active Agents Committee (CHD 25) of the Chemical Division of the Bureau of Indian Standards – on which PETA India Science Policy Adviser Dr Chaitanya Koduri has an official seat – has proposed amending the test requirements for household products (such as cleaners and detergents) by replacing the last remaining animal test. The committee is considering replacing a test that uses guinea pigs to determine the skin-sensitisation potential of chemicals with a non-animal testing method known as "the human repeated insult patch test". It also proposed that manufacturers of new ingredients be required to submit safety data using non-animal methods of testing. You can help by urging the government to ban household products tests on animals today.
No Animal Experiments for IRIS Science Fair in 2014
Initiative for Research and Innovation in Science (IRIS) and Intel Technology India Pvt Ltd have agreed to amend the rules of the IRIS Science Fair – India's largest student science competition – to ban experiments on animals beginning in 2014.
Reliance Industries Limited Decides to Stop Meat Sales
Reliance Industries Limited, which is owned by Gujarati and vegetarian Mukesh Ambani, has decided to shut down Delight, its 5-year-old venture, and return to its vegetarian roots after receiving an avalanche of negative feedback – including from PETA and many of our supporters. For making the compassionate decision to stick with animal-, health- and Earth-friendly vegetarian foods, Reliance received PETA's Courage in Commerce Award.
Please help us save animals – and make 2014 the best year for animals yet! Donate to PETA today.