Things May be Looking Up for Sunder
During a hearing for a High Court of Bombay petition filed by PETA asking that the Maharashtra Forest Department implement its own order – as well as the recommendation from Project Elephant under the Ministry of Environment and Forests – and retire 14-year-old elephant Sunder to a sanctuary, High Court HH Justice Kanade and HH Justice Sonak ordered the Maharashtra state Principal Chief Conservator of Forests (Wildlife) Mr Sarjan Bhagat to adhere to the ministerial order. PCCF Bhagat has been asked to submit a compliance report to the court by 23 December. Sunder spent six years chained at the Jyotiba Temple in Kolhapur, and in spite of the ministerial order calling for his release to a sanctuary, he was locked in an old, dark poultry shed and chained at the behest of Vinay Kore, a local member of the Legislative Assembly who had given the elephant as a "gift" to the temple. Sunder's body shows visible signs of severe abuse.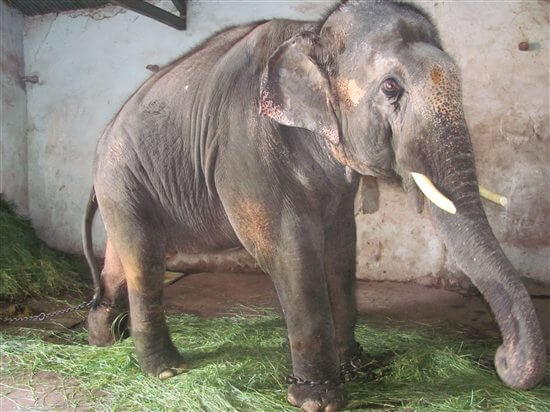 The decision follows PETA's release last week of a shocking undercover investigative video that shows a mahout (handler) violently beating Sunder, letters to authorities from Paul McCartney and Pamela Anderson calling for Sunder to be freed and #FreeSunder action on Twitter by Amitabh Bachchan, Madhuri Dixit, R Madhavan, Raveena Tandon, Arjun Rampal, Sunny Leone,  Amrita Rao, Kartik Murali,  Vishal Dadlani, Ayushmann Khurrana, Dino Morea, Jacqueline Fernandez, Celina Jaitly and Yaami Gautam. More than 33,000 people have signed PETA India's online petition calling for Sunder's release.
PETA's video reveals an apparently malnourished Sunder, chained by two legs, writhing in pain and struggling to stand as a mahout strikes him repeatedly with a pole. Sunder visibly recoils in fear from the weapon-wielding mahout, who continues to threaten him with violence after he has stood up.
"Sunder has known only chains, loneliness, darkness and beatings for at least half his life", says PETA Director of Veterinary Affairs Dr Manilal Valliyate. "We are grateful that the PCCF has been ordered by the High Court to adhere to the ministerial order calling for Sunder's release to a sanctuary. We look forward to the day when Sunder is unchained, in the company of other elephants and able to bathe in ponds as well as to get the care and freedom that he so desperately needs and deserves."
PETA has identified a sanctuary where Sunder could be cared for, live without chains, be able to roam freely and enjoy the company of other elephants.
You can help #FreeSunder by taking action here.