RIL Snags 'Courage in Commerce' Award
Everyone in India, from shareholders and religious groups to consumers and animal activists,has a cause to celebrate. That's because, according to news reports, Reliance Industries Limited, which is owned by Gujarati and vegetarian Mukesh Ambani, has decided to shut down Delight, its 5-year-old venture, and return to its vegetarian roots after receiving an avalanche of negative feedback – including from PETA and many of our supporters. The company will close its nearly 100 Delight outlets.For making the compassionate decision to stick with animal-, health- and Earth-friendly vegetarian foods, Reliance will receive PETA's Courage in Commerce Award.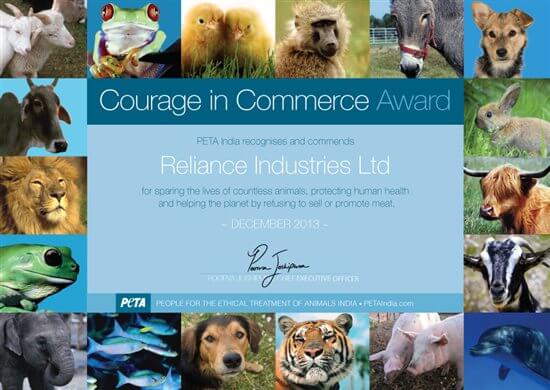 "By shuttering its meat outlets, Reliance has taken a stand that's not only ethical but also good for business", says PETA India CEO Poorva Joshipura. "Millions of Indians are proud of our cultural tradition of non-violence, and its truest test is when it's applied to the most defenceless beings on the planet, and that includes animals."
As seen in PETA's video exposé of the meat industry, narrated by R Madhavan, animals raised and killed for their flesh suffer every day of their lives. At abattoirs, chickens are often scalded to death and pigs are repeatedly stabbed in the heart as they scream in pain. Cows, goats and sheep have their throats cut, and many are skinned and dismembered while they're still conscious. Fish are often mutilated or crushed as they suffocate.
You can help by taking the compassionate step to go meat-free today.