Lady Hydari Park and Mini Zoo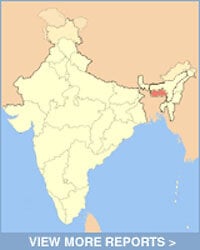 Shillong, Meghalaya
February 2006
No clean water could be seen in the enclosures.
Many enclosures had broken cement floors which were covered with excrement and were foul-smelling.
No one stopped visitors from carrying and openly consuming alcohol inside the zoo. Visitors could be seen pouring beer on the animals and into the cages. The zoo was littered with beer bottles.
On the day of our inspection, almost every visitor teased the animals. Many agitated the animals by banging on the walls of the enclosures.
Visitors could be seen trying to touch the animals with lit cigarettes.
One fox appeared to be petrified because of harassment.
One palm civet had an untended injury to his tail which had been caused by a visitor. In the enclosure of a second civet, old bananas were lying on the floor and algae were growing in a cement trough of drinking water.
Sambars, barking deer and a crane shared an enclosure which contained dirty pond water.
Visitors banged on the filthy, cramped cages of nocturnal wood owls, prompting the birds to fly during the daytime.
Four fish owls shared a small, filthy, foul-smelling enclosure.
One monkey was kept alone in a rusted cage.
Two Himalayan black bears exhibited stress-induced stereotypical behaviour. No water could be found in the enclosure.