Vegan Veterinarian With 20 Years' Experience Is PETA India's New CEO
After more than 16 years of campaigning for animal rights, PETA India has named as its new CEO, effective today, Dr Manilal Valliyate, former co-opted member of the Animal Welfare Board of India, which operates under the Ministry of Environment, Forest and Climate Change, and present member of the Kerala State Animal Welfare Board.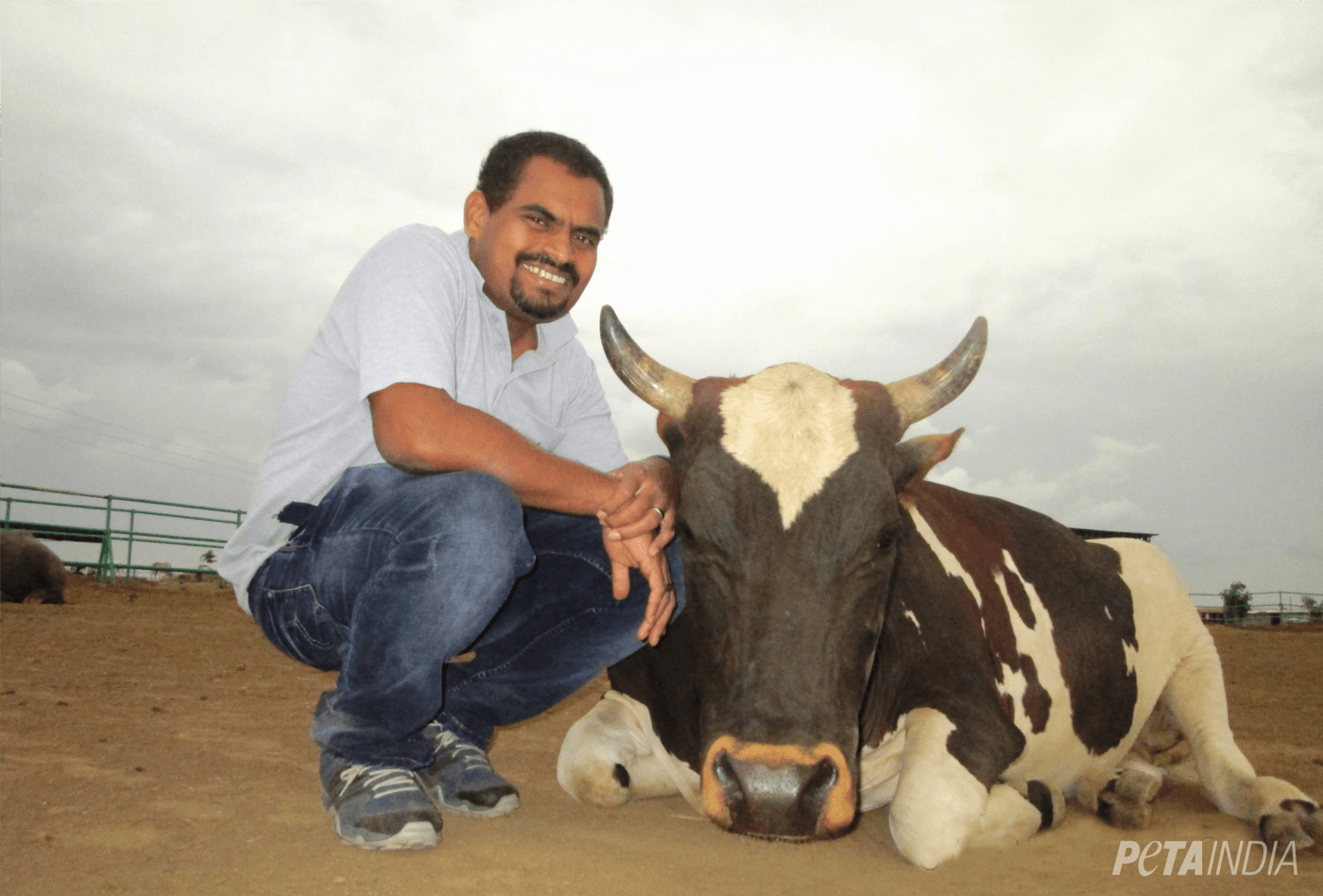 As PETA India's director of veterinary affairs – a position Valliyate, who completed his education in veterinary science at Kerala Agricultural University, has held for the past seven years– he has already chalked up some of the organisation's greatest victories. This includes getting the live embalming of calves banned in veterinary education;encouraging the central Department of Animal Husbandry to issue a circular to animal husbandry directors in all states and union territories stating that cattle must be given anaesthetics prior to castration; stopping illegal bullock cart races in which the animals are commonly hit with nail-studded sticks; replacing the bullocks who hauled heavy kerosene oil carts through Mumbai streets with motorised transport; rescuing several once-chained elephants from lives of loneliness in temples; removing numerous lame and injured horses from the abusive Victoria carriage trade; and much more. His expert testimony and reports have helped PETA India win numerous court cases that have helped prevent suffering to animals nation-wide, including the landmark 2014 Supreme Court judgement that banned jallikattu (later permitted in Tamil Nadu, which PETA India is committed to challenging in court), bullock cart races, and other uses of bulls in performances.
To protect his health and reduce animal suffering, Valliyate lives and advocates a vegan lifestyle, opting for soya milk and peanut curd instead of foods made from cow or buffalo milk. Western influence has turned India's dairy farms into intensive factory farm–style operations that supply the beef industry with animals to kill. As PETA India's investigations reveal, mother cows and buffaloes, who often suffer from painful conditions like lameness and mastitis because of the conditions in which they're kept, are molested and crudely artificially inseminated, commonly bred to produce such an unnaturally high quantity of milk that their bodies become worn out at a fraction of their natural life expectancy, chained in stalls covered with their own filth, and often injected with drugs. Male calves, who are considered worthless by the industry, are taken away from their mothers and are either left to die or sent to slaughter for meat and leather.
"Dr Manilal Valliyate is a skilled veterinarian and a brilliant tactician with two decades' experience in animal protection and saving animals' lives," says PETA India Board Director and former CEO Poorva Joshipura, who has taken on a new role to advance animal rights in Europe with another PETA affiliate. "Under his leadership, PETA India will continue to be a vibrant and active vegan organisation that sends shivers down the spines of animal abusers and commands the respect of citizens across India."
Since we were launched in 2000, PETA India has won many battles for animals, including ending cosmetics and certain household product tests in which chemicals are dripped into animals' eyes, rescuing beaten animals from circuses, and implementing humane education in thousands of schools. PETA India works through investigative work, public education efforts, research, animal rescue, legislative work, and celebrity campaigns, such as those starring John Abraham, Hema Malini, and many others.
In 1998, Valliyate started his career as a teaching assistant at the College of Veterinary and Animal Sciences–Mannuthy and later worked as a veterinary surgeon for the Kerala State Animal Husbandry Department. He also worked as manager of veterinary services at Brooke Hospital for Animals, a leading welfare charity helping working equines, before joining PETA India. He possesses a post-graduate degree in business administration.