Several States to Implement Painless Cattle Castration
The Department of Animal Husbandry & Veterinary Services in the state of Karnataka are the latest to issue an order for the administration of painkillers during the castration of bulls. This progress follows a meeting with Chair Major General (retired) Dr RM Kharb of the Animal Welfare Board of India (AWBI) and other members, including Sowmya Reddy, Nuggehalli Jayasimha and Gauri Maulekhi. The order also follows a decision made in December 2014 by the Commissioner of the Department of Animal Husbandry, Dairying & Fisheries, who, after hearing from PETA India and the AWBI, recommended that all states provide bulls with painkillers prior to castration.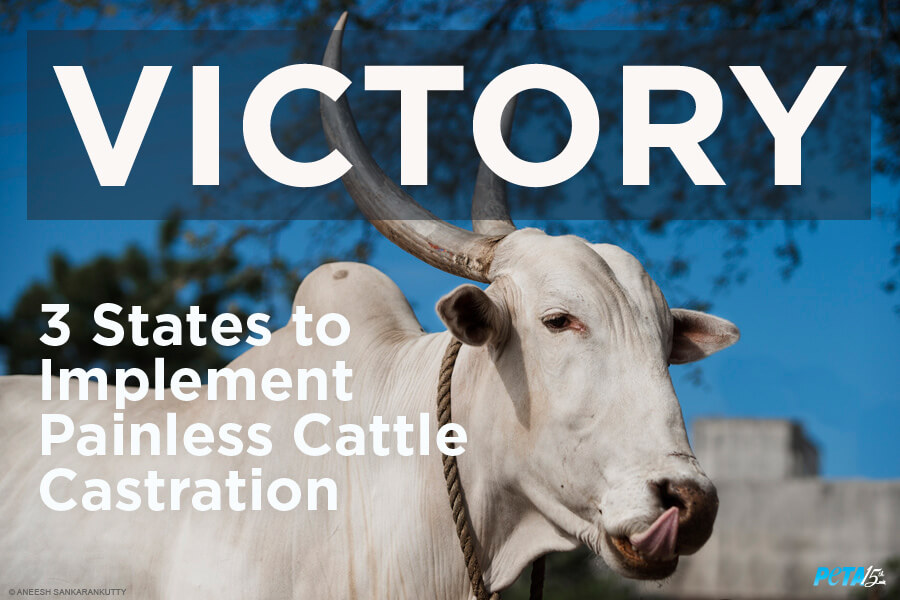 Karnataka is the third state in India to issue a state-wide circular in favour of painless castration, following Andhra Pradesh and Kerala. The old castration method – during which bulls are forced to the ground before having the blood vessels, nerves and tissues that are connected to their genitals crushed – is both frightening and extremely painful for the animals, who often continue to feel pain for several weeks after the procedure. The new order requires that veterinarians use drugs to eliminate fear and pain during castration. PETA India also recommend that castration be performed when animals are 6 months of age or younger in order to minimise the pain and stress.
Please help us in our efforts to get more states to adopt the painless method of cattle castration and to help stop the suffering of animals in other ways.