Sonu Sood Stars in New PETA India Ad: 'Chicks Love a Vegetarian!'
Just in time for Valentine's Day, Bollywood heartthrob and celebrated humanitarian Sonu Sood appears with a pair of chicks on his shoulder in a new PETA India ad that encourages everyone to have a heart for animals by not eating them. The ad was shot by photographer Abhitabh Kame.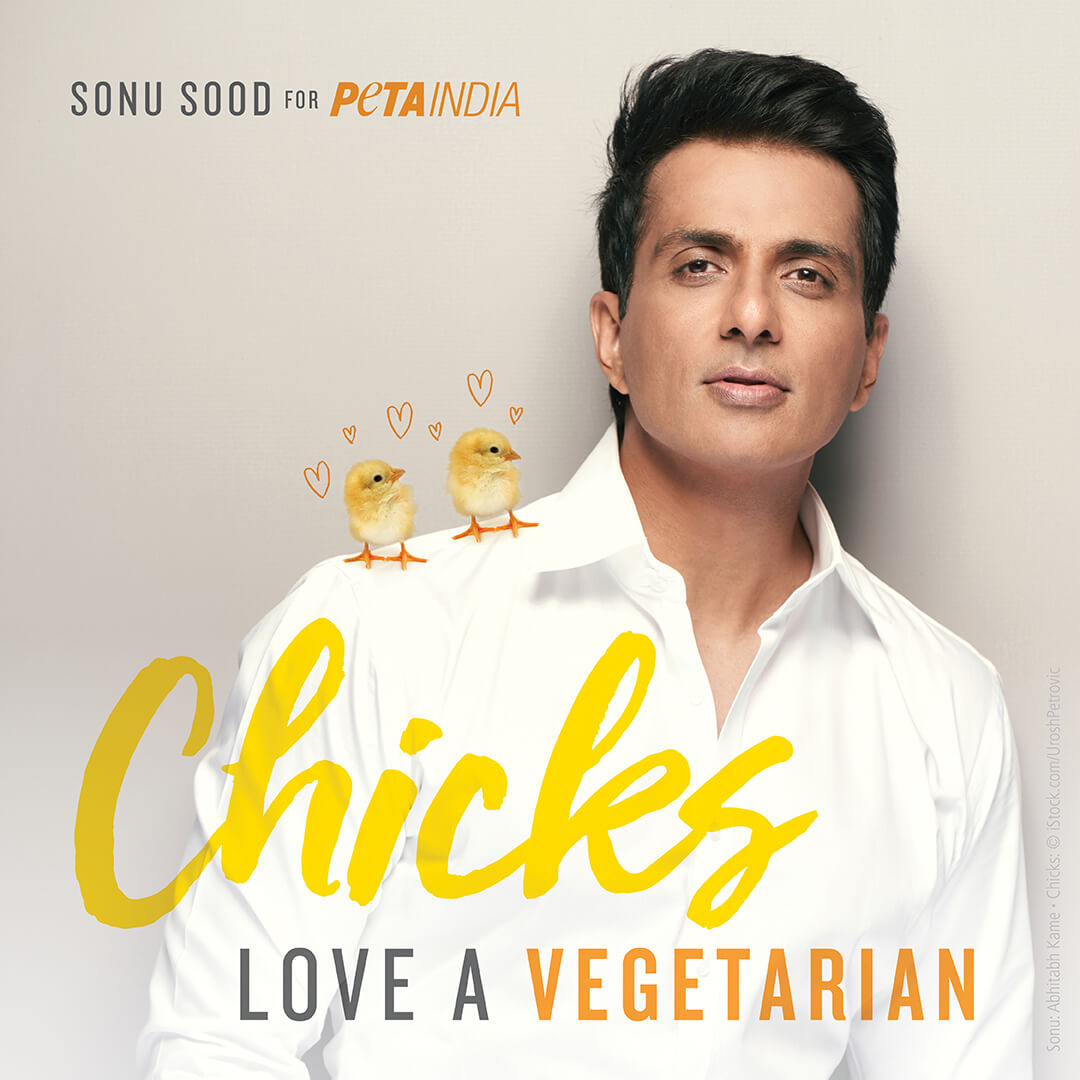 "This Valentine's Day, I encourage everyone to show some love to chicks – and cows, buffaloes, goats, pigs, and fish," says Sood. "There's nothing more attractive than kindness, and we can all be kind to animals, our planet, and our bodies by keeping animals off our plates."
Chitra Advertising Service donated space to place Sonu's vegetarian ad billboards in Ahmedabad, Bengaluru, Delhi, and Kolkata. Chitra is one of North India's leading advertising companies. Check out the photos:
As PETA India reveals in its video exposé "Glass Walls", chickens killed for food are often shackled upside down before their throats are slit. Cows and buffaloes are crammed onto vehicles in such large numbers that their bones often break before they're dragged off to the slaughterhouse, and pigs are stabbed in the heart as they scream. On the decks of fishing boats, fish suffocate or are cut open while they're still alive. In addition, filthy meat markets and factory farms threaten the health of everyone by providing a breeding ground for deadly zoonotic diseases such as COVID-19, SARS, bird flu, and swine flu.
Sood, PETA India's 2020 Hottest Vegetarian, appeared in a previous pro-vegetarian PETA India ad campaign, participated in the group's "Hug a Vegetarian Day", and supported a social media appeal to push McDonald's India to add a McVegan burger to its menu. During the pandemic, he helped thousands of stranded migrant workers and students return to their homes, among other actions to help people in need.
Sood is part of a long list of celebrities – including Anushka Sharma, Shahid Kapoor, Hema Malini, and R Madhavan – who have teamed up with PETA India to promote meat-free meals.
Support Sonu Sood's efforts by adopting a healthier plant-based diet