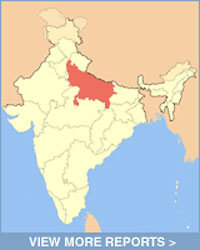 Kanpur, Uttar Pradesh
May 2005
Nearly all the enclosures were small and barren and had no enrichment.
Many enclosures did not have fresh food or clean water for drinking or swimming.
Many enclosures were poorly maintained and lacked proper safety barriers. All the moats surrounding the enclosures were dry. Deer were able to escape the enclosure and wander close to the cheetah pen.
Many of the enclosures were littered with food and trash.
Many of the animals – including the deer, the monkeys and the neelgai – had access to two open drains that ran through the zoo. As a result of drinking the dirty water, some animals reportedly became sick with contagious diseases, such as tuberculosis.
Many enclosures for the larger animals lacked proper shade.
The visitors were seen teasing the animals and throwing stones at the tiger and the crocodiles.
The orang-utan's enclosure reeked from rotting food and the animal's waste.
A brown capuchin monkey had no shelter and had two or three large open wounds on his body.
A squirrel was covered with bald patches.
No educational material was available.