Win a FREE Couple's Pass for Wes Anderson's New Film 'Isle of Dogs'
CONTEST IS CLOSED. The winners of the contest are:
1. Preety Singh
2. Sonali Sanan
3. Ruhul Laskar
4. Bikram Mandal
5. Chaitalee Deshpande
Isle of Dogs hits theatres on 6th July, and it's a must-see. Directed by Wes Anderson, the heart-warming film was made using stop-motion animation – a technique that brings objects to life on screen – instead of live animals. The movie is set 20 years in the future, when all companion canines have been exiled to a garbage-filled isle called Trash Island. Twelve-year-old Atari Kobayashi ventures there in search of his dog, Spots.
Anyone who loves and appreciates animals – companion or otherwise – will fall in love with this film, too.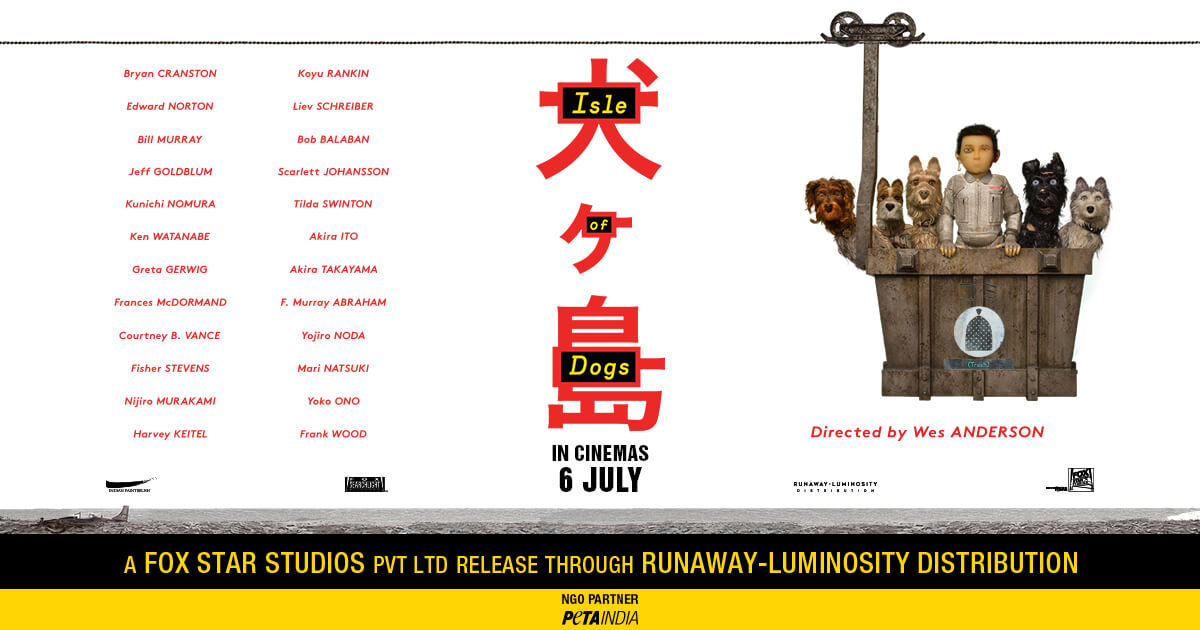 And don't even get us started on the cast. Tilda Swinton voices a character named Oracle, but Isle of Dogs isn't the first animal-centric film that she's been involved in. Last year, she starred in Okja, an action-adventure story that shows the horrors of animal agriculture through the eyes of a young girl and her "super pig". In an interview with Women's Wear Daily, Swinton discussed the film:
As anybody knows who lives with animals, they teach you more about what it is to be a good human than most people: patience, goodhearted-ness, enthusiasm, presence, forgiveness, focus, restfulness, honesty.
In a recent PETA US campaign, Liev Schreiber – who supplies the voice for Spots – urged everyone to save lives by adopting companion animals. "The good folks at PETA [US] and I encourage you to find your own perfect match and save a life (or two!) by adopting," he said.
Yoko Ono, Anjelica Huston, and other celebs who lent their talents to Isle of Dogs have also encouraged people to treat animals with kindness.
But the plot and cast aren't the only reasons we love the film: instead of forcing real dogs to perform on cue, Anderson and his team used stop-motion animation to bring each character to life.
Want to nab a FREE couple's pass for the movie? Just enter the contest below for your chance to win. There are 10 passes up for grabs!
Participation is limited to residents of India. The contest closes on 29th June 2018, and the winners will be announced by 2nd July.
By submitting this form, you're agreeing to our terms and conditions.
By signing up here and giving us your contact details, you're acknowledging that you've read and you agree to our privacy policy.
Love dogs and cats? Help prevent animal homelessness by pledging to have your animal companions sterilised.