Join the 'Delhi Safari' With PETA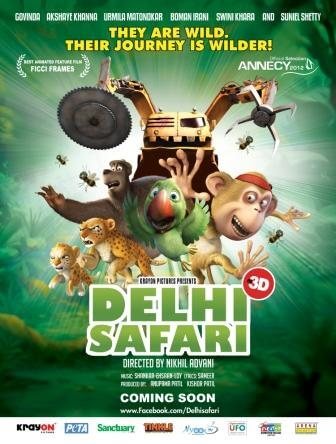 Yuvi, Bajrangi, Alex, Begum, Bagga and their team of animal friends will soon be storming India's capital to try to save their home. Delhi Safari is an upcoming animated movie directed by PETA's friend, top Bollywood director Nikhil Advani, and produced by the 3-D animation aces of Krayon Pictures. Some of Bollywood's brightest stars – including Govinda, Akshaye Khanna, Sunil Shetty, Boman Irani, Urmila Matondkar and Swini Khara – supply the voices and help make the characters come alive.
Delhi Safari is the story of the journey of animals who live in a national park in Mumbai. They are working toward saving their home from humans who want to build an apartment complex. This funny, heart-warming film is sure to inspire and entertain the whole family. Where else will you find a monkey with a Bhojpuri accent who is loaded with weapons, a know-it-all bear and a celebrity parrot who lives in a plush apartment in Mumbai? And don't forget about Yuvi – the cutest cub ever! Will these unlikely friends be able to reach the prime minister in time to save their home?
When you go to see the film, don't be surprised if you hear some hooting and whistles from Govinda fans when Bajrangi, the monkey, says, "Goli maar kar bheja nikaal lenge tora, wo bhi pura ka pura." A flamingo dance sequence with a Rajasthani folk music flavour will make you want to do some latkes and jhatkas yourself.
After watching this trailer, we know that you'll be eager to book tickets for your family, but there's still a little time before Delhi Safari hits theatres on 19 October. Don't forget to watch out for the text to appear on screen about PETA.
You Can Help
Help animals keep their natural homes. Click here to send a message to the Prime Minister of India asking for animals' forest homes to be saved.