Radhika Madan Turns Into Green Goddess for PETA India World Environment Day Vegan Campaign
Posing in a dress made of cabbage leaves, versatile actor Radhika Madan appears in PETA India's new vegan campaign encouraging people to "Turn Over a New Leaf" and "Try Vegan". The eye-catching print campaign, which debuted on World Environment Day (5 June), was shot by photographer Sahil Behal, with hair and make-up by Cassandra Kehren, styling by Sukriti Grover, and outfit by Saisha Shinde.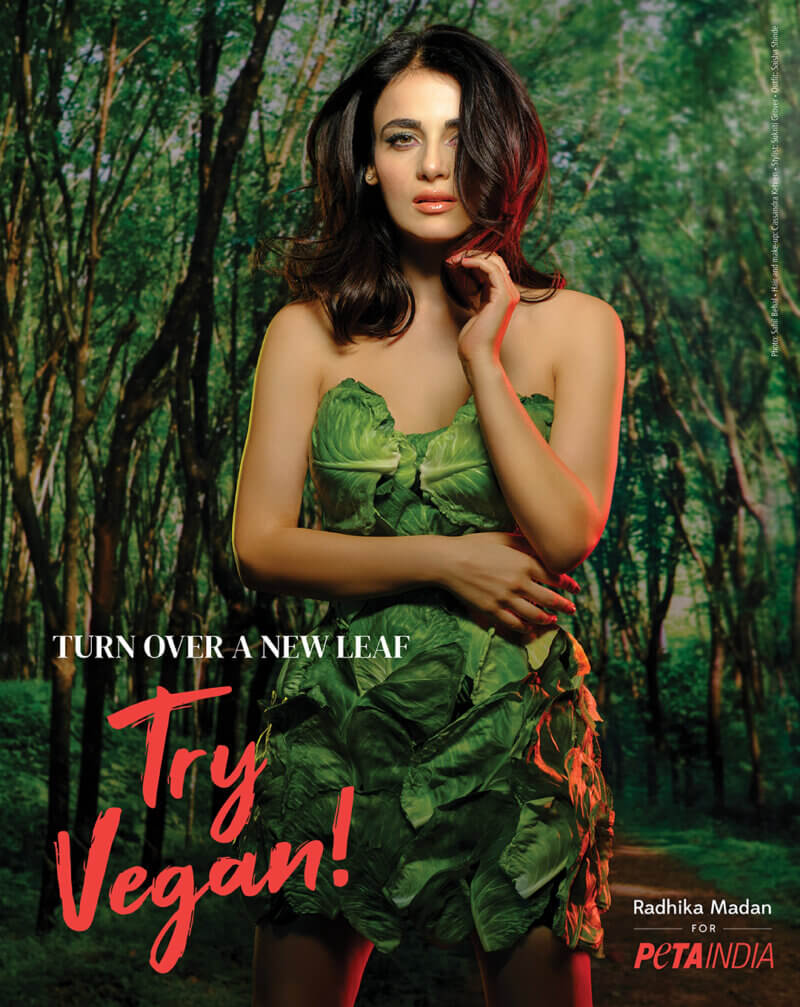 Madan decided to go vegan several years ago to get in better shape to play the role of a teenager in Angrezi Medium, and she continued eating vegan even after the cameras stopped rolling.
"My character, Tarika, from Angrezi Medium helped me discover vegan foods, and it completely changed my mindset and gave me a clearer perspective on life," says Madan. "I have a lot of leafy greens, sattu is my source of protein, and there's so much variety contrary to what people think. I encourage everyone to try being plant-based – help the animals and yourself, too!"
Everyone who follows Madan's lead and goes vegan reduces their carbon footprint dramatically: animal agriculture is responsible for nearly a fifth of human-induced greenhouse gas emissions. University of Oxford researchers found that vegan eating can reduce emissions from food by up to 73%. Going vegan also helps combat the spread of deadly viruses: SARS, swine flu, and bird flu – and likely COVID-19, too – all stemmed from confining and killing animals for food.
And of course, eating vegan helps animals. As PETA India reveals in its video exposé "Glass Walls", chickens killed for food are often shackled upside down before their throats are slit. Cows and buffaloes are crammed into vehicles in such large numbers that their bones often break before they're dragged off to the slaughterhouse, and pigs are stabbed in the heart as they scream. On the decks of fishing boats, fish suffocate or are cut open while they're still alive.
Madan joins Kartik Aaryan, Anushka Sharma, Shahid Kapoor, Hema Malini, R Madhavan, and many other celebrities who've teamed up with PETA India to promote healthy, humane meat-free meals.
Emerging as one of the busiest actors in the industry, Madan is representing Indian cinema at a global level. Her films such as Mard Ko Dard Nahi Hota, Kacchey Limbu, and Sanaa premiered at various international film festivals, including the Toronto International Film Festival, the New York Indian Film Festival, and the UK Asian Film Festival.
Continuing to expand her horizons and push the envelope, Madan is now gearing up for a number of films in 2023, including Kacchey Limbu; Sanaa; the remake of Oscar contender Soorarai Pottru featuring Akshay Kumar; Happy Teacher's Day, directed by Mikhil Musale; and Rumi Ki Sharafat, directed by noted ad filmmaker Prashant Bhagia.