PETA India Award Honours Odisha Chief Minister for Allocating Funds to Feeding Community Animals During the Lockdown
PETA India will present Chief Minister Naveen Patnaik with a Hero to Animals Award for his compassionate act of allocating Rs 54 lakhs from a relief fund to efforts to feed community animals in five municipal corporations and all 48 municipalities of Odisha during the COVID-19 lockdown.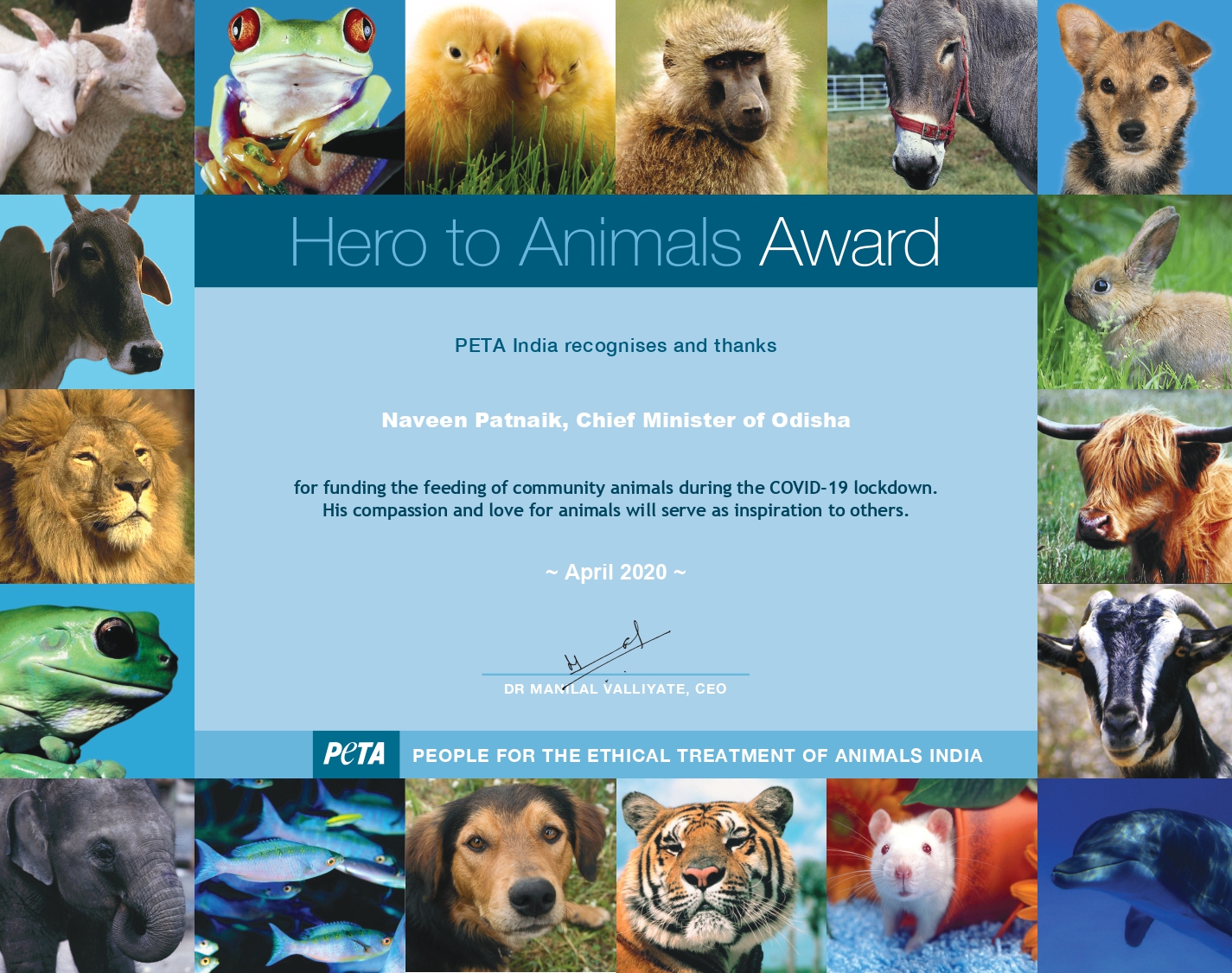 In an address to the nation last week, Prime Minister Narendra Modi said, "Due to the lockdown, animals are also facing trouble. I appeal to people to take care of the animals around them." And MP Maneka Gandhi instructed those who feed community animals to keep up their work to prevent the starvation of cows, dogs, and others.
'आपके आस पास जो पशु हैं उनकी भी चिंता करनी हैं। लॉकडाउन की वजह से अनेक पशुओं के सामने भी भोजन का संकट आ गया हैं। मेरी लोगों से प्रार्थना हैं की अपने आस पास पशुओं का भी ध्यान रखें।' – PM @narendramodi #Lockdown21 #21daylockdown #COVID2019 #Covid_19india #CoronavirusLockdown pic.twitter.com/87CJfXZ3cK

— PETA India (@PetaIndia) March 25, 2020
Respected Prime Minister Shri @narendramodi ji, thank you for being so compassionate to all beings. ? pic.twitter.com/jlEFlPbBPH

— Maneka Sanjay Gandhi (@Manekagandhibjp) March 25, 2020
The central government advisory body the Animal Welfare Board of India issued an advisory on 23 March urging state governments and union territories to allow animal welfare volunteers to feed community animals. Another circular, issued by the central Ministry of Animal Husbandry, Dairying and Fisheries on 23 March, mandated that veterinary services and animal shelters be allowed to function as normal and that veterinary services be included on the list of "essential services".
Patnaik received a framed certificate and a letter of appreciation from PETA India. Previous recipients of our Hero to Animals Award include Shilpa Shetty Kundra for speaking out against the cruelty of circuses and taking other actions for animals; Delhi Minister of Food and Civil Supplies, Environment & Forests and Elections Imran Hussain for protecting the lives of humans and other animals by banning all forms of manja; Zareen Khan  for rescuing a cat from the streets; Cyrus Broacha for refusing to perform a stunt that involved riding a bull; Rani Mukerji for helping a dog in distress on her film set; Asin for saving a dog who had been hit by a car; Imran Khan for stopping a dog trainer who was smacking a dog on a film set; Sadha for helping a puppy who had just avoided being hit by a car during a rainstorm; and Dia Mirza's production house, Born Free Entertainment, for showing that homeless animals make wonderful additions to families.
Here's how you can contribute to helping animals: