PETA India Award Recipients Honoured at Events
PETA India presented numerous well-deserved awards at recent events held at The Metropolitan Hotel & Spa  in Delhi and the Royal Bombay Yacht Club in Mumbai. Kathak dancer Arti Nair delighted Delhi event attendees, while singer, guitarist, and composer Sourabh Joshi enthralled the audience in Mumbai.
In Delhi, PETA India recognised Ahmedabad-based designer Purvi Doshi with a Compassionate Designer Award for using her fashion platform to create beautiful, creative, 100 per cent animal-free collections using handwoven vegan fabrics and natural dyes. Other notable winners on the night were Corkiza, which received an Innovative Fashion Award for developing stylish bags and wallets using sustainable cork fabric, and Nutriva, which received an Innovation in Food Award for creating Peanut Buttermilk+, the world's first non-dairy buttermilk, made from cultured peanuts and spices. And last but certainly not least, Delhi Minister of Food & Supply, Environment & Forest, and Elections Imran Hussain received a Hero to Animals Award for protecting the lives of humans and animals by banning all forms of manja – kite-flying strings made of cotton thread laced with sharp materials – throughout the National Capital Territory of Delhi.
In Mumbai, Sunny Leone was the star of the evening as we honoured her with a Digital Activism Award for her efforts to help animals. Her online actions include tweeting about everything from the benefits of eating meat-free to the importance of always adopting dogs in need instead of buying animals from breeders or pet shops, as well as calling for the release of the elephant Gajraj, who was chained for more than 50 years before PETA India successfully orchestrated his rescue.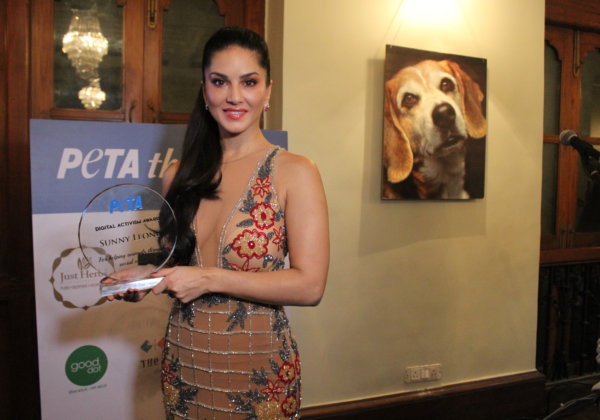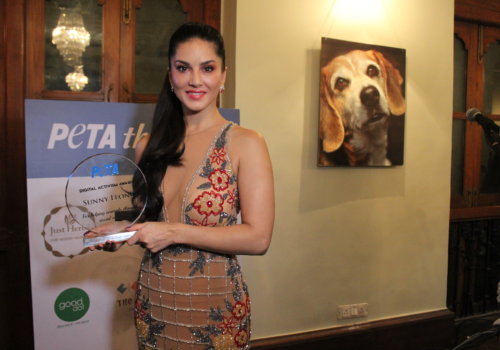 We also presented a Best Vegan Drinks Award to Raw Pressery for developing delicious, protein-packed plant-based milks and juices and an Innovative Fashion Award to Arture for making vegan bags, wallets, and travel accessories out of cork.
PETA India's "Best Vegan Drinks Award" 2018 goes to @RawPressery. #PETAIndiaAwards pic.twitter.com/5XW7rAnRQj

— PETA India (@PetaIndia) December 8, 2018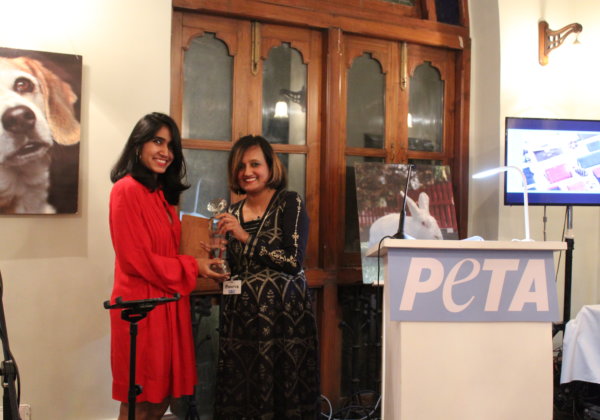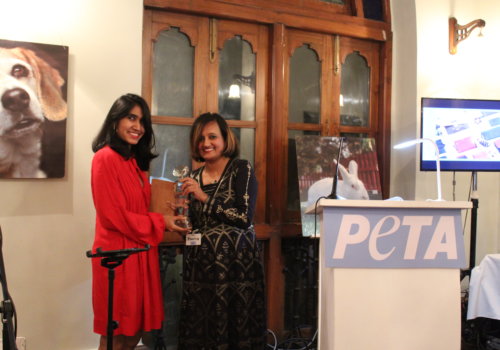 PETA India thanks all the companies that sponsored the events and that provided vegan food and gifts, including Just Herbs, Kama Ayurveda, Herbal Strategi, Good Dot, Goodmylk, Nutriva, Soulflower, Omved Therapies, Imagine Cafe, Nomba, Raw Pressery, and The Nature's Co.
Help PETA India reach more animals in need.