Goa Wins PETA India's 2020 'Most Vegan-Friendly State' Award
November is World Vegan Month – and in honour of the occasion, Goa has won the title of 2020's Most Vegan-Friendly State from PETA India. A certificate has been delivered to Chief Minister Dr Pramod Sawant in thanks for providing an environment in which vegan-friendly establishments can thrive, making the world a better place for animals and humans.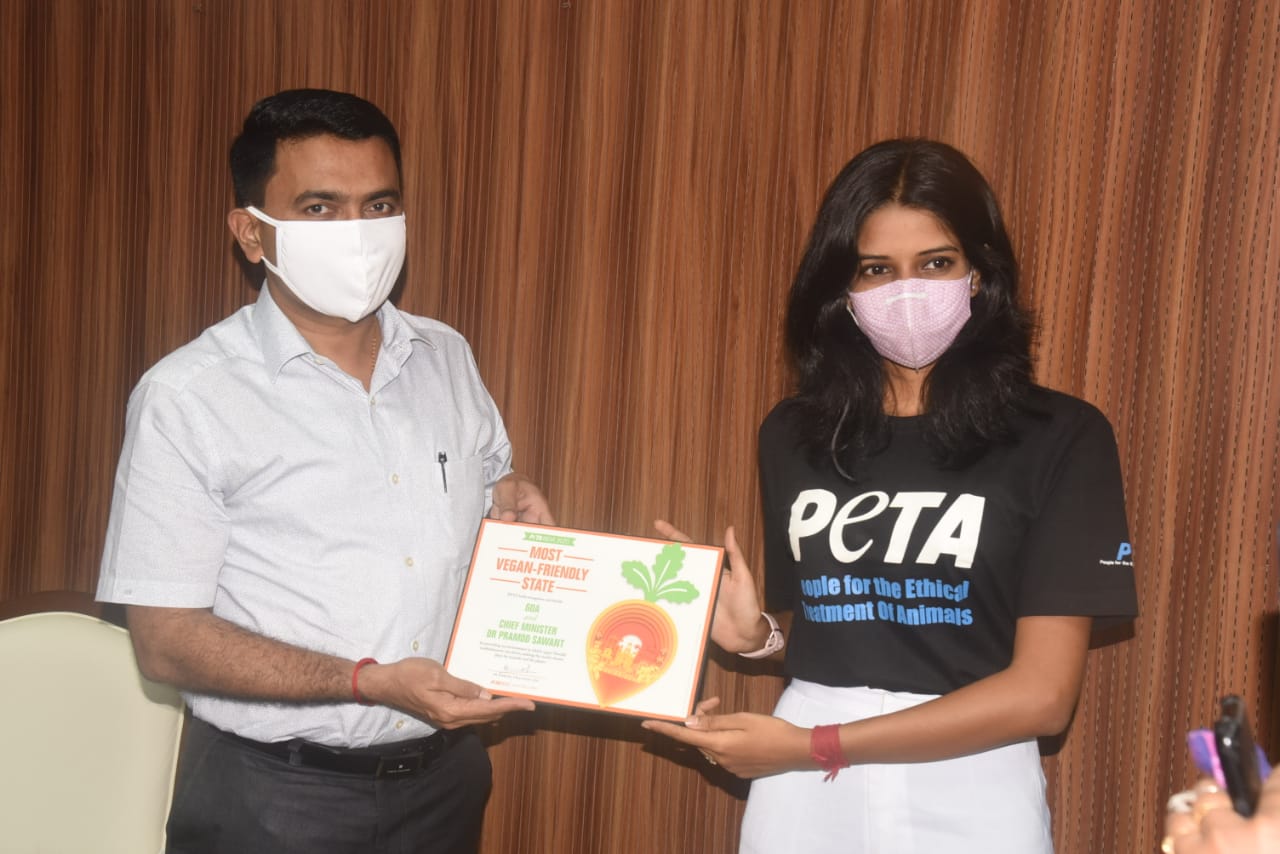 The state's top vegan eateries include Bean Me Up, which offers a wide of Western-style dishes, such as burritos, lasagna, and even pizza from a traditional wood-fired oven; Shantaram Raw, which boasts a rooftop deck on which diners can enjoy smoothies, juices, and more; and Cafe La Boheme, which dishes up vegan burgers, tapas, crêpes, and salads, among other treats. Other beloved vegan eateries include Gratitude Cafe, SoulBooster, Svasti, Bibhitaki Vegan Cafe and Restaurant, Vegan Casa, Bodhi Greens, Maya Organic, and Okapi Vegan Kitchen. For vegan fashion, there's , a 100% cruelty-free clothing store – and for community potlucks and other vegan events, there's The Vegoan.
Every person who goes vegan spares nearly 200 animals a year daily suffering and a terrifying death. In today's meat, egg, and dairy industries, chickens' throats are cut while they're still conscious, fish suffocate on the decks of fishing boats, pigs are stabbed in the heart as they scream in pain, and calves are torn away from their mothers shortly after birth. At the slaughterhouse, animals are often killed in full view of others and dismembered while they're still conscious.
Vegans are less prone to suffering from heart disease, strokes, diabetes, cancer, and obesity than meat-eaters are. They also dramatically reduce their carbon footprint, as animal agriculture is a leading producer of the greenhouse gasses that cause climate change – and they help prevent future pandemics, as live-animal markets, crowded factory farms, and slaughterhouses have been linked to the spread of numerous zoonotic diseases (illnesses that can spread to humans from other animals).