Cyrus Broacha: Circus Cruelty Is No Joke
Cyrus Broacha is known for entertaining audiences with his hair-raising pranks, so he knows what's funny – and what's not. In his new anti-circus ad for PETA India, Broacha says that beating animals in order to force them to perform uncomfortable tricks is not entertainment. The ad was shot by ace photographer Himanshu Seth, and Ambereen Yusuf did Broacha's hair. A longtime friend to animals, Broacha won  PETA India's Hero to Animals Award in 2010 for refusing to ride a bull on the TV reality show Khatron Ke Khiladi. Circus cruelty isn't his idea of fun, and it shouldn't be anyone else's, either.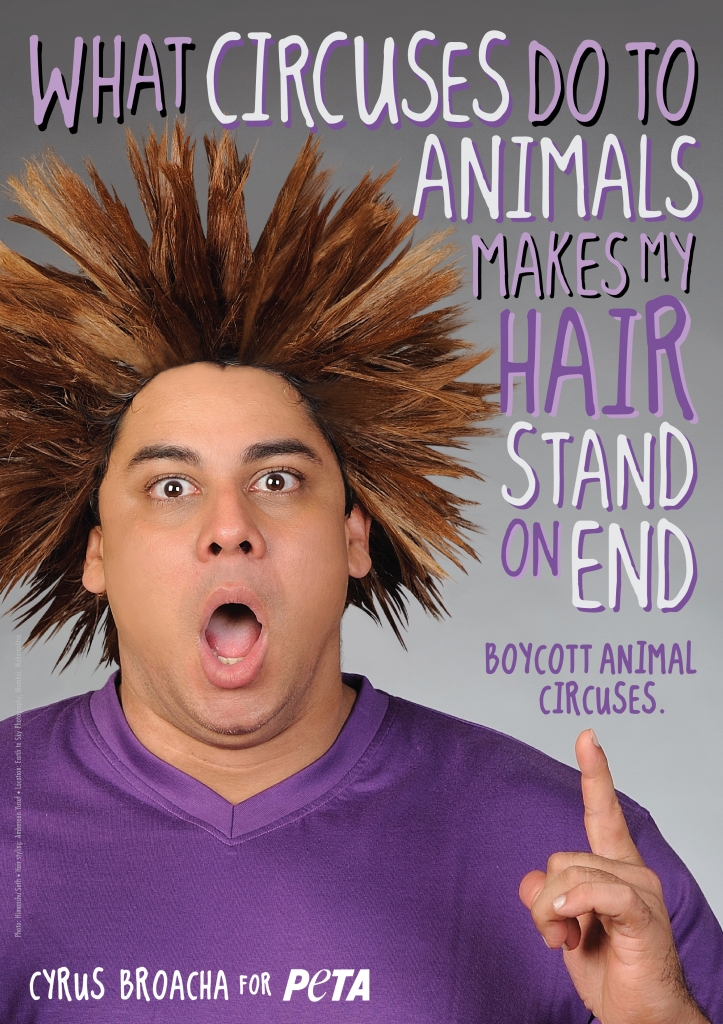 "I revel in my freedom to play outrageous jokes on people and to speak my mind, but animals in circuses are robbed of their freedom and everything else that's natural and important to them. And if that weren't enough, they're often beaten into performing cheap tricks that can be confusing and even painful", says the comedian, who is also known for anchoring CNN-IBN's The Week That Wasn't.
While Broacha may use a bit of harmless trickery to pull one over on hapless prank victims, circus trainers abuse animals with whips and ankuses (rods with sharp metal hooks on the end) in order to make them fearful and submissive. When they aren't performing, animals in circuses are kept constantly chained or caged.
PETA India is imploring the Ministry of Environment & Forests to protect elephants and all other species by banning the use of animals in circuses entirely. Bolivia, Cyprus, Greece and Bosnia and Herzegovina have all implemented such a ban.