Celebrate A Vegan Gudi Padwa!
Gudi Padwa is a festive, joyful holiday that marks the beginning of a new year. It's the perfect time to try new things—like delicious vegan versions of traditional Gudi Padwa treats. We guarantee that everyone will love these ghee- and guilt-free recipes!
Yummy Yoghurt-Free Mango Shrikhand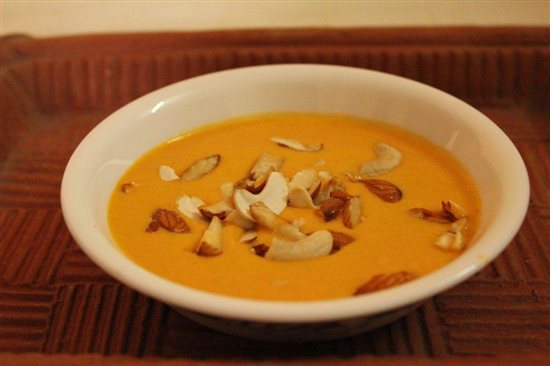 1 cup raw unsalted cashews
2 Tbsp water
2 cups mango pulp
1/2 cup sugar
1/2 tsp cardamom powder
1/2 cup dried fruit, chopped
Grind the cashews into a smooth paste. Slowly add the water and continue grinding until a thick, creamy consistency is obtained (add more water if needed).
Keep covered in a warm place to ferment until the paste has a pleasant sour smell and small bubbles are visible, about 10 to 15 hours.
Mix the paste, then drain the excess water with a muslin cloth.
Strain the mango pulp with a muslin cloth to remove most of the liquid.
Add the mango pulp and the sugar to the cashew paste and mix well.
Add the cardamom powder and refrigerate for 4 to 5 hours.
Serve chilled and topped with dried fruit.  
Makes 2 servings
Tasty Ghee-Free Tilgul Poli  
Adapted from http://momrecipies.blogspot.in/2011/01/tilgul-poli-sankranti-special-gul-poli.html
1/2 cup white flour (maida)
1/2 cup whole-wheat flour (atta)
4 Tbsp chickpea flour (besan)
Salt, to taste
2 Tbsp oil, plus more for cooking
Water, for the dough
2 Tbsp sesame seeds
2 Tbsp poppy seeds
1 Tbsp grated coconut
1/2 cup grated jaggery
Pinch nutmeg powder (optional)
Mix the white flour, whole-wheat flour and 2 tablespoonfuls of the chickpea flour together. Add salt to taste.
Heat 2 tablespoonfuls of the oil until sizzling hot. Create a well in the middle of the flour and add the oil. Mix well.
Slowly add water and stir until a medium-soft dough is formed. Knead well for 5 minutes. Cover with plastic wrap and let sit for at least 1 hour.
Heat more oil in a pan. Roast the remaining chickpea flour, stirring continuously and adding olive oil as required, until the flour changes colour, about 6 to7 minutes. Let cool completely.
Individually roast the sesame seeds, poppy seeds and coconut, then separately grind each into a powder.
Combine the sesame seed powder, poppy seed powder, coconut powder, roasted chickpea flour and jaggery in a mixer and blend. Add the nutmeg powder and mix well. Roll into 7 to 8 balls. 
Divide the dough into equal portions. Sprinkle some all-purpose flour on a rolling board. Roll each portion of dough into a puri-sized round. Place a ball of filling in the centre of each round of dough. Fold the dough over the top of the ball and seal the edges. Using more flour, roll the filled dough into the shape of a roti (7 to 8 inches in diameter).
Heat the griddle (tawa) and add oil. Roast both sides of each poli on medium heat until golden. 
Serve hot.
Makes 4 servings
See how simple it is to cut dairy products out of your favourite recipes? Not only is ditching dairy easy, it's also one of the best things that you can do for yourself and cows. After all, dairy consumption contributes to the onset of diabetes, obesity and respiratory problems, and the cruel dairy industry causes the suffering and death of millions of cows and buffaloes each year. So cows about taking the pledge to go vegan today?!