Want to wow your family on Easter morning? Try these decadent, yet easy, brunch recipes.
Ingredients:
10 small potatoes, halved lengthwise
2 Tbsp. refined coconut oil
1/2 cup vegan mayonnaise
2 Tbsp. Dijon mustard
1/2 tsp. Kala Namak (for an egg-like taste) (optional)
Salt and pepper, to taste
Smoked paprika, for garnish
Fresh dill sprigs, for garnish
Preheat the oven to 425ºF. Place the potatoes on a baking sheet, drizzle with the coconut oil, and bake for 30 minutes, or until tender.
Let cool, then scoop out the insides of the potatoes with a melon baller or spoon and place in a large bowl. Add the vegan mayonnaise, mustard, and kala namak and season with salt and pepper. Stir until well combined.
Fill the potatoes skins with the mixture and garnish with smoked paprika and dill sprigs.
Makes 5 servings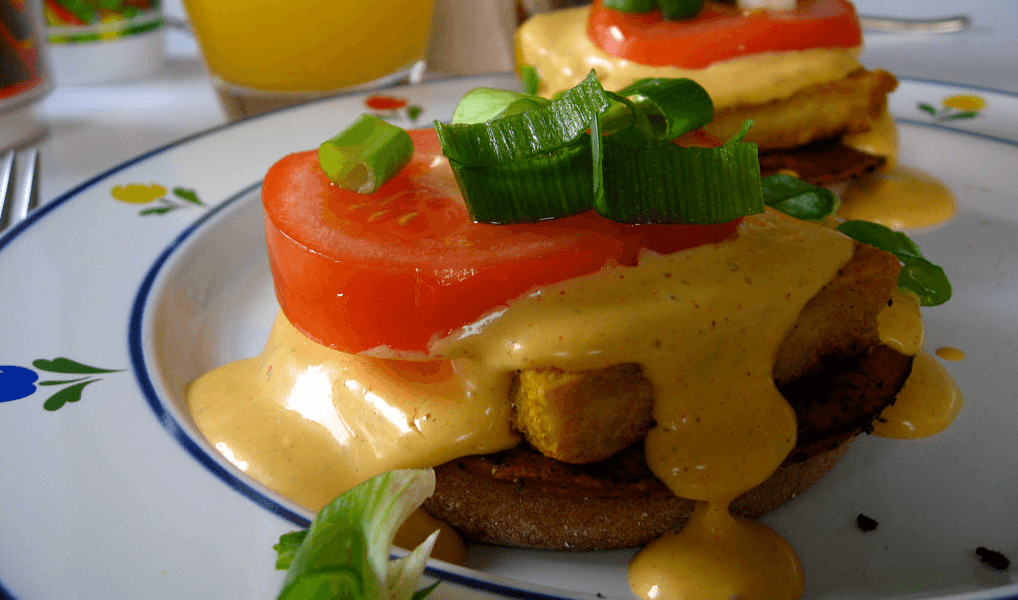 Vegan Eggs Benedict | Eyeliam |CC BY 2.0
Vegan Eggs Benedict | Eyeliam | CC BY 2.0
Ingredients:
400 gm baby spinach
2 tsp. olive oil
8 slices of extra-firm tofu (about half a block)
Soy sauce
4 vegan English muffins, sliced and toasted
8 servings of your favorite faux breakfast meat, cooked according to package instructions
Tbsp. white wine vinegar
3 Tbsp. vegan mayonnaise
2 Tbsp. vegan margarine, melted
1 Tbsp. spicy brown mustard
1 Tbsp. soy sauce
1/2 cup plain soy milk
1/4 cup nutritional yeast
1/2 tsp. paprika
1/2 tsp. turmeric
1 Tbsp. lemon juice
1/2 tsp. apple cider vinegar
1 tsp. freshly ground black pepper
1 tsp. sea salt
Sauté the spinach in 1 teaspoonful of olive oil. Set aside.
Fry the tofu in the remaining teaspoonful of olive oil and the soy sauce.
Preheat the oven to 300°F.
Combine all remaining ingredients and heat over a stove top or in a microwave to make a Hollandaise sauce.
Layer your Benedict starting with one half of an English muffin. Top with sautéed spinach, then faux-meat, and then finally a slice of tofu.
Heat in the oven for about 5 to 8 minutes.
Pour the Hollandaise over your layered "eggs" Benedict and serve immediately.
Makes 4 servings
3. Yummy 'Chicken' Salad Sandwiches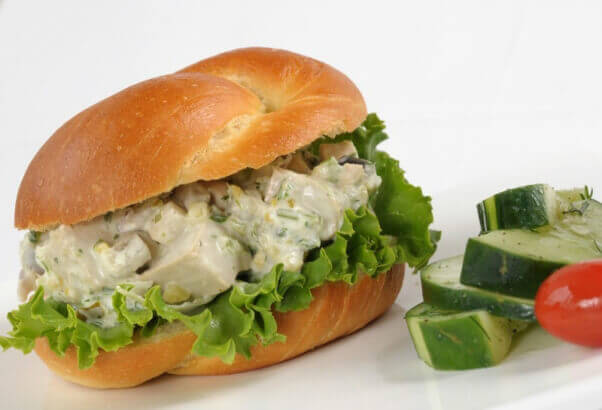 Ingredients:
450 gm mock chicken strips , cooked per package instructions and cut into 1/2-inch cubes
2 tsp. fresh lemon juice
1 stalk celery, diced
1/3 cup minced green onions
1 cup vegan mayonnaise
1 tsp. mustard
Salt and pepper, to taste
In a bowl, combine the "chicken," lemon juice, celery, and onions.
Stir in the vegan mayonnaise and the mustard.
Season with salt and pepper.
Chill and serve.
Makes 4 cups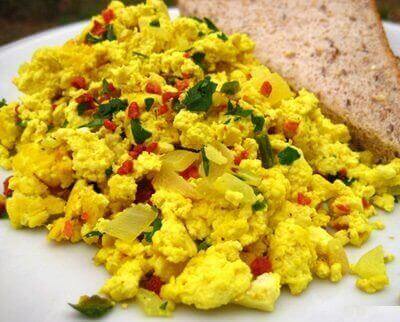 Ingredients:
450 gm extra-firm tofu
1 Tbsp. olive oil
1/2 Tbsp. soy sauce
1 clove garlic, crushed
1/2 Tbsp. onion powder
1/2 tsp. thyme
1/2 tsp. turmeric
1/2 tsp. paprika
1/2 tsp. garlic salt
Juice of half a lemon
1/4 cup nutritional yeast
Cut the tofu into cubes and squeeze out the excess water.
Add the olive oil, soy sauce, garlic, onion powder, thyme, turmeric, paprika, and garlic salt to a sauté pan. Stir and cook on low heat. Once the mixture begins to heat, spread evenly to coat the bottom of pan.
Crumble the tofu through your fingers into the pan and toss into the mixture, stirring often.
Once the scramble becomes firm to the touch and begins to brown (about 7 to 10 minutes), squeeze in the lemon juice and add in the nutritional yeast. Stir until coated. Allow to cook an additional 2 to 3 minutes.
Makes 4 servings
5. Cinnamon Peach Skillet Rolls with Peach Glaze
Ingredients:
1 cup warm water
1 packet dry active yeast
4 Tbsp. sugar
2 cups all-purpose flour, plus more for flouring surfaces
2 cups whole-wheat flour
1 1/2 tsp. sea salt
1/2 cup olive oil
1 Tbsp. applesauce
1 tsp. ground flaxseed
1 tsp. vanilla
Coconut oil, for greasing
1/2 cup vegan margarine, melted
1 cup brown sugar
1 Tbsp cinnamon
1 1/2 cups frozen peaches, defrosted
1/2 cup peach juice from the frozen peaches
2 cups powdered sugar
Whisk together the water, yeast, and 2 tablespoonfuls of the sugar in a small bowl. Let sit for 5 minutes.
In a large bowl, combine the flours, salt, olive oil, applesauce, flaxseed, and vanilla with an electric handheld mixer using bread hooks. Pour the yeast into the flour mixture and blend until smooth. Use a spatula to scrape the sides and incorporate all the dry ingredients. Cover and let rise in a warm spot for 1 hour.
Grease a cast-iron skillet with coconut oil.
Roll out the dough on a floured surface into a 10-inch-by-18-inch rectangle. Brush with the melted vegan margarine and sprinkle with the brown sugar and cinnamon. Place the peach slices in a single layer over the dough. Roll the dough into a tube and cut into 1 1/2–inch slices using a knife with a serrated blade or a cheese wire. Gently tuck the loose end under the roll. Place all the slices into the skillet so they are touching. Roll any leftover dough into little balls that you can tuck into any open spots between the rolls.
Bake for 30 to 45 minutes, or until the rolls are golden brown.
While the rolls are baking, whisk together the peach juice and powdered sugar until smooth.
Let the rolls cool for 15 minutes, then drizzle with the peach glaze. Let cool for another 5 minutes. Serve warm.
Warning/promise: These are sticky.
Adapted from the book Mastering the Art of Vegan Cooking by Annie and Dan Shannon. © 2015 by Annie and Dan Shannon. Reprinted by permission of Grand Central Life & Style. All rights reserved.
Inspired?
Order PETA's Vegan Starter Kit. It will guide you through the transition to a healthier, happier, and longer-lasting life.