'Tis the Season for Vegan Treats
For Christians, Christmas marks the birth of Jesus, which is celebrated by giving gifts to friends and family and spending time with loved ones. This Christmas, why not give the gift of irresistible vegan treats that don't clog arteries, support cruelty to animals or ruin the environment?
Here are three festive recipes that are sure to spread some cruelty-free Christmas cheer:
Chocolate-Cinnamon Christmas Cookies
1/2 cup vegan semi-sweet chocolate chips
1 cup sugar
1/4 tsp salt
1 cup vegetable oil
1 Tbsp vanilla extract
1 tsp ground cinnamon
1 tsp instant coffee
2 1/2 cups all-purpose flour
Put the chocolate chips in a double boiler or in a bowl placed over a pot of gently simmering water and stir until melted and smooth.
In a separate bowl, beat together the sugar, salt and vegetable oil for 1 minute with a hand mixer or whisk. You can also use a stand mixer with a whisk attachment.
Add the vanilla, cinnamon, coffee and melted chocolate and beat together.
Add the flour to the chocolate-sugar mixture and mix using a spatula until just combined. Don't use a whisk at this stage because it will activate the gluten in the flour, which you don't want.
When the dough is mixed, cover the bowl with plastic wrap or a tight lid and put in the refrigerator for at least 1 hour.
Lightly grease two cookie sheets and preheat the oven to 190ºC.
Roll the dough into 1/2-inch balls and flatten in the palm of your hands to form discs. Place on the cookie sheets, leaving at least 1 inch of space between each cookie.
Bake for 14 minutes, turning the cookie sheets once halfway during baking.
Remove from the oven and let cool for 5 minutes. Gently transfer to a wire cooling rack to cool completely. Serve and enjoy!
Makes 4 dozen cookies
This recipe is adapted from http://holycowvegan.net/2013/12/vegan-chocolate-cinnamon-cookies.html
Christmas Morning Chocolate-Chip Pancakes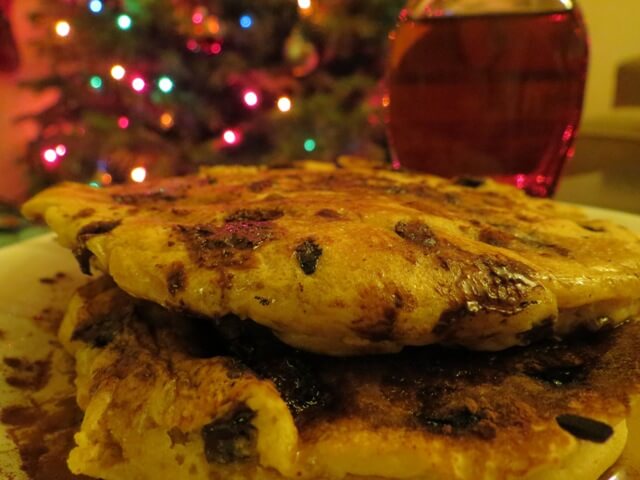 Vegan margarine or vegetable oil, for coating the pan
1 cup all-purpose flour
1 Tbsp sugar
2 Tbsp baking powder
Pinch salt
1 cup soya milk
2 Tbsp vegetable oil
1 banana, mashed (used as an egg replacer)
Small handful semi-sweet vegan chocolate chips
Maple syrup, for garnish
Cocoa powder, for garnish (optional)
Warm a pan or griddle over low heat and add a touch of vegan margarine or vegetable oil to coat the bottom.
Combine the flour, sugar, baking powder and salt in a bowl and mix thoroughly. Mix in the soya milk and oil, and with an electric mixer or wire whisk, beat just until the batter is smooth.
Measure 1/2 cup batter onto a hot, oiled pan. Add a few chocolate chips to each pancake and flip once the underside starts to brown. When both sides are golden brown, transfer to serving plates.
Top with syrup and cocoa powder, if desired, and proceed to devour!
Makes 5 servings
Blissful Blueberry Shortcakes
1 1/2 cups all-purpose flour
1 Tbsp cornstarch
1 Tbsp flaxseed meal
1/4 tsp salt
2 tsp baking powder
2 Tbsp. coconut oil
1/4 cup sugar
1 cup water
2 Tbsp vanilla extract
10 g fresh blueberries
3 Tbsp maple syrup
2 cans chilled full-fat coconut milk
Preheat the oven to 175ºC.
Line a muffin tin with paper cupcake liners and set aside.
Mix the flour, cornstarch, flaxseed meal, salt and baking powder together in a large mixing bowl.
In a small saucepan, melt the coconut oil, then stir in the sugar, water and 1 tablespoonful of the vanilla extract.
Add the wet ingredients to the dry ingredients and whisk together.
Pour the batter into the muffin tin, filling until halfway full. Bake for 15 minutes, or until golden brown and a toothpick inserted in the center comes out clean. Remove from the oven and let cool completely on a wire rack.
Toss the blueberries with 1 tablespoonful of the maple syrup in a medium-sized bowl.
Open the cans of coconut milk and pour off the liquid, reserving the thick cream. Place the coconut cream in a separate bowl and add the remaining maple syrup and vanilla. Whisk together well.
Remove the shortcakes from the paper liners and gently cut in half, forming a top and a bottom. Spoon each bottom generously with the coconut cream. Top with the blueberries, then more coconut cream. Cover with the shortcake tops and get ready for a flavor so tasty it could only be a Christmas miracle.
Makes 6 to 12 servings