4 Great Vegan Valentine Gift Ideas
Valentine's Day is all about making your dearest feel adored, but sometimes doing that in a thoughtful way can be tricky. Fear not – we've got the following stellar ideas on how to make your special someone feel extra-loved without harming animals: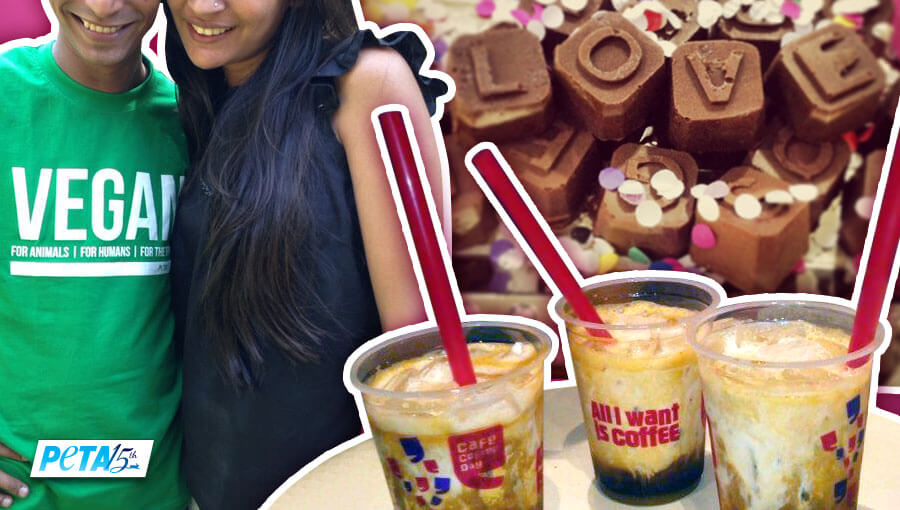 1. Make your sweetheart vegan chocolates. Nothing says, "I love you", like homemade vegan chocolates. Deliciously irresistible, dairy-free and easy to make, these treats will melt your darling's heart. All you need is a mould, some vegan chocolate and almond milk. Get creative and jazz it up with a few of his or her favourite ingredients, like nuts or dried fruit.
2. Bring your beloved vegan iced coffee in bed. Who doesn't love treats in bed? Help your sweetie start the day with a spark by bringing him or her Café Coffee Day's vegan coffee shake in bed.
3. Pamper your partner with Body Shop goodies. Make your beau feel like royalty with The Body Shop's luxurious and cruelty-free gift sets. We can't get enough of the personalised ones for special pampering.
4. Deck out your honey in PETA gear. Spoil your vegan other half with PETA's vegan T-shirt as a compassionate token of your affection. Learn how to get one by writing to [email protected].
Interested in learning more about vegan living? Order PETA's free vegetarian/vegan starter kit, complete with nutritional information, how-to-transition tips and tasty recipes.