Puja Gupta Says, 'Let Vegetarianism Grow on You'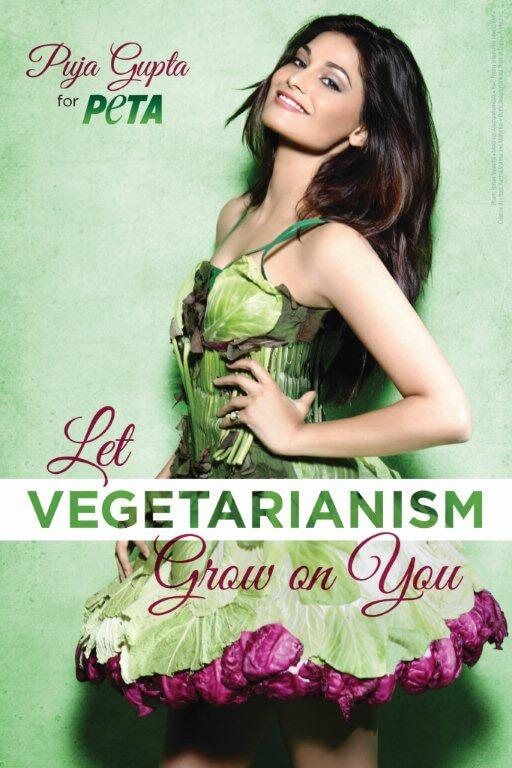 Vegetarianism sure looks good on Puja Gupta! In fact, Puja looks positively delicious in the lettuce-leaf dress that was specially designed for her by PETA contest winner and Sophia Polytechnic student Namrat Thole.
We just eat Puja up – because she doesn't eat animals, of course. The superstar model and actor is beautiful and talented and also super-compassionate. The 2007 Miss Universe India winner and star of the movies F.A.L.T.U. and Go Goa Gone has posed for PETA India, encouraging her fans to let vegetarianism grow on them, too. The stunning ad was shot by ace photographer Rohan Shrestha and sketched by Namrata Thole of Sophia Polytechnic College, the winner of PETA's online fashion-design contest. The outfit was assembled by top creative directors Aastha Sharma and Mohit Rai, and the make-up was done by Ayesha Wadiwala. Gupta's hair was styled by Prerna Sharma from Mad O Wot.
"If you love animals, let's just help them and not eat them", says Gupta. "I would request you to be kind to animals and be a vegetarian."
Vegetarian Puja Gupta Poses for PETA
Plant-based foods are cholesterol-free and generally low in saturated fat and calories. They're rich in fibre, complex carbohydrates and vitamins and minerals, too, so vegetarians tend to have lean bodies, radiant skin and silky hair. And that's not all. Vegetarians help stop animal suffering – each vegetarian spares many animals every single year – and protects the planet, too. The production of plant-based foods requires fewer resources and creates fewer greenhouse-gas emissions than does the production of meat and dairy products.
So please take Puja's advice and let vegetarianism grow on you, too.