Promote Vegan Food Instead of Focusing on Halal/Jhatka PETA India Urges Karnataka State
Amid news that Karnataka Legislative Council member N Ravikumar seeks to introduce a bill to be considered during the winter session of the Karnataka Assembly to allow only the Food Safety and Standards Authority of India to certify halal foods, which would prevent other agencies from monetising certification, PETA India has written to the Chief Minister of Karnataka Shri Basavaraj Bommai encouraging him to focus on advocating vegan (wholly plant-based) food instead to save the planet.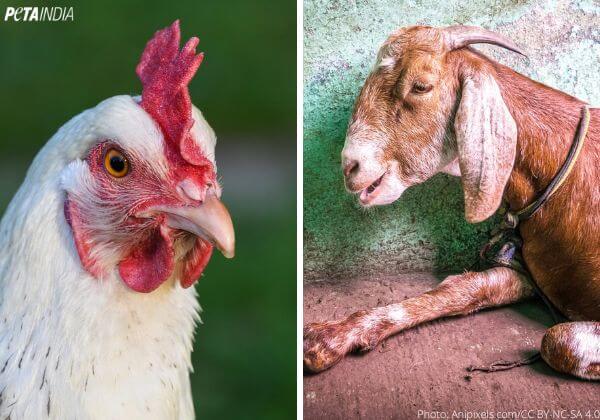 PETA India's letter to Chief Minister Bommai explains that many countries are taking steps to help protect animals, improve human health, and address the climate catastrophe: the New Zealand government is recommending the consumption of more vegan foods to the public; China has committed to reducing its meat consumption by 50%; and Germany's former environment minister banned meat from meetings and events. Meanwhile, Denmark, Germany, Spain, Sweden, and Switzerland are either considering or already levying a higher tax on meat to help tackle problems related to its consumption and production.
That's because figures from the Food and Agriculture Organization of the United Nations show that raising animals for meat, eggs, and dairy generates 14.5% of all human-caused greenhouse gas emissions – which, by some estimates, is more than that produced by all the world's transportation systems combined. A study from the Indian Institute of Technology Delhi and the Deenbandhu Chhotu Ram University of Science and Technology, Murthal, warns that India's livestock population, which is the world's largest, can significantly raise global temperatures. Karnataka is already experiencing the effects of the climate catastrophe such as increasing extreme weather conditions.
While water scarcity affects Karnataka and the nation, and India is home to 37% of the world's most severely food-insecure population, it should be noted that the meat, egg, and dairy industries use one-third of the world's fresh water resources and one-third of global cropland for animal feed.
Vegan meals also spare animals immense suffering. In today's meat, egg, and dairy industries, huge numbers of animals are raised in vast warehouses in severe confinement. Chickens' throats are cut while they're still conscious, cows and buffaloes are forcibly separated from their beloved calves, piglets are castrated without painkillers, and fish are cut open while they're still alive. People who eat vegan reduce their risk of developing heart disease, diabetes, and cancer and help prevent future pandemics – SARS, bird flu, swine flu, Ebola, and HIV all stemmed from confining or killing animals for food, and so did COVID-19, as largely believed by experts. Moreover, as the overuse of antibiotics in farmed animals is contributing to building antibiotic resistance in humans, a shift to vegan eating can also help improve overall public health.
Save the planet and get on the road to good health.
Order Your Free Vegan Starter Kit Now