PETA India's Year of Dramatic Demonstrations
We're nearing the end of 2019, which can only mean one thing: it's time to roll out a "best of" list! We've already shared PETA India's 2019 Vegan Food Awards and honoured Bollywood's most compassionate stars. To top it off, we're celebrating the most important people in the PETA India community: you.
Everyday activists like you helped bring more compassion into the world this year by drawing attention to cruel practices and inspiring people to change harmful habits. Here, in no particular order, are PETA India's top 10 demonstrations of 2019:
• 'Cut Out Glass-Coated Manja' (Makar Sankranti, Amritsar)
Sharp manja hurts everyone. A PETA India supporter, dressed up as a bloodied bird entangled in glass-coated manja string, urged onlookers not to use sharp strings that can injure humans and other animals.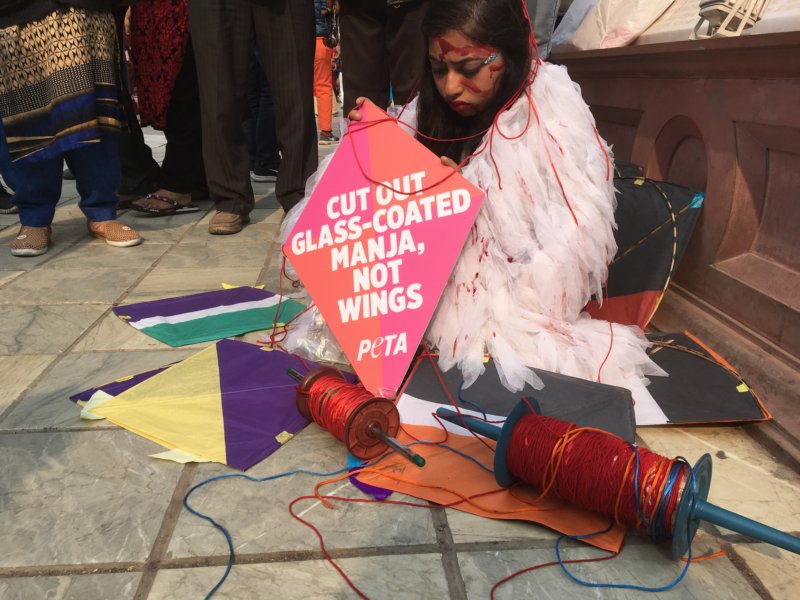 • Wildlife Warriors Defend the Forest (International Day of Forests, Bengaluru)
PETA India supporters used body paint to appear as a zebra, a tiger, and a giraffe on International Day of Forests. This arresting sight called attention to the loss of wildlife that occurs because of the deforestation caused by the meat, egg, and dairy industries. The demonstration urged everyone who wants to preserve our forests – and the various animals who call them home – to go vegan.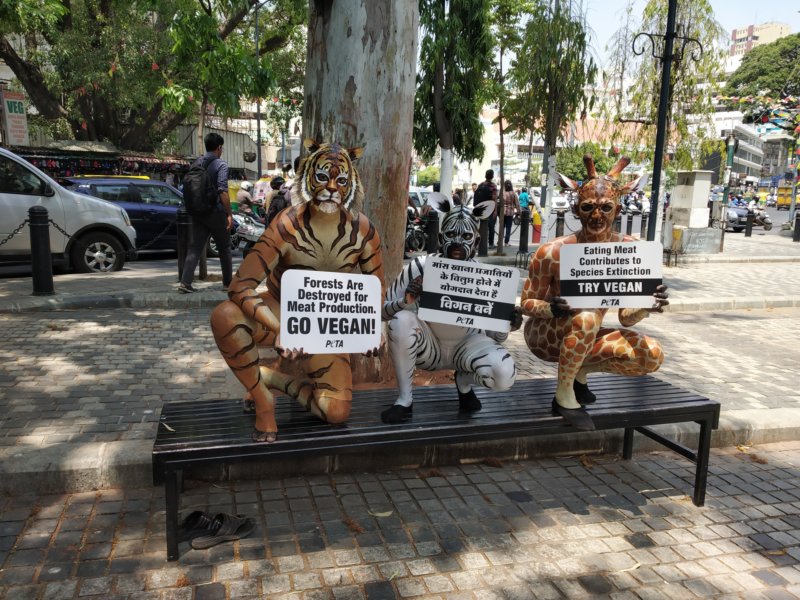 • 'Boiled Alive' in Mumbai (World Oceans Day, Mumbai)
Passers-by in Mumbai were shocked to see two PETA India supporters dressed as lobsters being "boiled alive" in a large cooking pot. Timed to coincide with World Oceans Day, this demonstration reminded people that we can spare lobsters and other animals a cruel fate by going vegan.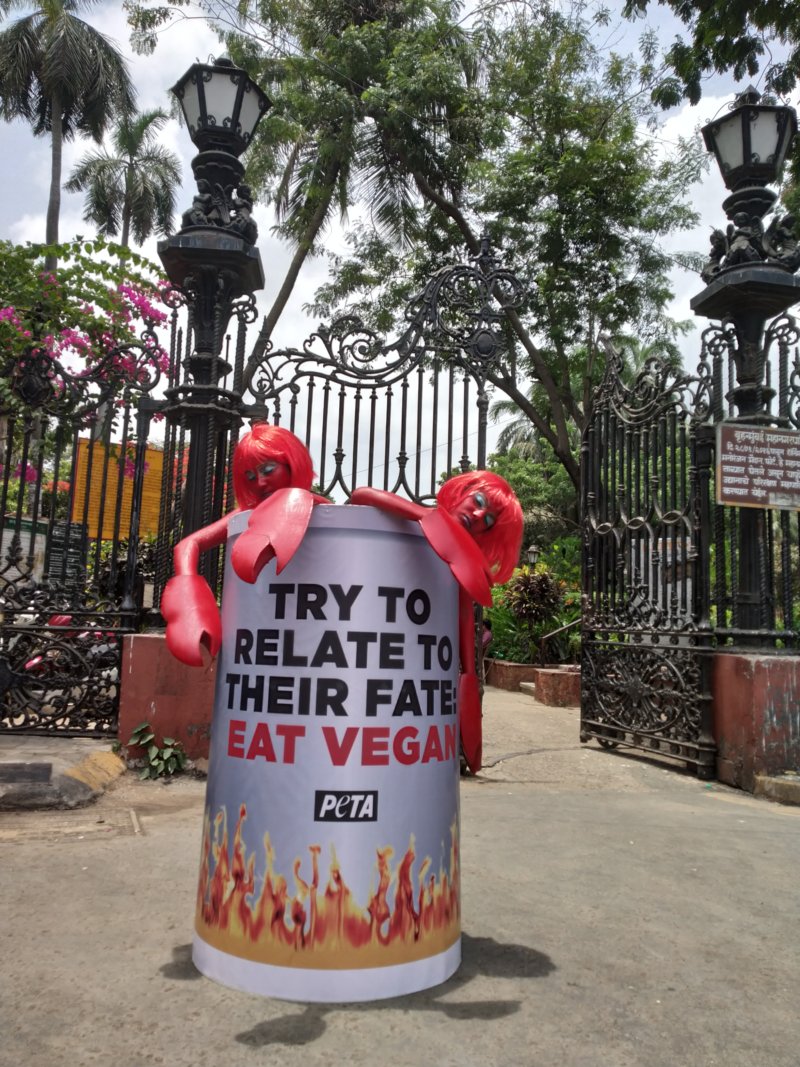 • The Clock Is Ticking on Cruel Circuses (Circuses Demo, New Delhi)
A group of animal defenders gathered in New Delhi to spread the word that the time is now to outlaw cruel circuses. An "elephant" in chains stood in front of a large clock, calling for a ban on this abuse for mere entertainment.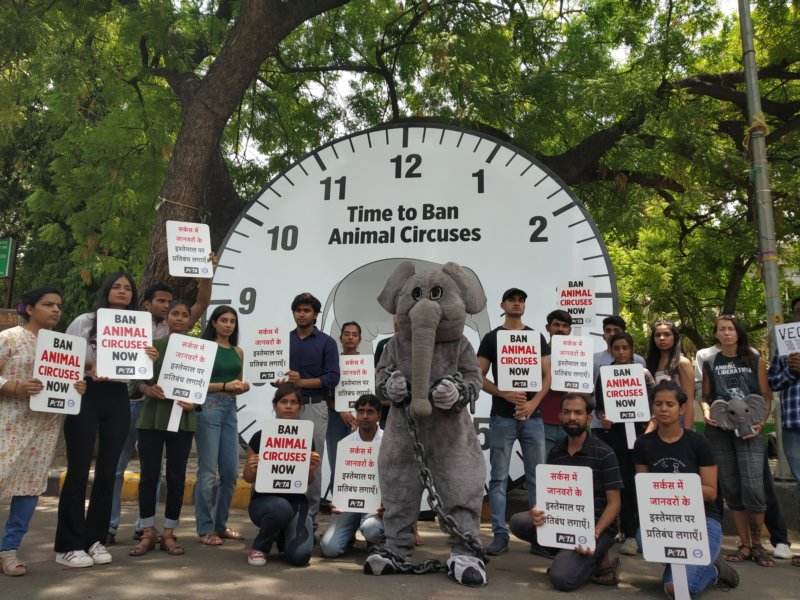 • Elephant Riding Is a Bloody Business (Elephant Joyrides Demo, Jaipur)
PETA India supporters wore elephant masks and wrapped themselves in chains to show that there's nothing joyous about rides in which elephants are exploited at Amer Fort and elsewhere. Demonstrators unleashed clouds of red powder into the air to remind passers-by that anyone who takes part in these rides has blood on their hands.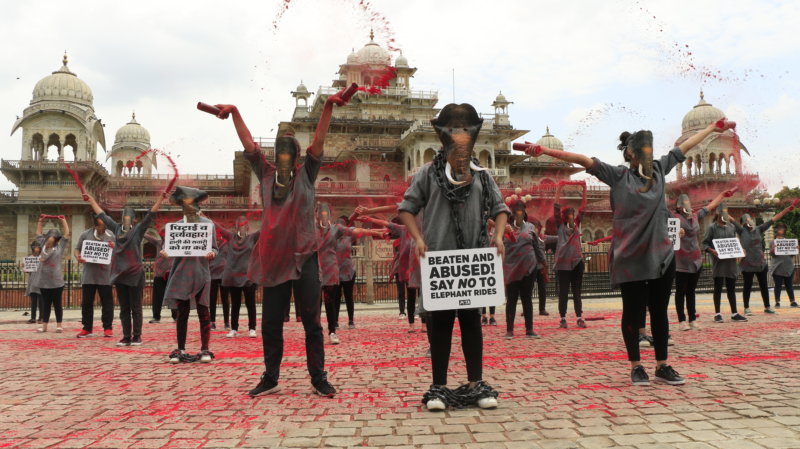 • Meat Pours Water Down the Drain (World Water Week, Pune)
Did you know that producing 1 kg of animal flesh for meat requires the same amount of water as 75 baths? In a vivid illustration of this point, one PETA India supporter took a public bath in the middle of Pune! The head-turning demo, held during World Water Week, urged everyone to go vegan.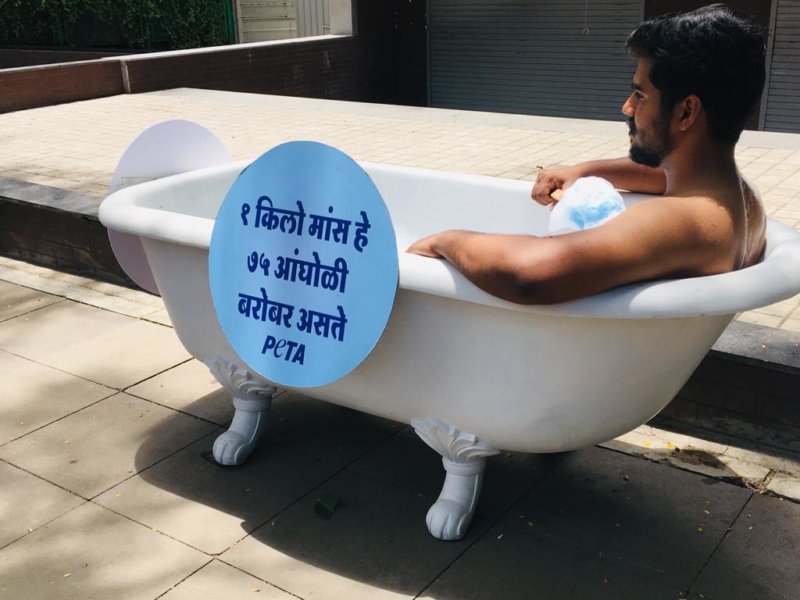 • 'Drowning' in New Delhi (Forced Swim Test, New Delhi)
A "rat" thrashed in a tank of water in a dramatic re-enactment of what happens to rodents used in cruel and useless forced swim tests. These barbaric experiments, which have been widely debunked, don't shed light on human diseases, so PETA India is pushing hard for pharmaceutical companies to end them.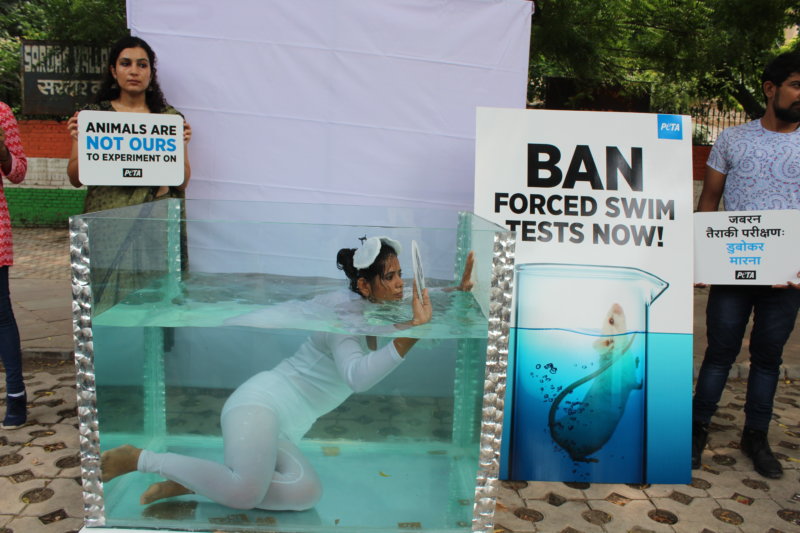 • Meat Means Blood on Your Hands (World Vegetarian Day Demo, Chandigarh)
PETA India supporters, along with friends from other organisations, commemorated World Vegetarian Day by drenching themselves in "blood". Their message came through loud and clear – abusing animals for their flesh, secretions, or eggs is a bloody, gory business.
• Dining on Animals Should Be a Crime (World Vegan Month Demo, Kolkata)
Butchering sensitive, sentient beings for food is so cruel and unnecessary that it should be criminal. To commemorate World Vegan Day, PETA India demonstrators created a "crime scene" and reminded passers-by that it's easy to be kind by going vegan.
• Please Think of the Children (Children's Day Demo, Pune)
Children will inherit the Earth, so who better than some "chicks" and "calves" to demonstrate on behalf of animals and the planet for Children's Day? These compassionate kids called on grownups to go vegan in order to save the planet for the sake of animals and future generations.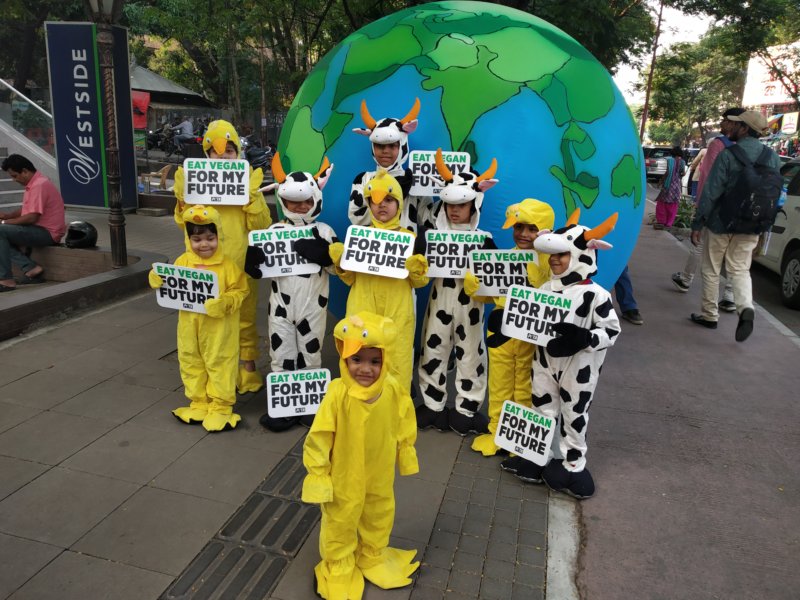 *****
PETA India's everyday activists take part in creative demonstrations all year long, on all kinds of issues. If you are inspired by our year of activism and would like to join us in 2020, you can sign up by following this link.