Pamela Anderson Adopts Desi Dog
When Pamela Anderson came to India to appear as a guest on Bigg Boss 4, her heart was captured by the plight of the homeless dogs she saw on the streets. So when Anderson, an honorary director of PETA US, learned that PETA India Chief Functionary Poorva Joshipura was headed to the States to meet with her overseas colleagues and to visit her family, the Baywatch star asked if Joshipura would take along a homeless Indian puppy. Anderson has decided to name her new family member Pyari, or "Loved One". The puppy was rescued from a construction site in Mumbai.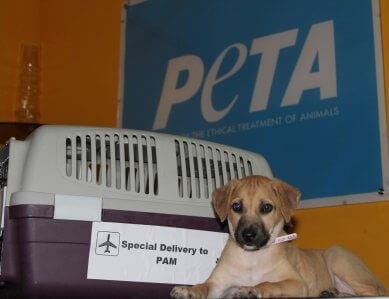 "I'm tickled to be able to give Pyari a loving home", says Anderson. "I already have rescued dogs, and I urge everyone to join me in adopting a homeless desi dog from their local animal shelter or the streets instead of buying a so-called 'purebred'. Desi dogs are stars: add love and they become healthy and beautiful and will love and protect you always."
Every time someone buys a dog from a breeder or a pet shop, a dog on the streets or in an animal shelter loses his or her chance at finding a good home. What's more, "pedigree" dogs have been purposefully bred for certain exaggerated physical traits, making them susceptible to abnormally high rates of health problems, including hip dysplasia, heart defects, epilepsy and eye and ear infections. These painful defects can prevent proper breathing, walking and more. Indian community dogs are hardy and resilient and are not predisposed to health problems.
Join Pammy in helping end the homeless dog crisis by taking the pledge to adopt, and never buy.