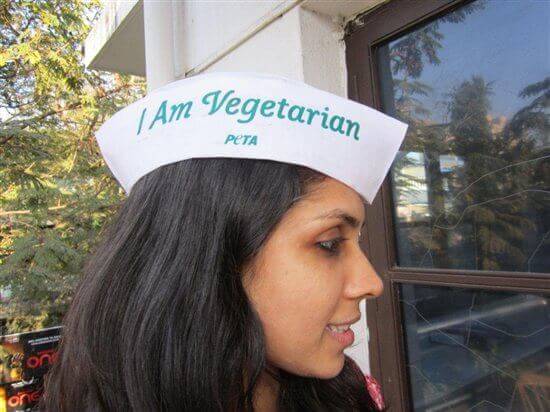 Anna Hazare is credited with sparking a Gandhi cap revival, with many of the caps reading, "I am Anna Hazare". Since the movement began, sales of the Gandhi cap have soared, and many vendors have run out of stock.
As Mumbai gets ready to welcome the anti-corruption crusader, PETA India is offering you the opportunity to win your very own unique Gandhi cap emblazoned with the words "I Am Vegetarian". Anna Hazare advocates non-violence and demonstrates this principle through not only his campaigns but also his vegetarian diet. We hope our caps will be worn proudly by his vegetarian followers so that others might also be encouraged to be kind, not cruel, each time they sit down to eat.
If you support Anna, how about practicing non-violence every time you sit down to eat? Want to win one of these caps? Then just tell us where you will show it off! The 20 people deemed by PETA to have the most interesting answers will be named the winners of the contest.
The contest is open until 10 January 2012. The winners will be notified via e-mail on 11 January. No purchase necessary. Void where prohibited by law. By commenting, you are agreeing to our privacy policy and terms and conditions.