Poorna Jagannathan: I Am a Vegetarian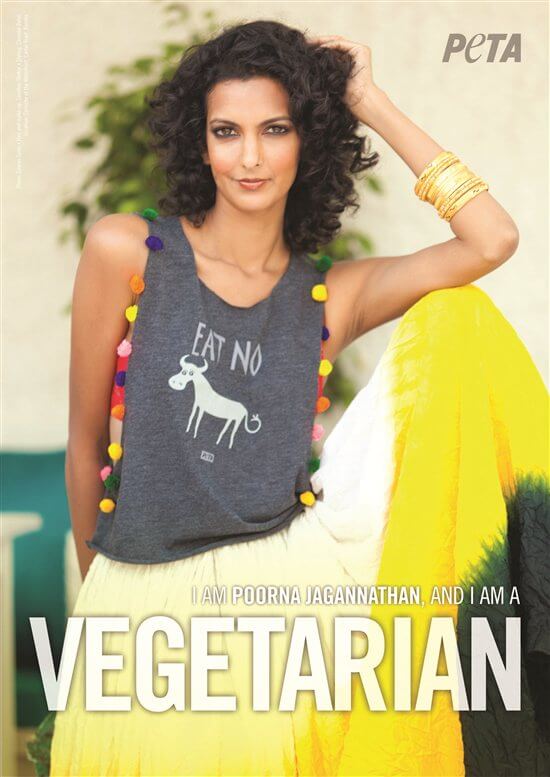 Looking both ravishing and healthy – as always – actor and vegetarian Poorna Jagannathan appears in a colourful new ad for PETA India touting the advantages of eating plant-based foods. The stunning ad was shot by leading photographer Gaurav Sawn. Styling was done by Chandni Bahri, and Jagannathan's make-up and hair were been done by Sandhya Shekar. The ad was shot at Corniche at the Waterfront, Carter Road, Bandra.
Raising animals for food is a leading cause of water pollution and land degradation, and a recent UN report concluded that a global shift towards a plant-based diet is necessary to combat the worst effects of climate change.
Poorna, who was named one of India's 50 most beautiful women by Femina magazine, plays Saya Katdare on the USA Network hit TV series Royal Pains and has been featured in numerous publications, including Vogue, Harper's Bazaar, Marie Claire and Elle. She recently won the Breakthrough Supporting Performance (Female) Award at the 10th Annual Kamla Pasand Max Stardust Awards for her performance in the film Delhi Belly.
Speaking of which, leaving meat off your plate is also a great way to avoid "Delhi belly" and other unhealthy conditions. Vegetarians are, on average, fitter and trimmer than meat-eaters are, and they are less likely to be afflicted with heart disease, diabetes and cancer – all of which are major health problems in India. Plus, of course, every vegetarian saves the lives of more than 100 animals every year.
Ready to join Poorna in saying, "I am a vegetarian"? Pledge to go veg today!