I am Geezer Butler and I am a Vegan.
As the legendary founding bassist for one of the loudest and heaviest rock bands in the world, Black Sabbath, Geezer Butler is a well respected member of the metal community
You may be familiar with Geezer for his unique bass lines in Black Sabbath classics like "Paranoid" and "N.I.B.," but what you might not know about Geezer is that he has been meat-free since he was 8 years old and now follows a healthy vegan diet.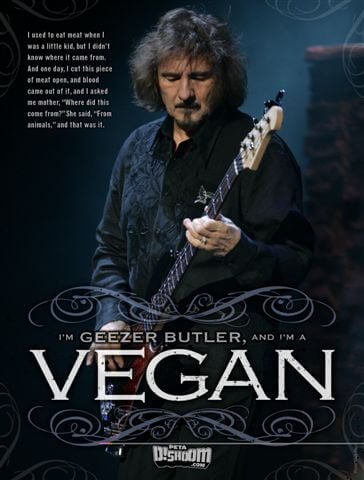 "I used to eat meat when I was a little kid, but I didn't know where it came from. And one day, I cut this piece of meat open, and blood came out of it, and I asked me mother, where did this come from? She said from animals, and that was it,"says Geezer.
Well guys, it's time for you to get your head banging for veganism too. Check out our cool vegan recipes to make a smooth transition from a meat-based diet to a healthy vegetarian one. And don't forget to inform your friends by sending them our "Change Everything" e-card.