I Am Paul McCartney, and I Am a Vegetarian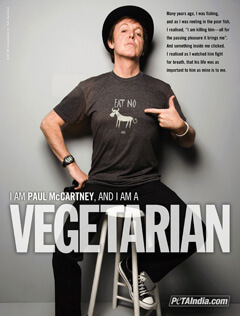 Sir Paul McCartney has teamed up with PETA to star in a new vegetarian testimonial print ad to show his fans why he respects all life and never eats meat.
Not even the smallest creatures escape Paul's compassion: "Many years ago, I was fishing, and as I was reeling in the poor fish, I realised, 'I am killing him – all for the passing pleasure it brings me'. And something inside me clicked. I realised as I watched him fight for breath that his life was as important to him as mine is to me."
Paul is no stranger to animal rights. From his work to end experiments on animals to his efforts to speak out against fur, his work with PETA affiliates worldwide now spans several decades. And that is why he was the perfect person to launch the vegetarian testimonial series.
If doing your part to save millions of mammals and birds and billions of fish that are cruelly killed for food each year is not enough, there are many more reasons to go vegetarian, including improving your health, helping to end world hunger and protecting the environment. As Paul says, "If anyone wants to save the planet, all they have to do is just stop eating meat. That's the single most important thing you could do. It's staggering when you think about it. Vegetarianism takes care of so many things in one shot: ecology, famine, cruelty".
For more information on why you should make the choice to go vegetarian, please click here.